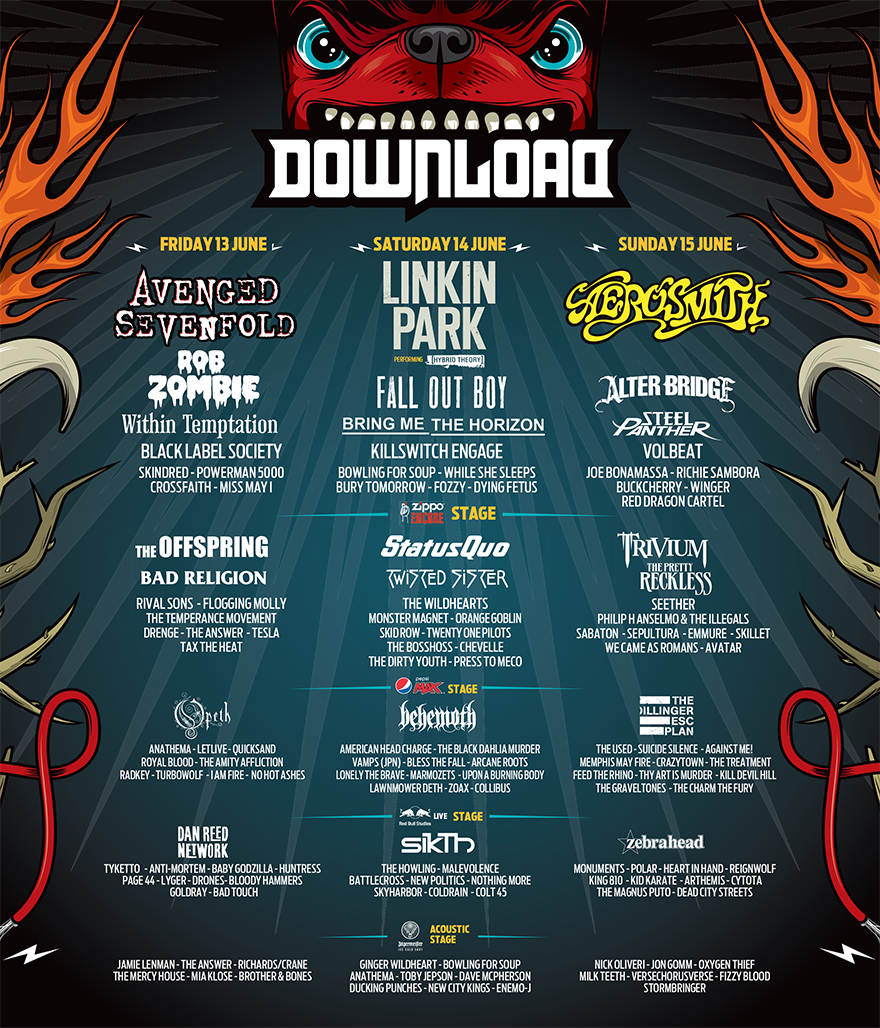 Download Festival 2014 Day Three
21st June 2014
Today's plan was mainly to stay by the main stage with the line up that was on, Red Dragon Cartel were the first band of the day, Ozzy Osbourne's old guitarist  the one and only Jake E. Lee with his own classic sound of guitar work which was instantly recognisable from the start. They Opened the day with "The Ultimate Sin' before moving on to their own material, and ending with "Bark At The Moon".Kip Winger and his band were next, and hearing their later material it's definate they got a bad rap first time round as with the influence of Beavis and Butthead, they never got the attention they deserved, that said their later material is rougher and kicks more arse!, Live they cut it just fine and it was a fine set, personally I just missed "Deal With The Devil" from it.
Buckcherry followed and it was apparent from the crowd they had a lot of support from the fans here, a sea of people rushed to witness Josh Todd and co get down and gritty, they played "Crazy Bitch" to which the fans revelled and songs from across their catalogue, stand out being "Wrath" from current album "Confessions".
BonJovi Guitarist Richie Sambora came on after that and it has to be said he has a stronger voice on record and live than Jon Bon Jovi himself, although his set was more blues based at times it was recieved well by the audience and of course when he performed "Lay Your Hands On Me" and "Wanted Dead Or Alive" the crowd erupted. Continuing in the blues vein Joe Bonamassa took to the stage delivering a set small in number but big in power and epic guitarwork, Bonamassa is.nt that big in the rock world…..yet, but seeing the response he got and the feedback on the social networks it's apparent that won't remain, an awesome set, check out "The Ballad Of John Henry".
Volbeat then followed with their Rockabilly rock to get fists pumping and heads rocking with a set of pure Rock and Roll for the crowd, a nice lead into the mighty Alterbridge – This is the fourth time I've managed to see these guys and they never disappoint, opening with "Addicted To Pain" before pushing through to modern classics like "Ghosts Of Days Gone By" and "Blackbird" and closing the set with "Watch Over You", it can only be a small matter of time before they headline.
So to the last headliners and festival closer Aerosmith, opening up with video footage of the guys preparing for stage showing six girls leaving Steve Tyler's room before he did, which set the vein for the rest of the show. Aerosmith I have to say are getting older, hey it comes to us all, but in no way shape or form did that affect tonight other than appearance, they simply rocked all night from "Train Kept a rollin" to "love in an elevator" to Walk This Way" the 'Smith showed the perfect way to close the festival. so now there's only one question, who's playing next year? 😉