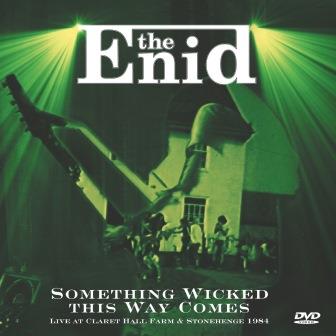 The Enid – Something Wicked This Way Comes – Live – CD Review
9th April 2016
The Enid are enjoying a bit of a resurgence courtesy of their recent performance at HRH Prog back in March.
The Enid are a British progressive rock band formed in 1974 by ex Barclay James Harvest keyboard player Robert John Godfrey
This is the 1st time that these incredibly important Enid recordings have been available in the same package & they've been beautifully remastered with new liner notes written by the legend that is Mr.Malcolm Dome of Classic Rock Magazine.
CD1 has the complete Live At Claret Hall Farm show which was literally just a concert for the fans as a way for the band to say thanks & to show their appreciation. A wonderful idea & more bands should do this. This disc is a complete lift from the original video.
CD2 is a very important live recording in itself. Taped at the very last festival hosted at Stonehenge.
Disc 3 is a DVD which contains the video of CDs 1&2. Considering they are 32 years old (at the time of writing) they have survived incredibly well.In fact it's a wonder they have survived at all.
Their performance & interpretation of Wild Thing by The Troggs is something that will be forever burned upon my retinas

The performances that are captured here for posterity really are something very special not just because of where these were filmed but also because this was the first time The Enid had truly performed with vocals. Every studio album up to Something Wicked This Way Comes had been totally instrumental
All remasters by Nick Watson at Fluid Mastering & they sound absolutely phenomenal.
This set truly captures not only the spirit of the time these were recorded but also the magnificence of The Enids musical prowess & virtuosity. They are one of the most overlooked prog acts & it's great to see them finally come into their own & enjoy this resurgence in interest.
For fans of Marillion, early Genesis, Jethro Tull, Edgar Broughton
Released via Cherry Red Records 29th April http://www.cherryred.co.uk/product/something-wicked-this-way-comes-live-at-claret-hall-farm-stonehenge-1984/

Track Listing:

DISC ONE:
LIVE AT CLARET HALL FARM
1. FAND
2. RAINDOW
3. JESSICA
4. THEN THERE WERE NONE
5. LETTER FROM AMERICA
6. SOMETHING WICKED THIS WAY COMES
7. ENCORE
DISC TWO:
STONEHENGE '84
1. JESSICA
2. THEN THERE WERE NONE
3. JUDGEMENT
4. FLOOD
5. UNDER THE SUMMER STARS
6. ADIEU
7. SUMMER
8. LETTER FROM AMERICA
9. WILD THING
DISC THREE:
LIVE AT CLARET HALL FARM
STONEHENGE '84
(DVD: NTSC – REGION 0)
1. FAND
2. RAINDOW
3. JESSICA
4. THEN THERE WERE NONE
5. LETTER FROM AMERICA
6. SOMETHING WICKED THIS WAY COMES
7. ENCORE
8. JESSICA
9. THEN THERE WERE NONE
10. JUDGEMENT
11. FLOOD
12. UNDER THE SUMMER STARS
13. ADIEU
14. SUMMER
15. LETTER FROM AMERICA
16. WILD THING
Score 9.5/10