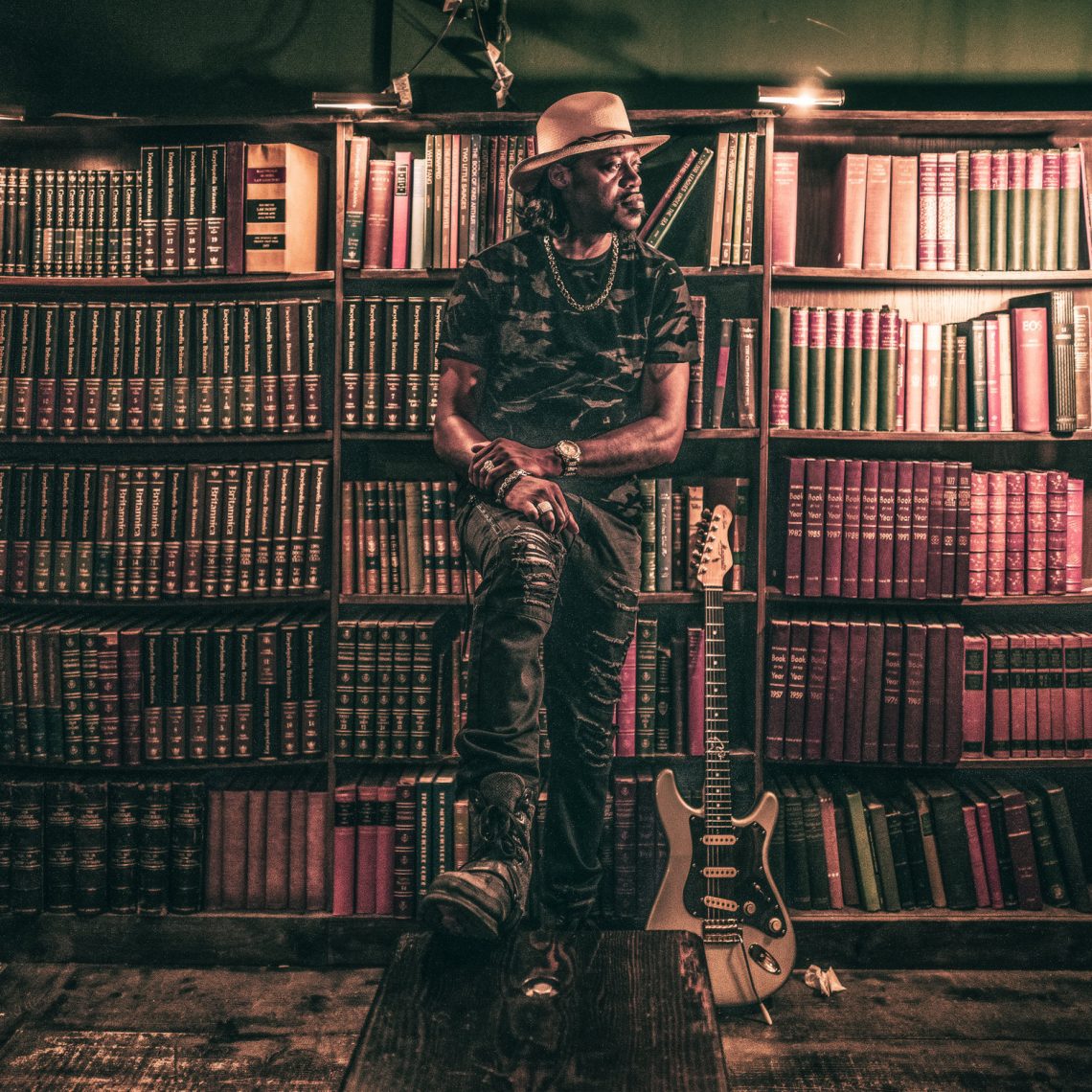 Eric Gales Unveils New Track 'Somethings Gotta Give' Ft. Three Time Grammy Nominated Singer B-Slade
17th January 2019
Eric Gales Unveils New Track 'Somethings Gotta Give'Featuring B. Slade.
New Album 'The Bookends Out February 8th 2019 via Provogue/Mascot Label Group
"One of the best, if not the best guitar player in the world" Joe Bonamassa
"He is absolutely incredible" Carlos Santana
"How Eric Gales isn't the hugest name in rock guitar is a total mystery" Dave Navarro
"This guy could be the best player on Earth" Mark Tremonti
Eric Gales is back with another new track from his upcoming new album 'The Bookends', which is out on February 8th via Provogue/Mascot Label Group. 
Three-time Grammy nominated and Emmy Award winning vocalist B. Slade features on the track Somethings Gotta Give. Speaking about working with B-Slade, Gales confesses 
"This song came about because something has got to give with all that's going on in the world today. On vocals features the very talented amazing vocalist B Slade. I love this song, and can't wait for the world to find out what I've been rocking to every since it got recorded. When he came in during pre-production and we were writing, it was so intense. At first I was a little afraid to sing in front of this guy, because this is what this dude does, he's a phenomenal person and he just brought it out of me. I don't know if he was really aware of who I was before we met, but the day that he walked in and he heard the songs, his mind was blown. That was before he even saw me playing guitar, so when he saw me playing he said 'in my life I ain't never seen nobody that can play like this."
Written over a nine month period, the album was recorded at Recorded at Studio Delux, Van Nuys (CA), The Dog House, Woodland Hills (CA), Blakeslee Recording, North Hollywood (CA) and the day before he was due to fly to LA for pre-production the original producer David Bianco tragically died. It was Bianco's management who then suggested Matt Wallace. "I heard his work and the kind of people he has produced such as Maroon 5, Faith No More and all these sorta cats. When we met up together it was just perfect. I just trusted the guy and it ended up being great, I love Matt Wallace," says Gales.
Talking about being in the studio he elaborates; "The whole vocal thing was something I consciously wanted to push and Matt was on the same page, saying, 'there's gonna be sometimes you might not like me because I'm gonna push you because I feel that I know what you can do, and its more than just guitar playing'. It was just really powerful and moving."
Previous album 'Middle of the Road', was released in February 2017 and reached #1 on the iTunes Blues chart and #4 on the Billboard Blues chart. It made Classic Rock Magazine and Total Guitaralbums of the year with the latter saying it was "the album that should define his career." Classic Rocksaid "the notes drip from Gales' fretboard like warm honey", The Guitar Magazine exclaimed it's the "the injection of danger and unpredictability that the blues-rock scene desperately needs", Blues Mattersprofessed "truly the man is blessed", whilst Powerplay said "the more you listen to it the more the brilliance of Eric Gales becomes apparent."
Since then he has toured almost non-stop; playing shows with Gary Clark Jr., Beth Hart, Gov't Mule and called through Australia, Argentina, Chile, US and Europe – including the Rockin' The Blues run with Gary Hoey, Quinn Sullivan and Lance Lopez. He played his first ever headline tour in the UK and Ireland to sold out crowds, took a starring role as part of Supersonic Blues Machine at the UK's Ramblin' Man Fair and also found time to play a one off reunion show as The Eric Gales Band.  This is not to mention his collaborations with funk royalty Bootsy Collins ('World Wide Funk'), The Apocalypse Blues Revue (Shannon Larkin/Tony Rombola of Godsmack) and Supersonic Blues Machine('Californisoul').
It's no wonder why he is the guitarists' favourite guitarist, counting fans in the likes of Carlos Santana, Dave Navarro (Jane's Addiction, Red Hot Chili Peppers), Mark Tremonti (Alter Bridge), Joe Bonamassa,  Tony Rombola (Godsmack) and Tosin Abasi (Animals as Leaders).
Gales' story is an incredible one, he was a child prodigy and released his debut album The Eric Gales Band in 1991 as a 16 year old on Elektra Records. It was the first of 10 albums on a major label through a blistering career. He has released 15 studio albums in total ahead of 'The Bookends' and a host of other collaborations. He has battled drink and drug issues and spent time in jail in 2009 for possession of drugs and a weapon.
If 'Middle of the Road' was the rebirth of Eric Gales, then 'The Bookends' is him knocking away his boundaries and taking flight on a voyage of self-discovery asking himself what do you think you can do and pushing that into the stratosphere.
Eric Gales band is: Eric Gales (Guitar, Vocals), Mono Neon (Bass), Aaron Haggerty (Drums), LaDonna Gales (Backing vocals, Percussion) and Dylan Wiggins (Organ).