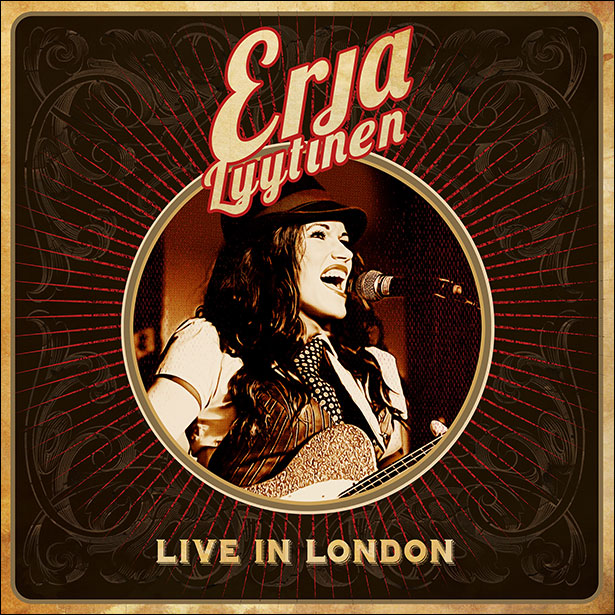 Erja Lyytinen Announces New Album & Tour
20th August 2015
Tuohi Records is pleased to announce the UK release of Live In London, the highly anticipated new album from Finnish blues guitarist and singer-songwriter, Erja Lyytinen.
The album will be released on CD and digital download in the UK on Monday 8th June 2015. The CD edition will also include a bonus DVD disc featuring the 100 Club concert filmed in its entirety.

On October 7th 2014, Erja Lyytinen rolled into London's iconic venue the 100 Club for an evening of live music. At her side, Erja was accompanied by a crack band featuring long-time musical partner Davide Floreno, bassist Roger Inniss and drummer Miri Miettinen.
After three years as a cohesive touring unit, Erja's band was on full form. The groove, artistry and undeniable power of their performance on that famed 100 Club stage has been beautifully captured in all it's excitement on the CD/ DVD 2-disc set Live in London.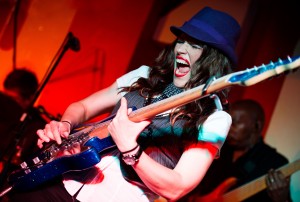 DARLINGTON, DARLINGTON BLUES CLUB
Friday 2nd October 2015
Box Office: 01325 363135
Book Online: www.darlington-r-n-b-club.co.uk
The Forum Music Centre, Borough Road, Darlington, Co. Durham, DL1 1SG
www.darlington-r-n-b-club.co.uk
LUTON, THE BEAR CLUB
Saturday 3rd October 2015
Book Online: www.the-bear.club
24a Guildford Street, Mill Yard, Luton LU1 2NR
www.the-bear.club
BARNES, BULL'S HEAD
Monday 5th October 2015
Box Office: 0208 761 9078
Book Online: www.feenstra.co.uk
373 Lonsdale Road, Barnes, London SW13 9PY
www.feenstra.co.uk
WOLVERHAMPTON, ROBIN 2
Wednesday 7th October 2015
Box Office: 01902 401211
Book Online: www.therobin.co.uk
20-28 Mount Pleasant, Bilston, West Midlands WV14 7LJ
www.therobin.co.uk
EDINBURGH, VOODOO ROOMS
Thursday 8th October 2015
Box Office: 0131 556 7060
Book Online: www.ticketweb.co.uk
19a West Register Street, Edinburgh EH2 2AA
www.thevoodoorooms.com
KEIGHLEY, KEIGHLEY BLUES CLUB
Friday 9th October 2015
Box Office: 01535 600310
Book Online: www.keighleybluesclub.net
Hall Of Fame Bar, Royd Ings Avenue, Keighley, BD21 3RF
www.keighleybluesclub.net
BLAKENEY, THE HARBOUR ROOM
Saturday 10th October 2015
Box Office: 01263 741666
Book Online: www.blakeneyharbourroom.co.uk
www.blakeneyharbourroom.co.uk
OXFORD, HAVEN MUSIC CLUB
Monday 12th October 2015
Box Office: 01865 244516
Book Online: www.wegottickets
Bullingdon, 162 Cowley Road, Oxford, OX4 1UE
www.havenclub.co.uk
EVESHAM, IRON ROAD
Wednesday 14th October 2015
Box Office: 07831338277
Book Online: www.wegottickets
The Railway Hotel, 140 High Street, WR114EJ
www.theironroad.sqwiz.co.uk
CHISLEHURST, BEAVERWOOD CLUB
Thursday 15th October 2015
Box Office: 0208 761 9078
Book Online: www.feenstra.co.uk
Chislehurst, Kent BR7 6HF
www.feenstra.co.uk
SUTTON, BOOM BOOM CLUB
Friday 16th October 2015
Box Office: 0208 761 9078
Book Online: www.feenstra.co.uk
Sutton, Surrey SM1 2EY
www.feenstra.co.uk
CHESTER, CHESTER BLUES FESTIVAL
Saturday 17th October 2015
Box Office: 01472 349222
Book Online: www.chesterbluesfestival.co.uk
1 Station Road, Chester, Cheshire West and Chester CH1 3DR
www.chesterbluesfestival.co.uk
FROME, FROME BLUES FESTIVAL
Sunday 18th October 2015
Box Office: 01472 349222
Book Online: www.fromebluesfestival.co.uk
Market Yard, Frome, Somerset BA11 1BE
www.fromebluesfestival.co.uk