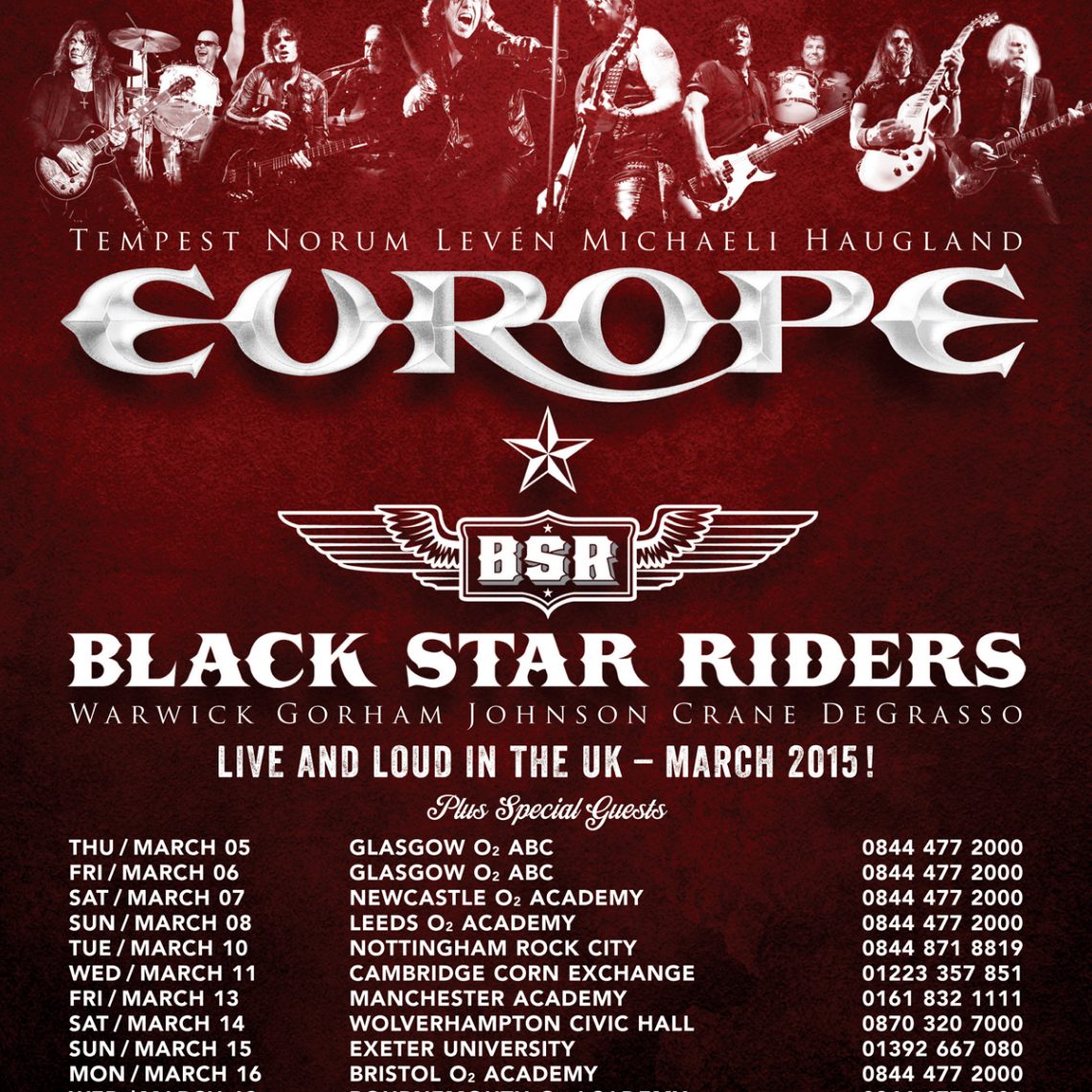 Europe, Black Star Riders – Manchester 13.03.2015
3rd April 2015
Having seen the Black Star Riders at Download I knew what I was expecting tonight, very much now a band born from the ashes of Lizzy with the heart of the band they have become truly there own entity.
The band's second album "The Killer Instinct" shows them stepping boldly out of the Lizzy shadow and into the sunlight to stand proud.
For anyone who still hasn't seem them for fear of tainting the Lizzy name, rest assured, Ricky Warwick does Phil Lynotts vocals justice and they deliver truly in ther own right.
Breaking Open with "Bound For Glory" the band show they are here to impress, as the show progresses there are only four Lizzy songs, the rest from their first two albums which shows the material is strong enough to stand alone, current single "Finest Hour" is a real rockers anthem but it's "Soldierstown" for me that steals the show as the crowd scream the chorus back.
If you haven't seen them, get your ass in gear for the next show and you'll be converted before the show ends.




So, onto Europe who are here tonight to showcase their new album " War Of Kings" – an album that is very much more raw than their previous albums since reuniting back in 2003 and if any comparison a nod back to the first two album's they delivered way back in the 80's.
Europe are a good solid rock band and since their reunion have provided far superior work than the albums first time round, opener and single "war Of Kings" set the theme for a hungry set of energy and classic rock songs.
From the new album" War Of kings", "Hole In My Pocket", "Praise You", "The Second Day" and "Day's Of Rock 'n' Roll" are performed. The title track and "The Second Day" steal the show from the new material.
Hearing the older songs performed now gives them a harder edge from first time round, "Superstitious", "Sign Of The Times" mixed in with new classics "Last Look at Eden".
"Girl From Lebanon" from the "Prisoners in Paradise" is awesome live and as always the Swedish boys give a consistent hard rock performance before ending with "The Final Countdown"
Two class bands, one class night.
10 out of 10