Evildead – The United States Of America – Review
7th October 2020
0
By
Mark Booth
Thrashaholics have been rejoicing in 2020 with a number of releases from legends such as ONSLAUGHT, TESTAMENT, ANNIHILATOR, HEATHEN, SEPULTURA & POLTERGEIST to name a few and also up and coming releases from FATES WARNING, SODOM & GAMA BOMB. Adding to this list of releases are the newer titans of the genre such as LOST SOCIETY, WARBRINGER, POWER TRIP, HAVOK & 3000AD. So the genre is still thriving and thrashing and adding to this extensive list of albums are seminal thrashers EVILDEAD who have reformed and are set to unleash their third studio album, "United $tate$ Of Anarchy", after a 29 year hiatus.
EVILDEAD released two seminal thrash albums, "Annihilation of Civilization" and "The Underworld" back in the late eighties and early nineties. These albums are highly regarded in the genre and its easy to see why with their energetic riffs and guitar solos, thrashing drums and snarly vocals.
So after having extremely fond memories of EVILDEAD'S first two albums from my youth (mainly "Annihilation of Civilization" I'll admit) , I jumped at the chance to review their third and new opus "The United $tate$ Of America".
So with trepidation I press play on the new album and hope that all my adoring memories of blasting "Annihilation of Civilization" and "The Underworld" from my earlier days won't be besmirched by this new offering. The album opens up with the speedy opening guitar riff of 'The Descending' before the rest of the thrashaholic maniacs join in the thrashing attack and straight away you can tell this is EVILDEAD and they are back to smack you up about the head with their thrash assault.
This carries all that we expect from EVILDEAD, a delightful mix of speed and thrash guitar riffs, coupled with neck breaking drumming and all with a nuance of punk overtone added to the mix. The lyrical themes explore political disdain, social injustice, religion and much more. Although "The United $tate$ Of America" isn't a bad album, it isn't really a great album.
You'll have fun when you play this album, and the louder the better, however when the next thrash album comes out in a week or so, this album will be forgotten about and be brought out occasionally for a spin. It's a slight tarnish to their reputation, but a solid release none the less. "The United $tate$ Of America" is akin to a fleeting fling/one night stand, it's fun and entertaining at the time and you'll have a blast. However in the cold light of reality this release is a little generic and in the long term just a footnote in history/discography.
However a major issue I must point out with "The United $tate$ Of America" is the production and mix, the drums (mainly the kickdrums) and bass are distorted with a thick fuzzy crackling sound that overpower everything else. They drown out the thrashing guitar riffs and vocals and the guitar only really comes to the fore when they launch into a solo. However this is mainly due to everything else being muted and non existent when the guitars are finally unshackled, the mix really does let it down. The fuzz isn't as bad when played loud through speakers, however the release doesn't lend well to headphones for the most part (I tried numerous headphones) and spoils the listening pleasure when played through headphones…
SCORE – 5.5/10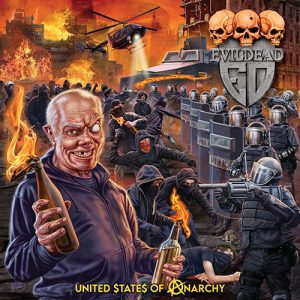 Track Listing
1 – The Descending
2 – Word Of God
3 – Napoleon Complex
4 – Greenhouse
5 – Without A Cause
6 – No Difference
7 – Blasphemy Divie
8 – A.O.P./War Dance
9 – Seed Of Doubt
Release Date: 30th October 2020
Label: SPV/Steamhammer
For all things Evildead, click HERE and to purchase the album, click HERE
How useful was this post?
Click on a thumb to rate it!
Average rating 4 / 5. Vote count: 1
No votes so far! Be the first to rate this post.
Related
About the author
Devotees and followers of the Cult of Cletus, I am your true God and my word is law! I come forth to spew daemon loving music at your ears and to corrupt your little mind. My words maybe harsh but I want only the best for my minions! So when I discover a new deadly spawn of music take heed and purchase...