Idlewild 'Captain' – released on vinyl for the first time
7th October 2020
Celebrating the band's 25th anniversary, Idlewild are releasing their debut mini album 'Captain'. This is the first time it will be available on vinyl and will be released on 20th November 2020 exclusively on Dig!. 
The six-track release is the band in their early raw form. Their sound developed over their illustrious 25-year career, but 'Captain' is a reflection of a band who, at the time, were disrupting a thriving indie scene with a unique edgier, more angular sound. Their live reputation preceded them, never failing to impress the fast-expanding fanbase. 'Captain' was recorded in October 1997 and was initially released on Deceptive Records in January 1998. The band signed to EMI shortly before the release of 'Captain'.
Singer Roddy Woomble said of the release – "At the time we didn't have much experience in the recording studio. We were known as a chaotic, noisy live band. Producer Paul Tipler had his work cut out to try and turn our songs into something more cohesive. Captain, which we had decided to name this first collection of songs, not only surprised us with its direct, punchy melodic maelstrom, it surprised almost everyone who heard it. Tony and Bruce at Deceptive had the confidence that we would record something promising and were delighted that Paul had managed to capture the live energy of Idlewild, while bringing the songs together and pulling out the melodies. Captain made a fantastic introduction to Idlewild, and after its release word of mouth started to spread"  
Idlewild met and formed in Edinburgh in 1995. Over their 25 year career they have released eight studio albums and have toured all over the world as a headline act, as well as support to REM, Pearl Jam and U2 amongst others. (To accompany the re-release of 'Captain' and to celebrate their 25th anniversary the band have also put together a book, entitled' 'In The Beginning There Were Answers – 25 years of Idlewild' – full of archive photographs with text written by Roddy Woomble.)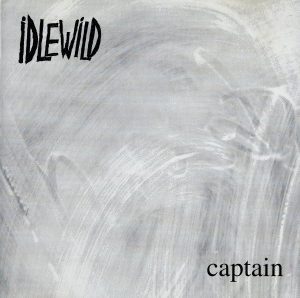 Vinyl Track List:
Side One
Self Healer
Annihilate Now!
Captain
Side Two
Last Night I Missed All The Fireworks
Satan Polaroid
You Just Have To Be Who You Are