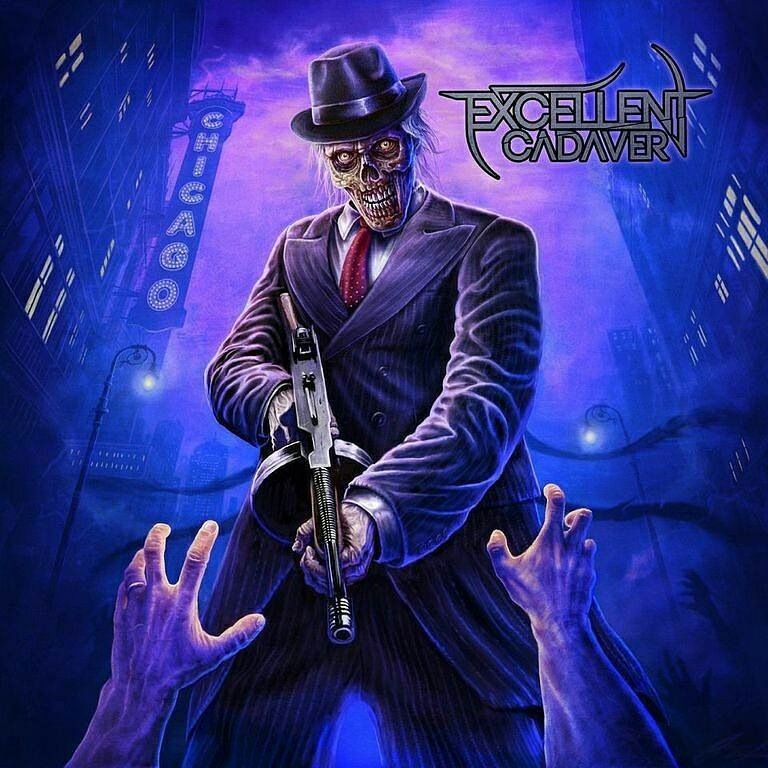 Excellent Cadaver – Self Titled EP – CD Review
20th October 2015
If you didn't know already Excellent Cadaver began their shredding days in Dundee, Scotland, a listen to this EP would have you convinced they paid their dues Stateside during the glory days of the NWOAHM.
Three years on from releasing their debut album, Faith Destroyed, what Excellent Cadaver have created for their next release is 20 minutes of catchy, groove-laden songs, each one easily strong enough to become a stable part of a live set.

The self-titled effort opens with Dead Dreams, and is filled to bursting point with riffs that you just have to headbang along to and the influence of NWOAHM pioneers Pantera & Machine Head are evident here, and throughout the release as a whole. Just after the 3 minute mark, our necks are given a break and we are treated to a beautifully melodic passage, complete with violins and the utterly fantastic clean vocals of Andrew Downie, which leads into a pair of brilliantly shred-filled solos from Drew Cochrane and Paul Hudson.
Middle tracks, Losing Streak and Unchained are once again packed with groove and catchy vocal lines, and these absolute riff-fests come complete with excellently written solos. However, both of these tracks do suffer greatly for lacking Andrew Downie's superb clean vocals – the leads in the chorus of Unchained would have complimented Downie's cleans excellently here. That said, the lack of clean vocals does nothing to remove from how well written and catchy these songs are.
Closing track, Witness, is another groove-filled riff machine. The incredibly memorable chorus has Downie belting out his brilliant clean vocals with Drew Cochrane and Paul Hudson growl straight back at him, and the closing breakdown just feels like the perfect way to end the EP.
This is a solid release from the band, with incredibly well written songs and a truly excellent sound to it – and I can't stress enough how good Andrew Downie's clean vocals are here! Any fan of the NWOAHM should absolutely get this EP, and should check out Excellent Cadvear's debut Faith Destroyed as well, (which features Mark Hunter and Matt Szlachta of Chimaira, and Chuck Wepfer of Dirge Within) available from their Big Cartel page and iTunes. And anyone in Scotland looking for something to do on Halloween should get themselves down to Busker's in Dundee for the EP release show as well!
Excellent Cadaver is:
Andrew Downie – Vocals
Drew Cochrane – Guitar & Vocals
Paul Hudson – Guitar & Vocals
Sean Ramson – Bass & Vocals
Ryan Shepherd – Drums
Track List:
1. Dead Dreams
2. Losing Streak
3. Unchained
4. Witness
Excellent Cadaver – Self Titled EP
Ouergh Records
31st October 2015
8/10