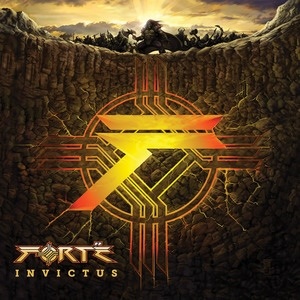 Forté – Invictus (Compilation)
10th July 2013
Band: Forté
Album: Invictus (Compilation)
Record Label: Divebomb Records/Tribunal Records
Release Date: 7/9/13
Reviewed By: Frank Rini 7/16/13
Track Listing:
DISC 1
Rise Above (1999)
1. Man Against Machine
2. Fading Away
3. Ninety Nine
4. Forgiven
5. Rise Above
6. Destroyer
7. Poison Tongue
8. Burn
9. Over My Head
10. Until The End Of Time
Destructive (1997)
11. Barcode
12. Deviate
13. Hammer
14. Destructive
15. October
16. Heal Me
17. Strength
18. Neversleep
19. The Hard Way
20. Art Of War
21. Eternal
22. Far Away
DISC 2
Division (1994)
1. Dischord
2. One Flesh
3. Inhuman
4. Division
5. Thirteen Steps
6. Legacy Of Silence
7. The Last Machine
8. Ultimatum
9. E.2.M.N.
10. Back To Zero
11. In This Life
12. Fast As A Shark (Accept Cover)
For fans of: Annihilator /Overkill/Testament/
Standout Tracks: Entire Reissue
Perfection is not normally used in my reviews, when talking about an album, I rarely use it. To describe this years, Defeated Sanity album-Passages into Deformity-yes that is the perfect death metal album for 2013, hands down, the new Wormed and Suffocation are up there as well.
Regarding reissues, if you do not know it by now, or from all my reviews of this years reissues, than you should by now that no one does reissues better than Divebomb/Tribunal Records! I love 'em and as rare as I use the word I am venturing outside my comfort zone for only the second time this year to say this Forté reissue, which combines the bands second album Division (1994), third album, Destructive (1997) and fourth album, Rise Above (1999) is indeed a reissue worthy of the word Perfect!
In 2011 Divebomb did a stunning deluxe reissue of Forté's first album Stranger than Fiction and just last year the label released Unholy War, Forté's first album in 13 years. So if you have those, than this stunning 2disc reissue will complete your Forté discography.
Now onto the review, Division comes in fast and furious and with plenty of melodic moments. The cover of Accept's speed metal classic, Fast As A Shark, is played even more intense here and does the original proud. The band was plagued early on with some singer problems and although the past singers were great, I feel the band found the perfect fit with the Destructive album.
Dave Thompson provided a little more aggression than the past singers and his range was better, the band has remained intact since then with Dave singing on the rest of the Forté catalog after this.
Out of all three of these albums, Destructive is my favorite and one that I originally owned, back in 1997. Whether it's the scorching opener-Barcode or the squealing guitars and heavy bass lines of the title track, the band wastes little time with long songs, really just driving their point home in shorter songs and just pummeling the listener with outstanding musicianship and songwriting.
The Rise Above album thrashes hard as well, in the Forté signature power thrash way and opener Man Against Machine gets the ball rolling pretty quickly. This album has a little more melodic edge, a little more mid paced passages, but still killer.
The musicianship, on all Forté albums is outstanding with Greg Scott's drumming, in particular, really sounding sharp and precise. Whether it's double bass, rolls, fills, that snappy sounding snare-he can play with the best of them and his drum sound has ALWAYS been something that is original sounding and just brilliant. Brother, Jeff, has some outstanding solos and has some definite Jeff Waters (Annihilator), influence. The bass guitar on all releases provides some steady rhythm and comes through really nice as does the sprinkling of keyboard elements on certain tracks.
The reissue completely remasters all 3 albums across 2 cds, with the albums, 3rd & 4th on disc 1 and the second album on disc 2. 34 tracks in all with over 1' & 40" worth of Forté music in store for you all. The sound is nothing short of breathtaking. Crisp, powerful and punchy, all the nuances the band is known for is just brought forth even more so.
The album cover is a brand new killer design and across the 16 panel booklet, there are old album reviews, pictures, old flyers, lyrics and the original 3 album covers too!
Really this is one of the most comprehensive, beautiful reissues you will ever own and this does Forté right. Since they were already one of my favorite power thrash bands you have to imagine, as a fanboy, what this means to me as well.
Divebomb's owner, Matt, interviewed by me earlier in the year, is a fan first and foremost of the reissues he puts out. When you see something like this put out, you know time, energy and love for the band was put into it and that makes all the difference in the world, when putting out a reissue. So if you own this kudos to you, if not, this is an essential purchase that must be made by you, NOW!!!
Score: 10 out of 10