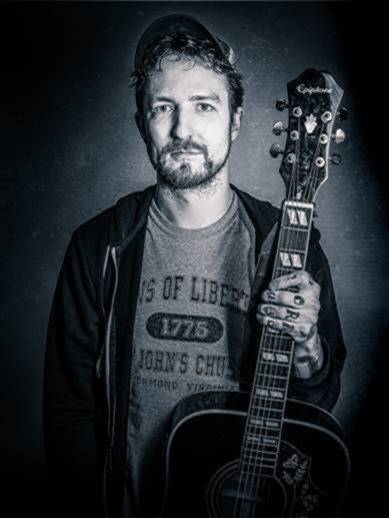 Frank Turner Joins WaterBear
18th July 2018
WaterBear (Brighton's brand-new, alternative music college) is proud to announce that Frank Turner will be a WaterBear patron, offering his expertise and advice to their students. What's more, Frank will be cutting the ribbon at WaterBear's official launch on 30th August 2018.
WaterBear is a private music college for musicians and creatives. It works in partnership with the University of Chichester to offer creative people fully-accredited Master of Arts and BA (Hons) degree programmes, delivered in modern, engaging, and industry-relevant ways. Run by its founders (Bruce John Dickinson, Adam Bushell, and Mark Clayden), WaterBear draws together highly-experienced professionals, each with significant experience in the music industry as established touring musicians and recording artists. The founders also all share a deep-set passion for music education, with 20 years of experience in the UK's well-respected private music education sector.
"I'd like to announce that I'm teaming up with WaterBear as a patron to launch an exciting new music college in Brighton," says Frank, "Mark Clayden (WaterBear Principal) gave me my first break in 2003. Since then I've watched Mark help and assist young people coming up through the music industry and I want to get involved."
"Frank is and always has been a total inspiration to me," says Mark Clayden (Principal of Waterbear and founding member, songwriter and bass player for the UK group Pitchshifter). "His spirit, resilience, versatility and his DIY attitude is a perfect match for everything that WaterBear stands for."
Frank Turner is an English folk/punk singer-songwriter from Winchester. He joined the post-hardcore band Million Dead as vocalist back in 2001, having been a former bandmate of drummer Ben Dawson in Kneejerk. In their four years together, Million Dead released two albums, but announced in 2005 that they would be parting ways. Around that time Turner acquired a tape with Bruce Springsteen's 'Nebraska' on it. Later, he explained "that was a really big moment for me, hearing that record, in terms of a turn-around in my music career – from hardcore punk bands to what I'm doing now." Frank also commented "When Million Dead finished, I wanted to stay on tour, but I didn't want the hassle of putting a band together."
These things inspired Frank to embark upon a mainly acoustic-based solo career, working in the studio and on tour with his backing band The Sleeping Souls, Ben Lloyd (guitar, mandolin); Tarrant Anderson (bass); Matt Nasir (piano, mandolin) and Nigel Powell (drums). So far, Frank has released seven solo albums, three rarities compilation albums, one split album and five EPs. His seventh studio album, Be More Kind, was released on 4th May 2018.
WaterBear's Education Director, Bruce John Dickinson (who enjoyed 11 Top Forty hits and a Number 1 album in the early 90's with his band, Little Angels) says: "As a person, artist, and performer, Frank stands as a shining example of the WaterBear ethos. We're delighted and thrilled to welcome him, and his expertise, as patron of the college."
For all things Waterbear, click HERE
How useful was this post?
Click on a thumb to rate it!
Average rating / 5. Vote count: