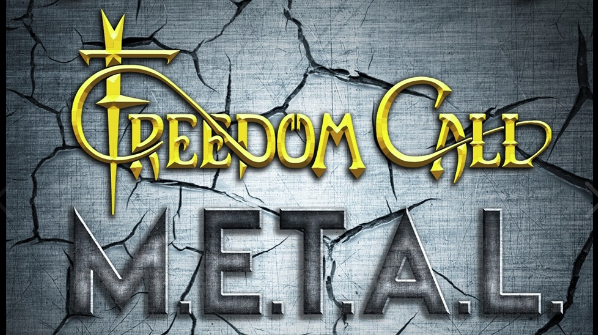 FREEDOM CALL – New M.E.T.A.L. Studio Album Released August 23rd on SPV
1st August 2019
0
By
John Deaux
Leading German Melodic Rockers Freedom Call, who celebrate their 20th anniversary this summer, are set to release their utterly uplifting tenth studio album, 'M.E.T.A.L.', on Steamhammer / SPV on August 23rd.
'ME.T.A.L.' will be available as a Digipak CD with 2 bonus tracks, 'Unicorn' card and embossed cover (limited to 3,000), Jewel Case CD, double (blue with black swirls) 180 gram vinyl LP (with printed inner sleeves + CD in a cardboard case), download and stream. The video for the first single from the album, '111' has just been unveiled and can be viewed at
Since their inception two decades ago, Freedom Call have become synonymous with soaring choruses, harmonic melody laden guitar licks, hard driving grooves, atmospheric messages and exuberantly irrepressible optimistic lyrics. Never is this more evident than on 'ME.T.A.L.', a masterpiece melodic power metal triumph.
"Everybody who's heard the album has told us that some of the tracks could easily have featured on our first recordings," front man Chris Bay explains with some pride, adding: "To me such statements are a big compliment because they imply that there's a typical musical fingerprint, characteristic Freedom Call DNA that we've remained faithful to." 
Addressing the album's unusual title, Bay states (with a chuckle) that it is "tongue in cheek. After all, everybody knows that we don't exactly play extremely raw death metal. We're happy for our music to polarise the audience, which is precisely what's been happening since we've announced it on Facebook."
Characteristically fast-paced, boundlessly enthusiastic songs such as 'Fly With Us', 'Days Of Glory' and 'Ronin' all exude Freedom Call DNA, while the album's title track itself is a standout melodic anthem. Bay reflects that "On the one hand these kinds of pounding groove numbers are pretty unusual for us, on the other hand 'M.E.T.A.L.' is an absolute novelty." In other places the new album risks a degree of poignancy on 'One Step Into Wonderland' or oozes atmospheric seafaring flair on 'Sail Away'. Explaining the title of first single '111', Bay states that "111 is the number of angels in Western esotericism, and it also plays an important role in my life. I come across it constantly, be it the number of my hotel room, a receipt at the supermarket or even my birth date."
While 'M.E.T.A.L.' was recorded with live drummer Kevin Kott (Masterplan), from summer 2019 Freedom Call will tour with a new line up consisting – along with Bay and lead guitarist Lars Rettkowitz – of Italian bassist Francesco Ferraro and drummer Timmi Breideband. Freedom Call met Ferraro during their tour with Rhapsody Of Fire, Francesco opening the show with his band Vexillum. Breideband previously played with At Vance and Bonfire. "Francesco and Timmi have brought lots of new ideas and a younger attitude to the band," enthuses Bay about his new colleagues.
How useful was this post?
Click on a thumb to rate it!
Average rating 0 / 5. Vote count: 0
No votes so far! Be the first to rate this post.
Related
About the author
Some say Yank My Doodle, It's A Dandy! is a biographical movie based on John. Some have even said that his favorite artist is Chesney Hawke! All we really know is he sleeps inside out and his hair tastes like candy floss.