George Benson Unveils Official Video For Havana Moon From New Album: Walking To New Orleans Out April 26th via Provogue/Mascot Label Group
4th April 2019
George Benson gets back to Americana basics on 'Walking to New Orleans', the legendary jazz guitarist's double-barreled tribute to both piano-pounding Crescent City hit machine Fats Domino and the original rock guitar hero and poet, Chuck Berry. The album will be released on 26th April via Mascot Label Group/Provogue.
 
The Chuck Berry songbook is represented on 'Walking To New Orleans' by "Nadine (Is It You?)," "You Can't Catch Me," "Havana Moon," "Memphis, Tennessee," and "How You've Changed." Fats Domino weighs in with "Rockin' Chair," "Ain't That a Shame," "I Hear You Knocking," "Blue Monday," and the album's iconic title track.
 
'Walking to New Orleans' is Benson's first recording since 2013's 'Inspiration: A Tribute to Nat King Cole.' But where Benson embellished Cole's cool tunes with lush orchestral arrangements, 'Walking' found Benson hunkering down in Ocean Way Studios on Music Row with a quartet of first-call Nashville cats: drummer and music director Greg Morrow, guitarist Rob McNelley, pianist Kevin McKendree, and bassist Alison Prestwood. Producer Kevin "The Caveman" Shirley (Journey, John Hiatt, Iron Maiden) was at the controls.
 
George Benson will perform at the Apollo Nights Summer Series on 18th-19th July at London's Eventim Apollo. Over one week in July 2019 at London's Eventim Apollo, legendary artists will take to the stage, as the Apollo's newly restored Art Deco interior is celebrated as the stalls area is transformed into an intimate dining experience for a truly spectacular evening, marrying the delights of the best in music and food.  A dining experience by one of the UK's most exciting chefs – Bryn Williams.
 
'Walking to New Orleans' is George Benson's 45th album, and few sound quite as loose-limbed and flat-out fun as this one. "We did have us a ball making this record," he admits.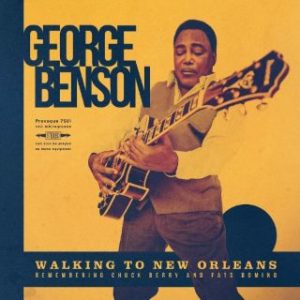 George Benson Tour Dates:                  
June 2nd – Newport Beach Jazz Fest – Newport Beach, CA
June 29th – Jazz Festival – Saratoga Springs, NY                
July 1st – Montreal Jazz Fes – Montreal, Canada   
July 9th – L'Olympia – Paris, France            
July 10th – Theater 11 – Zurich, Switzerland 
July 15th – Umbria Jazz – Perugia, Italy            
July 18th – Hammersmith Apollo – London, England    
July 19th –  Hammersmith Apollo – London, England                      
July 21st – Jazz am See – Erlangen, Germany 
July 22nd – Theater am Potsdamer Platz – Berlin, Germany      
July 25th – Noches del Botanico – Madrid, Spain
How useful was this post?
Click on a thumb to rate it!
Average rating / 5. Vote count: