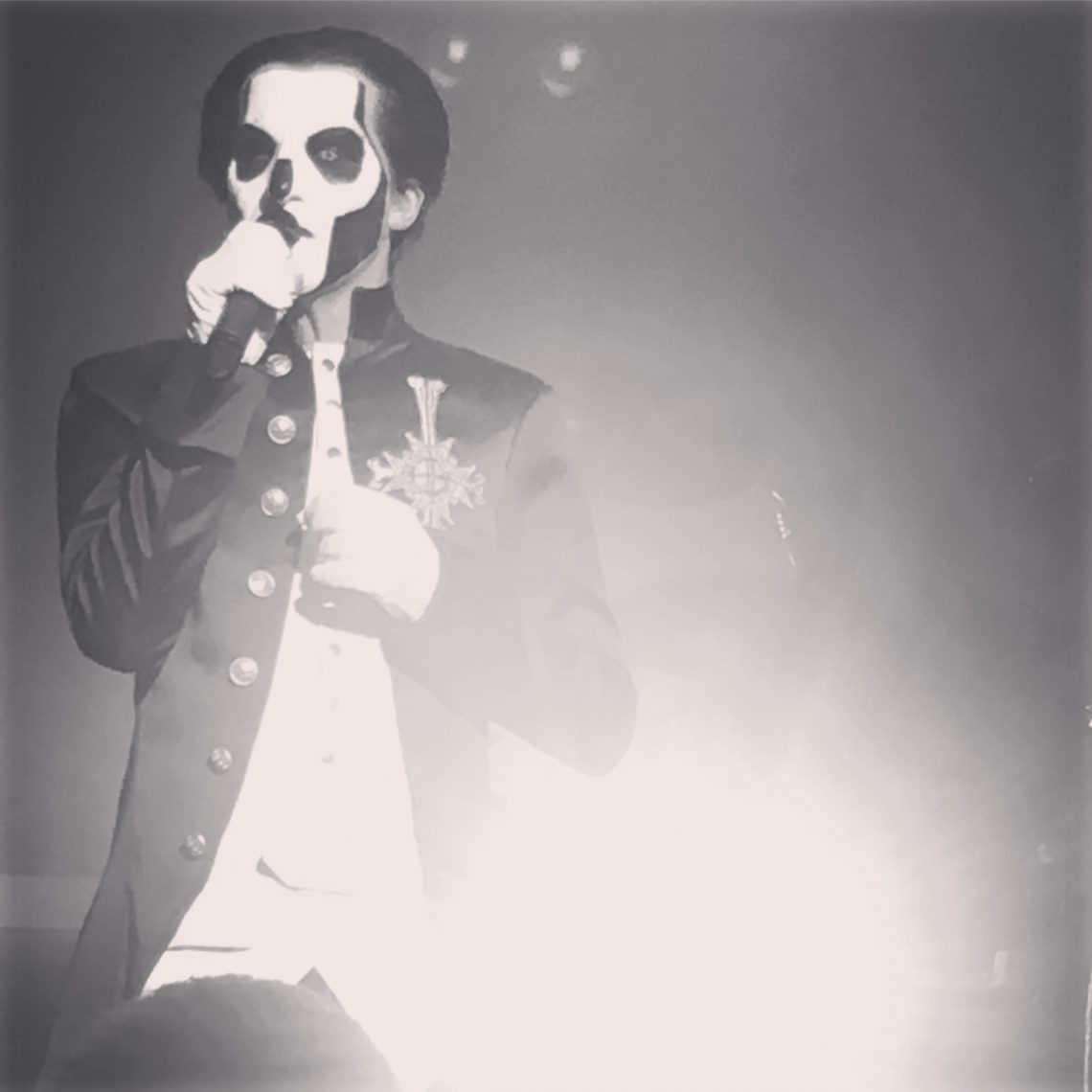 Ghost – Manchester Apollo – 31.03.2017
3rd April 2017
Friday night saw something very special dawn upon Manchester Apollo. The return of Grammy award winners Ghost had certainly been hyped up for number of months, as they released snippets from their new record 'Popestar'. It was their first time back on UK soil since they were forced to cancel their appearance at Download 2016 due to illness, and one thing is for certain: with a ritual like that, they certainly didn't disappoint.
It is difficult to say where exactly Ghost hail from, as, after all, all the band members, even frontman Papa Emeritus III, are masked. The anticipation for this tour was unparalleled among the fans, partially down to the fact that there have been plenty of rumours flying around about the group of late. Supposedly, Papa Emeritus fired every single one of the 'Nameless Ghouls' – a rumour only stoked further by a video made by ex-member Martin Persner, revealing himself as the guitarist previously known as 'Omega'. Whether the rumours are true or whether it is just an elaborate publicity stunt (one that is definitely working!), this was the first UK outing of the brand new Ghost – so excitement was in the air.
Support band Zombi set a moody hue over the Apollo with their EDM-tinged, synth heavy drones. It no doubt left much of the audience a little confused, especially as the set was entirely vocal free. But despite the lack of engagement, the Pennsylvanian duo pushed on with what was to provide a suitably eerie precursor to the main event. Before long, however, it was time for what everyone had been waiting for, and Ghost's 'ritual' was about to begin.
The set kicked off with rousing opener "Square Hammer", from the Popestar EP. If the cheer the Nameless Ghouls got when they came on stage was loud, it was nothing compared to the hysteria that gripped the crowd when frontman Papa Emeritus arrived, appearing almost out of thin air and sporting his signature gown and mitre. Square Hammer is a huge crowd pleaser, blurring the line between heavy metal riffs and a big pop chorus – something Ghost excel at. The tongue-in-cheek Santanic theme is continued by follow-up "From The Pinnacle To The Pit", a groove-filled masterpiece with a mean bassline. The musicianship shown by the new ghouls certainly doesn't go amiss – and despite many hardcore fans being unhappy with the supposed line-up change, there's no doubt that the new ghouls are more than qualified for the job. The next three songs in the set take the band and the audience back to their 2010 and 2013 releases, with "Secular Haze", "Con Clavi Con Dio" and "Per Aspera ad Inferi" respectively (yep, it's quite a mouthful!). By this point Papa Emeritus has shed his long cloak and hat in favour of a black and white suit, and he plays up to his role of the suave anti-Pope with perfect accuracy – there is a plenty of humour shared between him and his audience, the odd bit of crowd/frontman interaction and a HELL of a lot of innuendos.
"Body and Blood" and "Devil Church" are up next, before the eerie opening notes of "Cirice" take hold, much to the crowd's delight. The early-Sabbath-tinged riff merges perfectly with, again, another big hooked chorus, and the vocal abilities of the man behind the mask are certainly not ones to be underestimated. The haunting "Year Zero" follows before the band slow things down for "He Is" – a soaring ballad from the group's critically acclaimed album Meliora. That isn't to say, however, that Ghost are not a heavy band. "Absolution" and "Mummy Dust" from the same record both come next, both proof that Ghost have earnt their metal-band stripes while still being melodic and accessible to people even outside of the genre. The main set ends on two energetic performances of "Ghuleh/Zombie Queen" and "Ritual", the latter of which sees the three guitarists jamming out together at the front of the stage. Sure, you cannot see their faces, but it's clear as day that this is a band who absolutely love what they do – that much is apparent just from their mannerisms and the way they play.
After a bow and a few choice words from Papa, the group finish on a subliminal performance of "Monstrance Clock", before leaving the stage to huge cheers. The end of this performance really does hint to Ghost being on the edge of something seriously huge – and with the Bloodstock announcement that followed just a few days later, it could easily be argued that they have already started to win people over. Sure, Ghost do have a gimmick, and not everyone likes gimmicks. But when it is done as well as this – with class, skill, perfectionism and style – Ghost have a hell of a lot of power in their white-gloved hands.