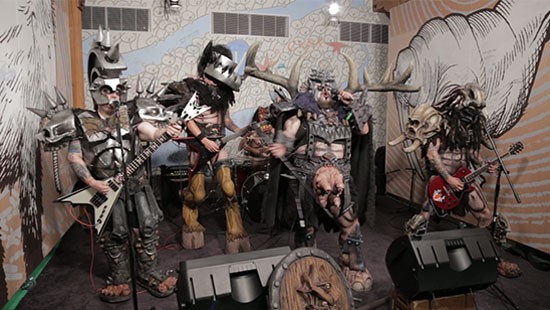 GWAR returns to the A.V. Club "Undercover" series for the fourth time!
28th October 2015
0
By
John Deaux
For the fourth year in a row (the most by any artist human, Scumdog or otherwise), your masters GWAR returned to The A.V. Club to take part in the A.V. Undercover Series. The A.V. Undercover Series features artists covering other artists' music. GWAR's first offering tackled the Kansas classic, "Carry on Wayward Son" – which was voted favorite performance of the year, to no surprise of GWAR. After a year of celebrating the victory, the group returned to defend the crown with its unique spin on Billy Ocean's "Get Out of My Dreams, Get Into My Car." For their third appearance, the band went New Wave with their version of Pet Shop Boys' "West End Girls", which segued into a re-worked version of Jim Carol's "People Who Died", paying tribute to fallen GWAR members and friends of the band. And of course they won performance of the year again.
This time, the band dug deep into their cassette collection and pulled out Cyndi Lauper's Greatest Hits. Once they came across "She-Bop" and learned that it was a song about masturbation, which is a habit near and dear to their hearts, they decided this is the song they must play to defend their "Undercover" title for an unprecedented fourth time! So without any more fanfare here it is, the orgasm-inducing GWAR rendition of "She-Bop" with a little surprise at the end:http://www.avclub.com/video/gwar-covers-cyndi-lauper-227503
Remember to vote early and often for GWAR because the Scumdogs command you to do so!
After hearing that the A.V. Club was inviting GWAR back for a fourth time, Pustulus (guitars) admits, "I think I threw up in my mouth a little bit."
A.V. Club VP/Editor in Chief Josh Modell had the following to say about GWAR's fourth visit: "Every year we hope GWAR will forget where our studio is so that they won't crush us and the competition. But every year they manage to find us and breathe horrible new life into an old classic. We submit, we submit."
GWAR are currently in the midst of their 30th anniversary tour as they continue to wreak havoc across North America. The show stops tomorrow in Tempe, AZ and runs through November 28th in Orlando, FL. A complete list of dates can be found below.
GWAR tour dates
w/ Born of Osiris and Battlecross:
Oct. 28 – Tempe, AZ – The Marquee
Oct. 29 – Albuquerque, NM – Sunshine Theater
Oct. 30 – Colorado Springs, CO – The Black Sheep
Oct. 31 – Denver, CO – Summit Music Hall
Nov. 2 – Urbana, IL – Canopy Club
Nov. 3 – Chicago, IL – Concord Music Hall
Nov. 4 – Grand Rapids, MI – Orbit Room
Nov. 5 – Indianapolis, IN – The Vogue
Nov. 6 – Detroit, MI – Harpo's
Nov. 7 – Buffalo, NY – The Town Ballroom
Nov. 8 – Cleveland, OH – Agora Theater
Nov. 9 – Washington, DC – 9:30 Club
Nov. 11 – Norfolk, VA – The Norva
Nov. 12 – Philadelphia, PA – Electric Factory
Nov. 13 – New Haven, CT – Toad's Place
Nov. 14 – Worcester, MA – The Palladium
Nov. 15 – New York, NY – Webster Hall
Nov. 17 – Asheville, NC – The Orange Peel
Nov. 18 – Nashville, TN – Exit/In
Nov. 19 – New Orleans, LA – House of Blues
Nov. 20 – Dallas, TX – Gas Monkey Live
Nov. 21 – Houston, TX – Houston Whatever Fest
Nov. 22 – Austin, TX – Scoot Inn
Nov. 24 – Charlotte, NC – Tremont Music Hall
Nov. 25 – Atlanta, GA – The Masquerade
Nov. 27 – Ft. Lauderdale, FL – Revolution
Nov. 28 – Orlando, FL – Venue 578
GWAR online:
http://www.gwar.net
http://www.facebook.com/gwar
https://twitter.com/gwarofficial
http://www.youtube.com/gwar
http://www.gwarbq.com
https://www.facebook.com/gwarbq
https://twitter.com/gwarbq
https://instagram.com/gwarbq/
http://www.gwarjapan.net
How useful was this post?
Click on a thumb to rate it!
Average rating 0 / 5. Vote count: 0
No votes so far! Be the first to rate this post.
Related
About the author
Some say Yank My Doodle, It's A Dandy! is a biographical movie based on John. Some have even said that his favorite artist is Chesney Hawke! All we really know is he sleeps inside out and his hair tastes like candy floss.