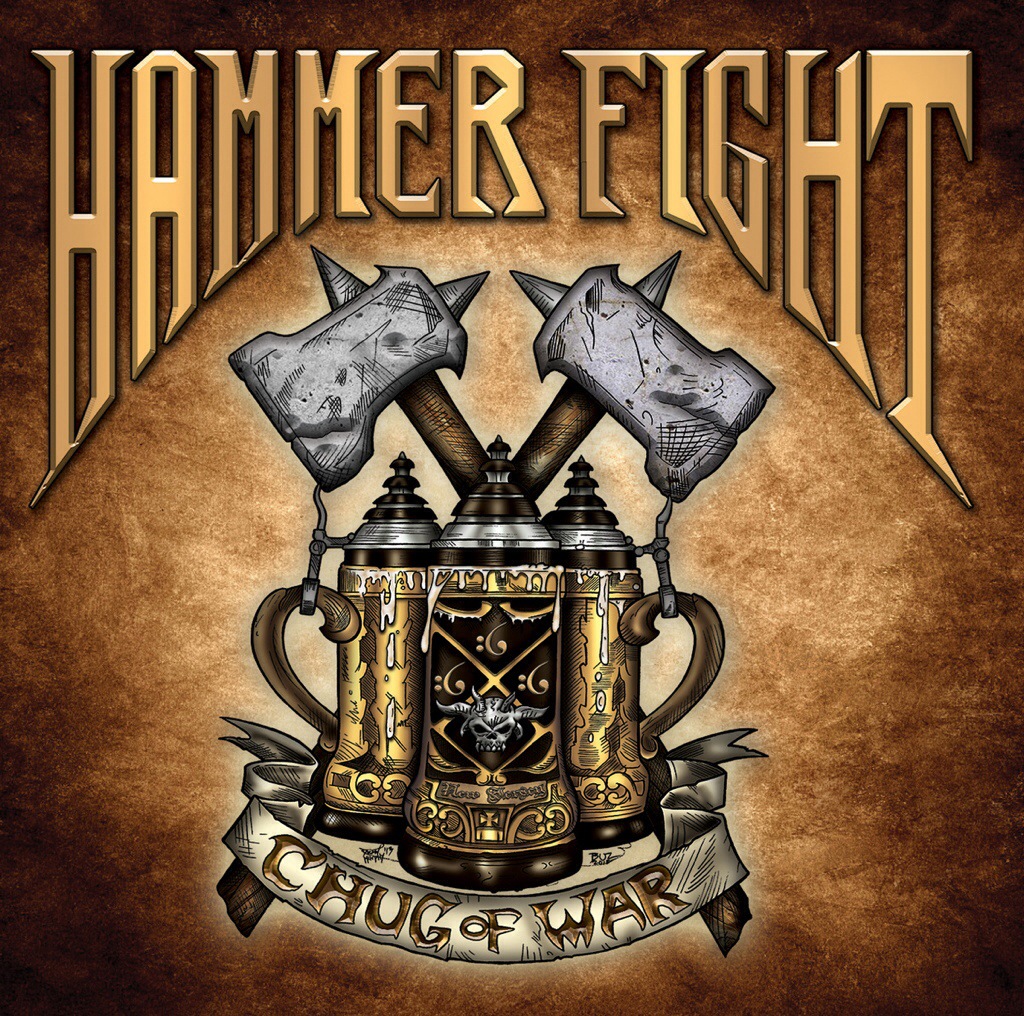 Hammer Fight – Chug of War
28th November 2013
Right am back again already with another review…am like a review machine! Here at All About the Rock we have a list of albums that need reviewing, after looking at this list I picked three bands that I have never heard of and took a chance, first up is HAMMER FIGHT (the other bands being ECLIPSE PROPHECY and ALMAH and their reviews coming soon). Well after putting the album onto my iPod and seeing the cover of HAMMER FIGHT album "Chug of War" I am expecting a thrash metal album in the vein of TANKARD etc, so what exactly do I get…???
Well first track 'Ruben's Ride' starts and its fast over the top thrash metal, okay so I have 13 tracks of thrash metal in 37 minutes…not the end of the world! However things then get slightly bizarre as next track 'I Didn't Feel Like Drinking (Until I Started Drinking)' sounds like a more thrash orientated GEHENNAH and CHROME DIVISION. It's a great track with its Hard Rock groove, sing along chorus and bass solo will hook you…its like a thrashier version of MOTORHEAD and that isn't a bad thing. The rest of the album then plays out the same, it's a journey through thrash. Some songs are pure thrash numbers like 'Ruben's Ride' and 'Made in Rock', some are thrash with a MOTORHEAD feel 'I Didn't Feel Like Drinking (Until I Started Drinking)' and 'Get Wrecked' and the song 'Ginger Rails' has a southern metal/rock influence (CORROSION OF CONFORMITY and LYNARD SKYNARD). While 'Queer Eye for the Scene Guy' has a death/deathcore tinge to the song…its like HAMMER FIGHT couldn't agree on what sound they want to play. The longest track is 'Stellar Mass' which is an instrumental track and sounds like 80's METALLICA and MOTORHEAD.
Vocalist Drew Murphy is versatile as he does all the singing on the album and his range varies depending on the song and the style they are playing for that song, although in general he sounds like a gruff Lemmy on most and that suits the music as the songs are mainly about drinking, fighting, touring, women etc. The production is a little raw and sometimes when Drew Murphy does more deeper vocals they get lost a little in the mix, however the bass solos and drumming can always be heard as the rhythm sections drive this beast along with the guitar riffs just propelling everything faster…
I like the versatility on "Chug of War", however HAMMER FIGHT are better doing the more MOTORHEAD/GEHENNAH style songs and think they should lean more to that style as the genre is saturated with thrash bands at the moment. If you like your music fast, hard and fun then HAMMER FIGHT are for you…however don't let the dirty production put you off and although this isn't a great album and other people will hate the versatility am sure most people will find a few songs that they love.
SCORE – 7 out of 10
[box_dark]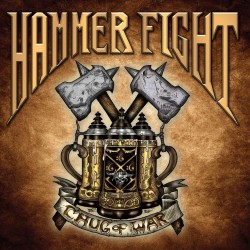 ALBUM INFO
TRACK LIST:
1… Ruben's Ride
2… I Didn't Feel Like Drinking (Until I Started Drinking)
3… Disas-tour
4… Foot Chase
5… Ginger Rails
6… Get Wrecked
7… Sleeping with the Enemy
8… Queer Eye for the Scene Guy
9… Down The Line
10… Made In Rock
11… Hella Weights
12… Stellar Mass
13… Bar Room Bully
LABEL – Horror Gore Pain Death Productions
RELEASE DATE – 12th November 2013
STANDOUT TRACKS – "I Didn't Feel Like Drinking (Until I started Drinking)", "Get Wasted", "Bar Room Bully"
[/box_dark]