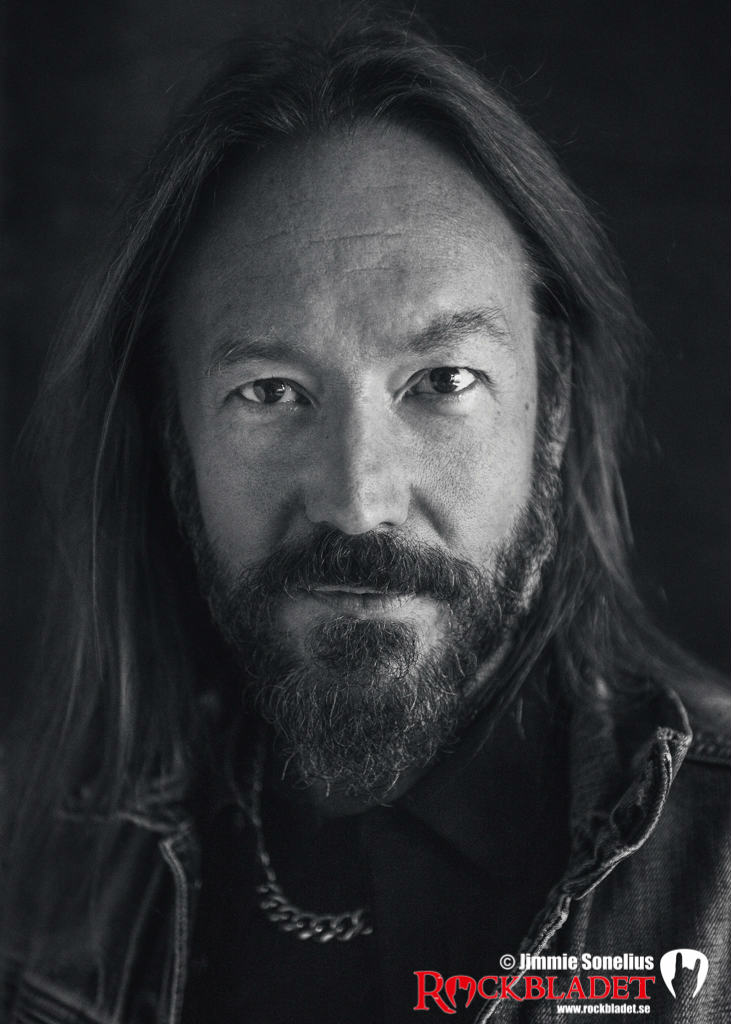 Hammerfall: Joacim Cans Interview
21st October 2016
Frontman of Swedish power metal heroes Hammerfall, Joacim Cans, was gracious enough to take some time to chat with me about their new album! Read our chat below!
All About The Rock: Hey Joacim! Thanks for taking the time to chat today. How are you doing?
Joacim: Hey man! I'm good, how are you? It's going to be great!
AATR: I'm great, thanks! So we're not far off the release of Built To Last, are you excited for everyone to hear this record?
Joacim: Absolutely! We've been working with this for such a long time! So it feels so weird… When you write something and record it, you need to wait like four or five months before you can present it to the fans, which is quite a weird feeling. You really want to present it when it's right out the oven. I'm really eager and enthusiastic about the whole thing!
AATR: Are you excited to play these new tracks live when you get out on tour?
Joacim: Totally! But I really hope the fans do not demand certain tracks because some of the notes are so high! [Laughs] The problem is, now we have ten albums, and we have to make a setlist for just over an hour, and it's an impossible task. I have no idea how we are going to manage it.
AATR: How do you feel Built To Last compares to the rest of your back-catalogue? How do you feel you have progressed?
Joacim: We took a break after Infected for various reasons. Mainly because we just came out of bad relationships with a couple of managers, and they set us off in a bad direction. When we did (r)Evolution that was such an energy boost into the career of Hammerfall as a band, and the tour that followed that album was the best tour we have ever done! I think we really found the"secret recipe" for Hammerfall to ensure we are as good a band as we can be. I think we've preserved that and taken it onto Built To Last. It takes a while to realise what people you want to have around you, and what people you don't want around you. When it comes to producers, who is the perfect producer for Hammerfall? Fredrik Nordström. He was there at the beginning with Glory to the Brave and Legacy of Kings. We strayed off a bit and worked with other people, but he was always in the back of our minds – he is something special, and he is the perfect guy for Hammerfall. He was invited to be a part of (r)Evolution, he did the final mix and the drums. Now for the new album, we have him a stronger say and his role was much greater. I think we have realised now the best way to work with Hammerfall for the future. Even though we have 20 years in the business, Built To Last still sounds like a young and fresh metal band – in my opinion! I don't think it sounds like we are all over 46. The weird thing with my voice is that it is getting higher and higher, and more and more powerful the older I get. What is normal for singers is the total opposite. It's weird, but I'm totally enjoying the ride, and I'm not going to complain!
AATR: Can you walk me through the creative process for Built To Last?
Joacim: I think it's more or less the same as every album, but this one was really hard to write, certainly compared to r(evolution), which came very naturally after a long break. We just found the joy in playing heavy metal again, so it came very smoothly. I think Oscar [Dronjak, guitar] and I felt a lot of pressure with writing this album. It's the tenth album, we had a new deal with Napalm Records, and people were wondering how we could top r(Evolution). Oscar was struggling a lot to come up with unique guitar riffs to make unique songs. And when it came to me to do the vocal melodies, and finally the lyrics, I was like "Shit! Haven't I written this song 20 times before?" I had to send the files to Oscar to check everything was okay, and he said "Wow! These are the best vocal parts you've ever written!" I put so much pressure on myself, sitting in my basement studio… in the dark… alone. [Laughs]. It was a very tough struggle, and as a creative person, you judge yourself very harshly. It wasn't until we were in the studio in L.A I realised we had a fucking great album coming up.
AATR: You are always your own worst critic! So you have two tours announced already in support of Built To Last – one in America and one in Europe. Are there any plans in the works to hit the UK next year?
Joacim: We have got plans! The only concrete date we have so far is Hammerfest. We are hoping to do some UK shows around Hammerfest, but nothing is confirmed yet. We will definitely be back over though!
AATR: Nice one! Well if you manage to get up to Scotland, I'll buy you a beer!
Joacim: Oh yeah! We will definitely be playing Scotland, I love to play Scotland! One of the best shows we have ever played was with Saxon in Edinburgh, it was just fantastic.
AATR: What are your favourite places in the world to tour and to play live? You love Scotland, but is there where else?
Joacim: Whevever we play, it is always a huge pleasure to meet the fans. Whether we are playing to 75,000 people screaming "Let the hammer fall!" at Wacken, or if you're playing a shitty bar in Texas to 200 people, it's always great because people are there to see Hammerfall, to be a part of our show. Of course, the further south you get, always in Europe, people are very enthusiastic – they show their feelings in a different way. The same goes for South America. It's a very different climate there, I just stand on stage with a stupid smile on my face! They are all here to see Hammerfall, they show us so much love and affection, it's just great. But like I said, it doesn't matter where you go, as long as you go out and meet the fans. Because they are there for the exact same reason we are: they love the music.
AATR: The band's mascot, Hector, has been on every album cover except Infected. Have you a backstory written for Hector, or is he just there for the album covers?
Joacim: We wanted to have a character, like Iron Maiden's Eddie. There are some songs, like Destined for Glory, that go into the backstory. And the video for Hammer High kind of shows how he gets his hammer in the first place. It would be cool to kind of sum things up, and do the ultimate Hector story. We have never discussed it, but "The Hector Chronicles" could be something very, very cool to do.
AATR: What do you find inspires you most when you sit down to write lyrics?
Joacim: Usually, in the past when I lived in Gothenburg, I would get the train up to Stockholm, and sit alone in a shitty hotel room – usually wanting to kill myself cause it was so fucking boring! I need to be bored to write. When I am bored I really need to dig deep into my imagination to come up with new ideas, new music or lyrics that no one has written before. I don't read many books. I need to come up with things myself. When I write things fantasy-inspired, people ask what book I was influenced by – but it all comes from my own imagination! I know Oscar is very inspired by Game of Thrones – some of the titles we are using are taken from Game of Thrones! But you know, someone thought all of Game of Thrones up, it came from his imagination, and he started with a blank page. That's what I want to do with my lyrics.
AATR: Have you ever thought about writing your own fantasy book or TV show? Or is that just not something that interests you?
Joacim: I am writing a lot of things. I'm writing a show, not a musical but kind of a jukebox show. I'll be doing that in December in Sweden, and I'll be playing the lead role myself. This is the first time I've written an entire script myself.
AATR: Well congratulations on that! It has been about 12 years since you released your last solo album, Beyond the Gates. Have you any plans to do another solo album anytime soon?
Joacim: I actually did another solo album a few years ago, but it was all in Swedish. It was more of a Swedish folk music, pop-oriented type of album. It was only released in Scandinavia. At the moment I don't really see the need for it. I don't have it inside of me that I need to get released. Hammerfall is taking up a lot of my time. Also, you know the musical Rock of Ages? I did 150 shows with Rock of Ages during the break with Hammerfall. I'm now doing an arena tour in Sweden with Rock of '80s, which is a concert version of  Rock of Ages with a lot of acting. I'm doing one of the lead roles. And I filmed a commercial last night in the south of Sweden… So to answer your question, no, I don't see the need for myself or anyone else to do another Joacim Cans album at the moment.
AATR: You are 20 years into your career with Hammerfall, you've got 10 albums, where do you see the future of Hammerfall going from here?
Joacim: I think this album is Hammerfall 2.0. After r(Evolution) we got back on track, we found the joy in metal again – I would say we have at least another ten good years in us!
AATR: Glad to hear it! So like I said, you are 20 years and 10 albums into your career – what are some of the highlights for you?
Joacim: Oh, there are so many! I need to write them all down sometime! For me, the biggest highlight is still when we got the record deal for Glory to the Brave in a time when no one was listening to heavy metal. People would tell us to play music people wanted to hear. You know what? We play music we want to play, so fuck off! Nuclear Blast approached us and no one at the label believed in us except one person – the big boss, Markus Staiger. He wanted to sign us and make us as big as possible, and he invested a lot of money into marketing because he believed in Hammerfall. So that was my proudest moment. Then of course we have gold albums, award nominations…. it's been a hell of a ride!
AATR: Are there any bands in the underground, that possibly don't have the same spotlight as Hammerfall, that you are really enjoying?
Joacim: I find it really hard to find these bands nowadays! Before, whenever I went to a new city I'd go to record stores, but now I don't know what to do, because there aren't really many record stores left. I listen to a lot of regional bands. Skálmöld, from Iceland – they are totally different to what Hammerfall is all about, but I love those guys. I listen to Rotting Christ from Greece, but they're not a new band – they've been around longer than us! Twilight Force, from Sweden, Lancer, who we are bringing on tour with us. Gloryhammer – they are really cool, energetic and a really positive injection into heavy metal. The problem is, nowadays, people don't make bands the same way we did 20 or 30 years ago. We need kids to pick up a guitar, and start makin killer music, because without them, there is no future.
AATR: Just before I let you go, have you any parting messages for our readers?
Joacim: As always, thank you for the support! Without the fans, we wouldn't be anything – that is the honest truth. I hope you can check the album out, and I hope you enjoy it! Bring your friends down to one of our shows! Maybe we can't come to everyone's hometown – but maybe we'll be worth travelling to see! We get a lot of shit from people saying "Oh you played this city, but not my city two hours away?" Well, maybe you should jump on a train!
Check out Hammerfall on Facebook, and pre-order Built To Last here!