Hard Rock Hell 9 – House of Horrors 2015 Overview
16th November 2015
0
By
John Deaux
Another Hard Rock Hell weekend comes to an end & what a weekend it was.
As always the atmosphere is one of fun, comradery, friendship & the love of music.
Even the tail end of hurricane Kate didn't dampen the proceedings or the atmosphere.
The weekend is always well run. The stage crew of both stages do a fantastic job with band change overs which involves military precision to get everything on & off stage.
Unlike many of the big festivals it's really easy to get around & because it's a holiday park everything is already on site so you haven't got to venture off site to find things like loo roll.
There's a market around stage 2 that sells everything from knitted Minion hats to large pieces of rock & metal artwork. There was 1 stall I frequented this year (& of course last year) & that was the vinyl & CD seller who you may have seen at Bloodstock. Loads of bargains to be had & probably one of the finest collections of coloured vinyls, picture discs & rare albums you'll find.
Talking of bargains the bar prices are really good & the bar staff are well up for having a laugh. In fact all the staff are up for banter (even security) & that is what you want. Hard Rock Hell isn't the largest rock & metal festival & it doesn't pretend to be.
HRH can however boast that it's probably the friendliest, has some of the biggest names in rock & metal vying to turn up, has a great cross-section of ages & of course because it's in Pwllheli (I hadn't heard of it either til last year) in the North of Wales there's no noise pollution (music doesn't bleed from one stage to the other), it's undercover so you don't get drenched (just mildly moist) walking between stages or completely waterlogged whilst watching a band & it's easy to find a bar or eatery or even head back to your caravan (with a comfy bed no less) for a quiet kip.
The Msh & Barrel (the on site bar) not only does it do a really nice English breafast, friendly bar staff, comfy seats, well priced bar etc but you may never know who you will see walking through the area heading to & from the media area.
I quite literally bumped into Zakk Wylde as I was coming from the artist & media area.
All in all it's a wonderful experience especially if, like me, you're getting to old for this sleeping in a tent, soaked, muddy & wondering why you thought it was a good idea to go to a festival in the middle of a field for 5 days.
As usual there were so many bands it was difficult to get round them all but what I did see was amazing.
The bands of the weekend for me personally were (& in no particular order Helloween, Colour of Noise & Faster Pussycat)

Biggest surprise of the weekend goes to Pig Iron whose acoustic set in the Owners Bar was just sublime.It was truly something special.

The whole weekend was incredible.
This is my 2nd year of Hard Rock Hell & I certainly wont do any other UK festival after experiencing this yet again
Bring on 2016 & the 10 year anniversary of HRH & long may it continue.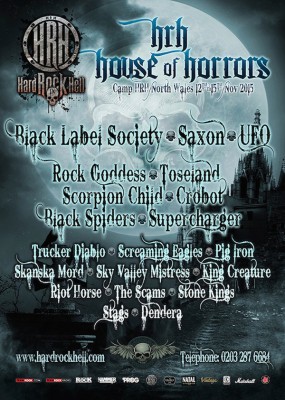 Thanks to the organisers, the PR Companies,of course to the bands & of course everyone who turned up for what was, is & always shall be a true experience in every shape & form.
Tickets are all ready on sale for Hard Rock Hell X 2016  from the following link http://www.hardrockhell.com/tickets.html?p=1
Get them while you can tho folks as they are selling like proverbial hot cakes.
How useful was this post?
Click on a thumb to rate it!
Average rating 0 / 5. Vote count: 0
No votes so far! Be the first to rate this post.
Related
About the author
Some say Yank My Doodle, It's A Dandy! is a biographical movie based on John. Some have even said that his favorite artist is Chesney Hawke! All we really know is he sleeps inside out and his hair tastes like candy floss.