HARD ROCK HELL ANNOUNCES MORE BANDS
2nd February 2018
HRH XII ANNOUNCE 22 MORE BANDS INCLUDING MICHAEL SCHENKER FEST!
HRH have announced the storming second wave of bands who'll play at the Glorious Twelfth Hard Rock Hell, rocking Camp HRH in Pwllheli, between Thursday 8th and Sunday 11th November 2018.
HRH are particularly proud to announce Thursday's headliners: Michael Schenker Fest
.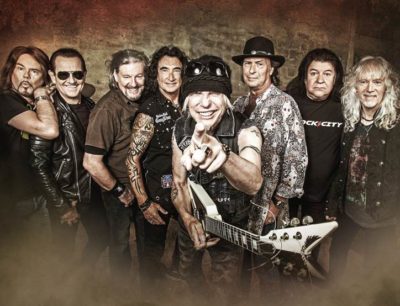 Michael Schenker has mesmerised the rock community since the '70s with his distinctive guitar playing style and solidified his place in music history. His playing has proven to be inimitable and hugely influential for several generations of guitar players. Last year, his amazing achievements were acknowledged and celebrated by the HRH community, whose votes earned Schenker the HRH Axeman Award at the premiere HRH Awards.
As lead guitarist of UFO, Michael Schenker wrote hits like 'Doctor Doctor' and 'Rock Bottom', whilst with the Scorpions he composed classics like 'Lovedrive', 'Coast To Coast' and 'Holiday'. Not content with being a key player in these iconic groups, back in '79 Michael decided to forge his own path, which led him to found the legendary Michael Schenker Group (aka M.S.G.).
Recently, Michael has been recording with his band Michael Schenker Fest, who as we go to press, are preparing for the release of their forthcoming studio album 'Resurrection' (to be released on 2nd March). Michael Schenker Fest will be fielding a line-up of legends: original M.S.G musicians Ted Mckenna (drums, keys), Chris Glen (bass) and Steve Mann (guitar), also M.S.G. singers Gary Barden, Graham Bonnet and Robin McAuley, as well as Doogie White (of Michael Schenker's Temple Of Rock).
In addition to MSF, HRH are also delighted to announce more bands joining the already impressive line-up: Rock Goddess, Vintage Caravan, Blitzkrieg, Hawklords, Demon, Witchfynde, The Wild!, The Dust Coda, VA ROCKS, Smoking Martha, Voodoo Blood, Anchor Lane, City of Thieves, The Bad Flowers, Blind River, deVience, Riders to Ruin, SINSIDE, Red Hawk Rising, Stand Amongst Giants, and Walkway!
These join an already impressive line-up of rock, including headliners Saxon and The Dead Daisies. Other bands already announced include Femme Fatale, Girlschool, Phil Campbell and the Bastard Sons, Tygers of Pan Tang, Thunderstick, The Rising Souls, The Dukes of Bordello, Renegade Twelve, Ryders Creed and there is still more to come later on in the year.
"If you didn't book early, you're going to miss out on some amazing acts, as well as the usual HRH fun and fellowship," says HRH's CEO Jonni Davis, "We've been totally sold out since last November. What else would you expect? We're Europe's leading residential festival provider! And with a line-up like this? If you're not already on board, check the website, call the hotline and join the waiting list. You might get lucky. Failing that, you'll need a miracle."
For further details and ongoing updates, check out www.hardrockhell.com or ring Fleur on 0203 2876684