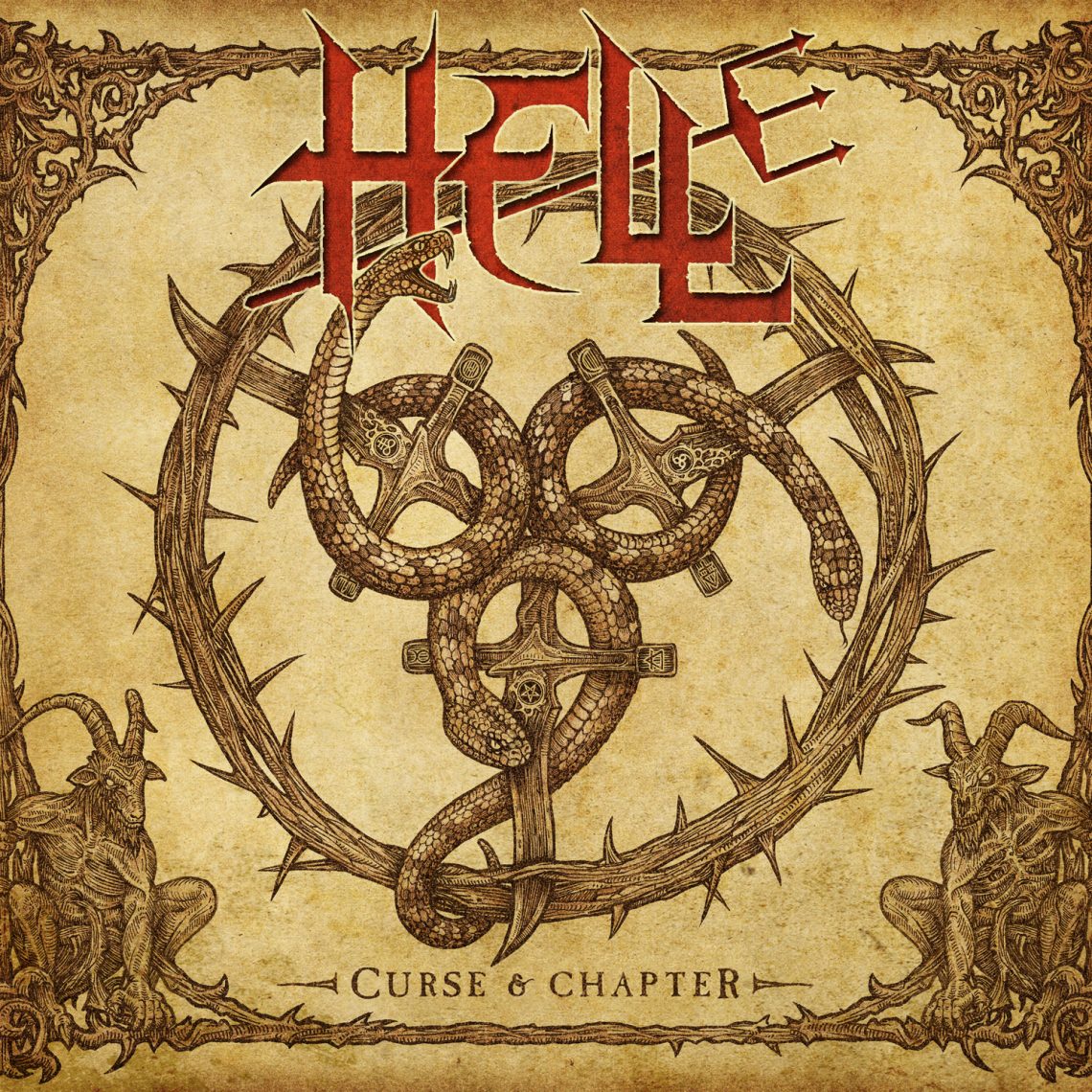 Hell – Curse and Chapter
21st November 2013
I will admit that I never actually heard HELL's first album "Human Remains", only one or two songs and they were quite good, so when I was asked if I would review the new album "Curse and Chapter" I jumped at the chance as I wanted to hear what all the commotion was about. I am also a little gutted that I've missed HELL perform live as they supposedly put on one hell (pun intended) of a show, what with exploding bibles, vocalist David Bower on stilts dressed as a Minotaur and other dramatic staging and pyrotechnics that fixates the crowds, maybe next time. Anyway for anyone who are new to HELL then a quick overview is that they play NWOBHM with a hint of modern metal and MERCYFUL FATE.
The addition of Andy Sneap (Ex-SABBAT and all round metal producer god) on guitar and David Bower to vocals have rounded out the original HELL line up and made them into the beast they are today. Andy Sneap and fellow guitarist Kev Bower play some great heavy crushing riffs that they mix up with some great speed riffs and classic harmonic rock riffs. The keyboards are also a depth to the music and drive the album on along with the tight rhythm section. However the main drive behind HELL is vocalist Dave Bower and he is like Marmite, you will either love him or hate him. He is like the love child between Rob Halford and King Diamond and the way he tells the story of each song and he puts in such a performance on each track that you will be mesmerised and enticed by HELL.
"The Age of Nefarious", "End ov Days" and "Darkhangel" are all great catchy songs, however it is the reworked older material that is the highlight on the album as they are the most memorable and infectious. The older songs being "The Disposer Supreme", "Land of the Living Dead" and "Deliver Us From Evil" and these are lyrically the best as well as they engulf the listener and get you to unravel and interpret the lyrics as you please. Also the track "Deathsquad" is actually surprisingly very good for an instrumental track and will have you hooked. This is a solid heavy metal album with David Bower's soaring vocals, accompanied by a twin guitar attack and a blistering rhythm section to keep it pummeling along. "Curse and Chapter" has moments of symphonic black metal, a touch of doom, elements of thrash and melodic speed thrown in the mix, however HELL's sound is firmly rooted in NWOBHM and they are intent on bringing the crown back to England from the pretenders.
I must admit that this album is a grower as the first time I listened to it the album I wasn't overall impressed, but it has grew and grew on me (up to the fifth listen). Yes the album has some patchy moments and it takes away from this album being a classic and it does make the album drag in parts but it is still a solid decent metal album. Another problem for me and probably older metallers (don't mean to discriminate) is that sometimes HELL come off like a 2nd rate SABBAT, and listening to this album makes me want to bang SABBAT "History of a Time to Come" and "Dreamweaver" onto my iPod.
Finally I would highly recommend fans of HELL to check out SABBAT…that is what HELL are trying to recreate!
SCORE – 7.5
[box_dark]
ALBUM INFO
Track List:
1… Gehennae Incendiis
2… The Age of Nefarious
3… The Disposer Supreme
4… Darkhangel
5… Harbinger of Death
6… End Ov Days
7… Deathsquad
8… Something Wicked This Way Comes
9… Faith Will Fail
10… Land of the Living Dead
11… Deliver Us From Evil
12… A Vespertine Legacy
LABEL – Nuclear Blast
RELEASE DATE – 22nd November 2013
STAND OUT TRACKS – "The Disposer Supreme", "Something Wicked This Way Comes", "Land of the Living Dead" & "Deliver Us From Evil"
[/box_dark]