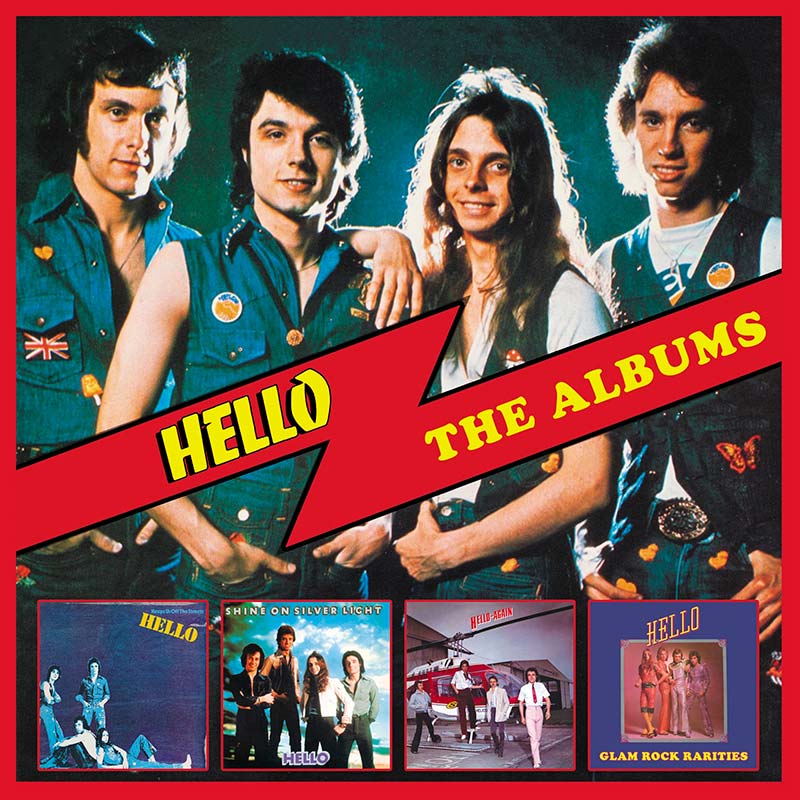 Hello – The Albums: Deluxe 4 CD Set
28th September 2016
Hello were one of the best glam rock bands of the 70's. Releasing such hits as New York Groove &  Tell Him, this 4 disc box set not only features the hit singles but pretty much everything they ever recorded & completely remastered.

Their debut album Keep Us Off The Streets has been expanded with 12 bonus tracks of their early singles (which were swept under the carpet due to their non success) & b-sides.
Shine On Silver Light was a rare Japan only release, up until now & is the first time this has ever been released on CD. Also expanded with 7 non album tracks, featuring the single Love Stealer. 

The 3rd disc of this gorgeous box is Hellos 3rd album Hello Again. Once again expanded, this time with just 3 non album tracks.

Disc 4 is an absolute gem. Containing completely unreleased material, including their version of Dynamite. The track was originally considered to be a single but was shelved. It later became a huge hit for the band Mud. Who knows what would've happened to Hello had they been allowed to release it as a single instead of Mud.
The packaging for this set is tremendous. All 4 discs have their own replica cardboard album sleeve & housed in a clamshell box. The accompanying booklet has an amazingly detailed essay by Phil Hendricks along with full color photos of  the single covers & promo shots.
The music is amazing & sounding better than ever. Thanks to James Bragg for doing such a good job on the re-masters.
An essential addition to any record collection. Glam rock doesn't get much better than this.
Score 8.5/10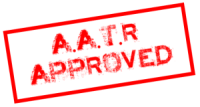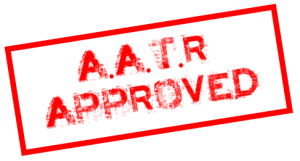 For fans of The Darkness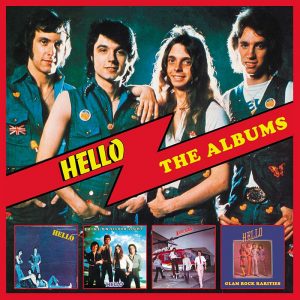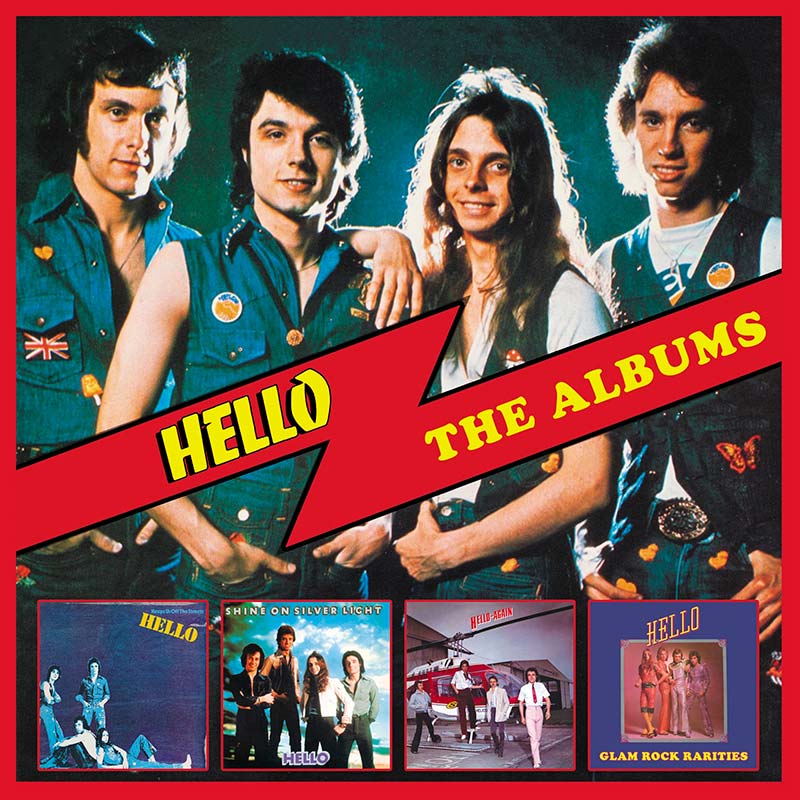 Track List
DISC ONE: KEEP US OFF THE STREETS
1. TEENAGE REVOLUTION
2. KEEPS US OFF THE STREETS
3. SHE KNOWS
4. CAROL
5. THEN SHE KISSED ME
6. TELL HIM
7. NEW YORK GROOVE
8. LET'S SPEND THE NIGHT TOGETHER
9. SHAKIN' ALL OVER
10. HOLD ME
11. ANOTHER SCHOOL DAY
12. STAR STUDDED SHAM
BONUS TRACKS
13. YOU MOVE ME
14. ASK YOUR MAMA
15. C'MON
16. THE WENCH
17. C'MON GET TOGETHER
18. LIGHTNING
19. GAMES UP
20. DO IT ALL NIGHT
21. BEND ME SHAPE ME
22. WE GOTTA GO
23. LITTLE MISS MYSTERY
24. JENNY DREAM
DISC TWO: SHINE ON SILVER LIGHT
1. SHINE ON SILVER LIGHT
2. STARLIGHT
3. MIDNIGHT STRANGERS
4. SOME KIND OF MAGIC
5. SEVEN RAINY DAYS
6. GOTTA LOTTA SOUL
7. HEART GET READY FOR LOVE
8. GOOD OLD U.S.A.
9. VOODOO EYES
10. WEEK-END RENDEZVOUS
11. THE IN PLACE
12. TILL YOU'VE BEEN KISSED
BONUS TRACKS
13. LOVE STEALER
14. OUT OF OUR HEADS
15. SLOW MOTION
16. REBEL
17. LET IT ROCK
18. SHINE ON SILVER LIGHT (Single Version)
19. SEVEN RAINY DAYS (Single Version)
DISC THREE: HELLO AGAIN
1. 99 WAYS
2. THAT'S THE TIME
3. BACK-SEAT TALKING
4. THE CAT IS WILD
5. ONE MORE STEP TO HEAVEN
6. YOU SHOT ME DOWN
7. HI HO SILVER LINING
8. ELENORE
9. MACHINE-GUN HUSTLE
10. OH CAROLINE
11. HOW TO SURVIVE THE NIGHT
12. WALKING MIDNIGHT
BONUS TRACKS
13. TOO MUCH HESITATING
14. FEEL THIS THING
15. FEEL THIS THING (12" Extended Version)
DISC FOUR: GLAM ROCK RARITIES
1. CAN'T LET YOU GO
2. DYNAMITE
3. LET'S TWIST AGAIN
4. HOORAY HOORAY
5. WHERE'S THE PARTY
6. SHOUT IT OUT
7. ROUND AND ROUND
8. LITTLE MISS MYSTERY (Demo)
9. KEEP US OFF THE STREETS (Demo)
10. NEW YORK GROOVE (Demo)
11. NIGHT WATCHER
12. ONE BY ONE
13. WHOLE LOTTA WOMAN
14. YOU GOT CLASS BABE
15. DEAN
16. FEEL THIS THING (DJ Edit)
Release Date
28th October 2016
Label
7T's & available HERE
More information on Hello can be found HERE