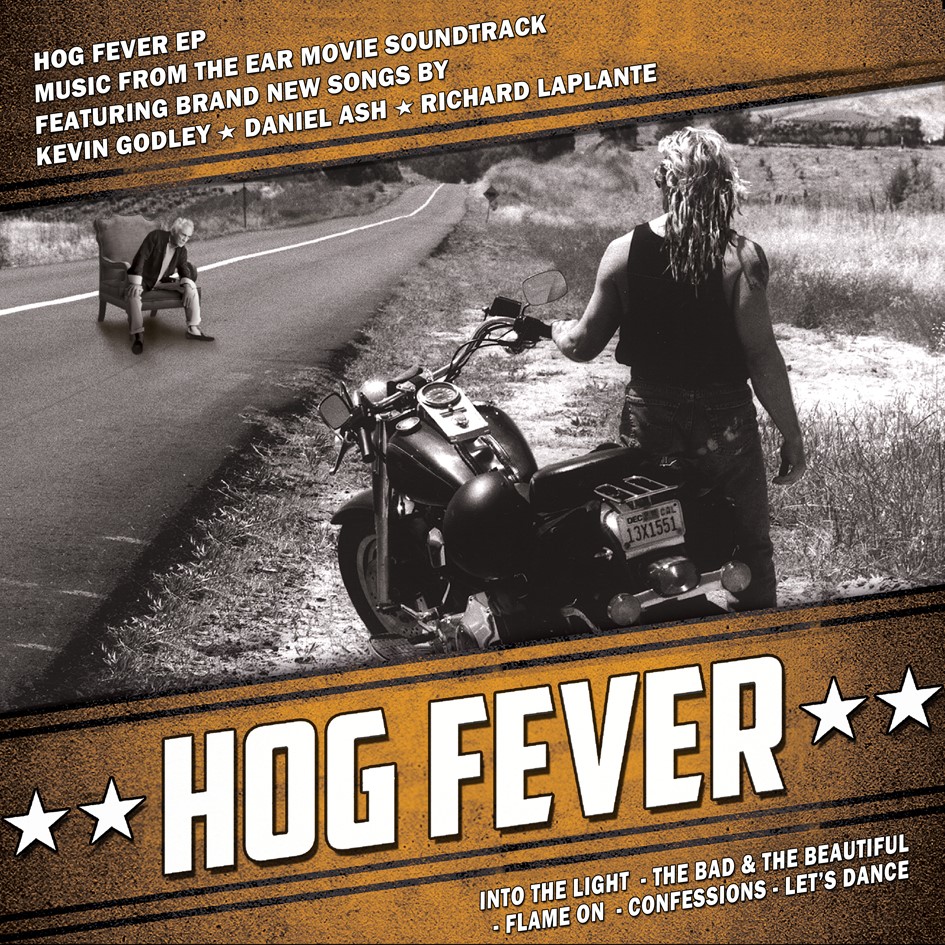 HOG FEVER SPREADS TO THE UK!
24th March 2016
Escargot Books and Music with Downpour.com present
HOG FEVER
An 'Ear Movie'
PART SICKNESS. PART CURE. ALL MIDLIFE CRISIS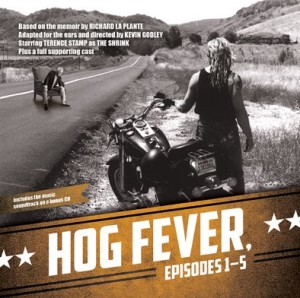 An outrageous mash-up of a 21st century radio play, an audiobook on steroids,
 an off-the-wall comedy album and an original soundtrack—all in one!
Midway between the satire of Spinal Tap and the pathos of American Beauty lies the schizophrenic state of mind known as Hog Fever.
On the surface, this is the story of a man, a motorcycle, and a teetering bank balance ; But lurking beneath is the story of a lost soul in search of freedom –  or at least one last stab at it.
Motivated by the emasculating success of his British screenwriter wife and a love of "Easy Rider" and "The Wild One", Robert Lourdes – a struggling American author on the cusp of forty, finds solace in the Harley-Davidson legend whilst embarking on a tattoo-and-testosterone-fueled quest to find himself.
Escargot Books and Music partnering with Downpour.com, proudly present HOG FEVER, a recklessly  entertaining "Ear Movie", starring legendary Academy Award-nominated actor Terence Stamp , best-selling novelist Richard La Plante, 10cc's Kevin Godley, and Bauhaus guitarist Daniel Ash.
Lovers of audiobooks, serial podcasts, and anyone who cherishes the thrill of riding a Hog on the open road, will savor every episode of this wildly entertaining production, adapted from the bestselling book by Richard La Plante.
This dark comedy of errors chronicles the story of Robert Lourdes, a man in the throes of midlife crisis, desperately searching for himself from the saddle of his motorcycle while reliving his misadventures from the sanctuary of his psychiatrist's couch.
With his marriage on the rocks after Coco, his high-maintenance, screenwriter wife remorselessly steals his idea for a screenplay, Robert sets out to reinvent himself.
Follow Robert as he seeks out shiny accessories, motorcycle rallies, and bigger Harleys; on his journey to reclaim his manhood, and rise from the ashes a new man – rejuvenated by HOG FEVER.
The brainchild of Richard La Plante, HOG FEVER has been brought to life by La Plante and ground-breaking music video director Kevin Godley.
HOG FEVER is a full cast production created specifically for audio entertainment, complete with an original, rock n' roll soundtrack, including brand new songs by Kevin Godley (his first ever solo recordings), Richard La Plante, and Daniel Ash.
PUBLICATION INFORMATION
Title: Hog Fever: An Ear Movie
By: Richard La Plante and Kevin Godley
Producer: Escargot Books and Music
Release Date: December 1, 2015
Price and ISBN: Retail CD; 978-1-5046-5711-2; $24.95
MP3 CD; 978-1-5046-5711-2; $19.95
Library CD; 978-1-5046-5709-9; $30.00
Digital Download; 978-1-5046-5708-2; $13.95
Music produced by: Greg Penny and Kevin Godley, Daniel Ash and Billy Goodrum
Performed by: Terence Stamp and a full cast
EP INFORMATION
Title : Hog Fever EP
By : Various Artists
Label : Ear Movies
Release Date : March 14th 2016
iTunes :  https://itunes.apple.com/gb/album/hog-fever-ep/id1091999966
CdBaby :  http://www.cdbaby.com/cd/hogfeverep2