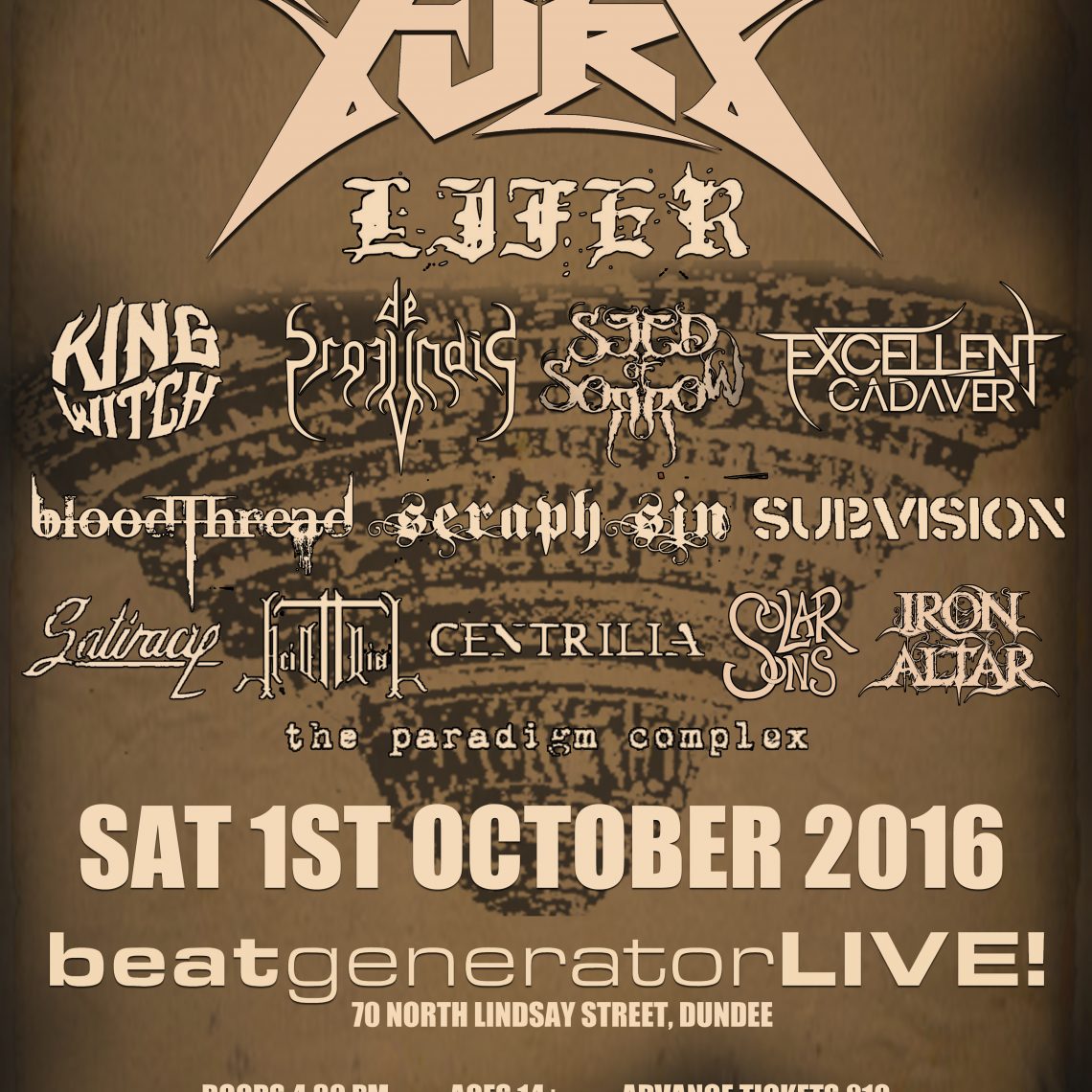 Hordes of Belial – Seven & Hell Returns!
18th September 2016
With just two weeks to go until its seventh outing, annual underground metal and hard rock event Hordes of Belial has always strived to deliver one of the best regular shows in Scotland – and 2016 is no different!
In spite of recent problems with cancellations, Hordes of Belial has yet again delivered a killer bill. The epic metal of Fury will be headlining the night, and the technical death of returning Londoners De Profundis, and acid prog of openers The Paradigm Complex joins them. There's doom from King Witch, prog from Solar Sons, industrial from Seraph Sin, thrashy punk from Subvision, plus the usual variety of the loud and offensive provided by Seed Of Sorrow, Centrillia, Excellent Cadaver, Bloodthread, Acid Trial, Iron Altar, and Satiracy. The line-up even includes the first Welsh band to feature on the showcase, stoner/doom thrashers Lifer!
However, it's not just about the live show. Hordes Of Belial was, after all, set-up largely for the benefit of underground bands. One of the ways in which Hordes is trying to improve things for the smaller artists on the bill is by generating new revenue from a compilation album. This is a digital only release, priced as pay-what-you-want, so it really is up to the fans how much they want to support the bands. Better yet, the event organisers (Slow Dragon Music, formerly known as Critical Events), don't take a single penny! Those who want to show their support for underground metal can get their copy at the Hordes of Belial Bandcamp page.
The event will also provide a short run of promotional t-shirts. The only way for gig-goers to be sure of having their size in stock is to pre-order via email, and pick up their merchandise at the show. Those interested in buying a shirt should contact slowdragonmusic@gmail.com as soon as possible, as pre-orders close on Sunday the 25th of September.
Hordes of Belial Details:
Date:
Saturday 1st of October 2016, doors open 4.25pm
Venue:
Beat Generator Live!, 70 North Lindsay Street, Dundee, DD1 1PS
Tickets:
Tickets can be bought from Grouchos Music Store, Dundee, can be ordered online, and will also be available on the door for £10.
Ages:
£14+ (ID required for sale of alcohol)
Line Up:
Fury
Lifer
De Profundis
Seraph Sin
Excellent Cadaver
Seed Of Sorrow
King Witch
Blood Thread
Subvision
Centrilia
Acid Trial
Iron Altar
Solar Sons
Satiracy
The Paradigm Complex
https://www.youtube.com/watch?v=J3gxmvbbcQc