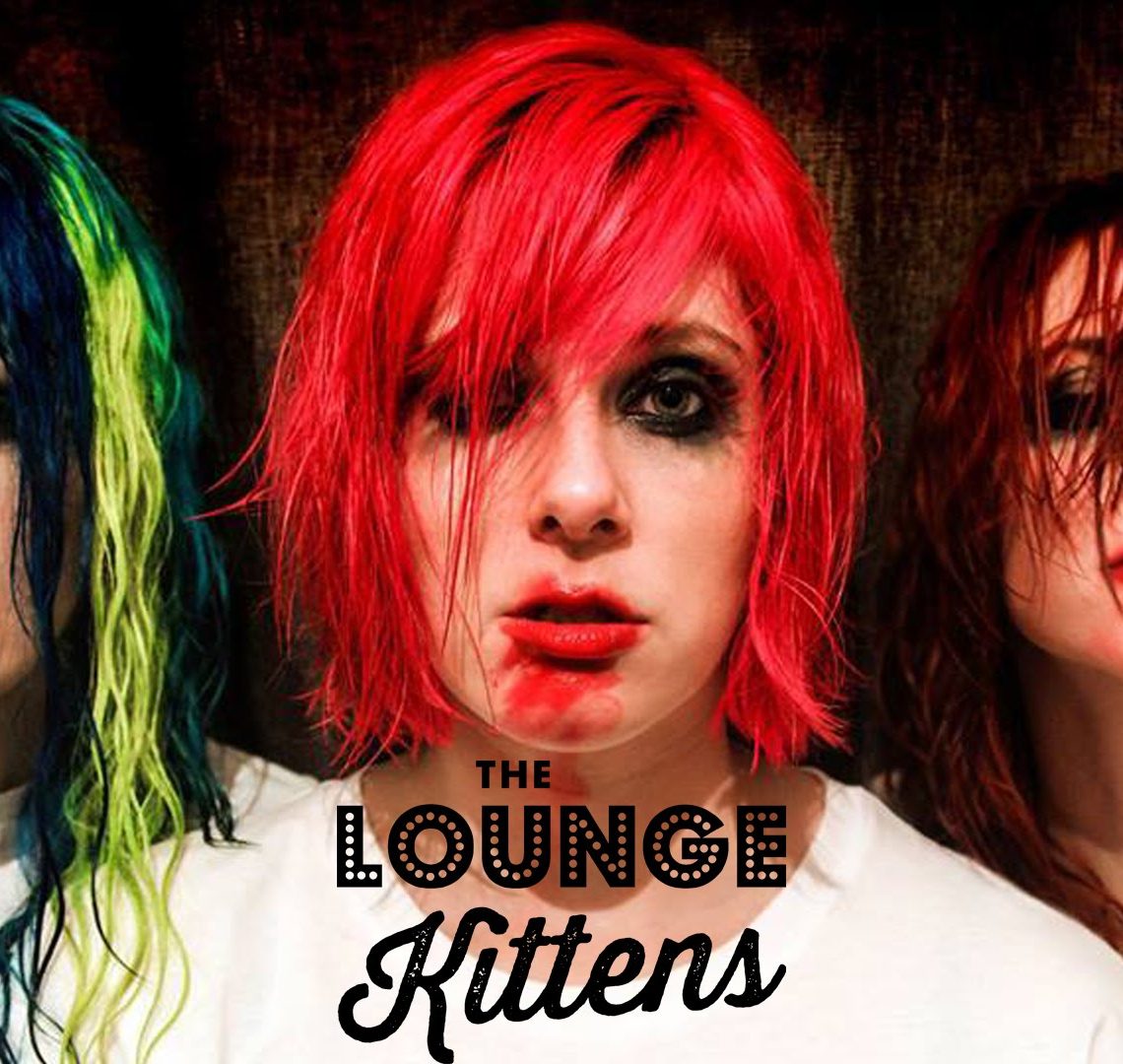 THE LOUNGE KITTENS – SEQUINS AND C-BOMBS – INTERVIEW
18th September 2016
THE LOUNGE KITTENS – SEQUINS AND C-BOMBS – INTERVIEW
A couple of months back at the Stonefree Festival AATR had the pleasure of sitting down with Jenny, Zan & Timia (The Lounge Kittens) to discuss Festivals, Rock & Metal covers and of course their debut album SEQUINS AND C-BOMBS. So after getting out alive, a period in a darkened room, a few counselling sessions and to coincide with their albums release we are delighted to share this interview with you all.
AATR: Thanks very much for taking the time to have a wee chat with us. It's a busy day at the O2 for you. You've just come from the Isle of Wight festival – how was that?
Jenny: So lovely! I super rate it as a festival. Our first time going to Wight; you think you've been to the festival before…
Zan: Yeah. I've not been ten years, oh no twelve years, is the last time I went to the Isle of Wight festival and yeah really well organised, lovely, lovely crew and staff and security, and we were wonderfully looked after, but like really fun we had a really good reaction from the public. We weren't sure how we would be received you know, cos obviously we do a lot of rock and metal festivals and these days we know somebody's going to turn up to watch us, but we weren't too sure with the Isle of Wight cos it's a bit more mainstream and there's such a crossover of different genres.
Timia: As well the age range is so diverse at Isle of Wight. There were so many people with their kids, and then there were people that were you know like our parents' age, but like really kind of evenly matched; it wasn't just like there were a few mums and dads, it was like there were loads and then just as many kind of people in their teens and twenties as well so…It was really nice, really nice.
Zan: And we did two shows on two different days which meant we got to actually stay and enjoy some of the festival and we got to see Queen – live – which was absolutely unbelievable so yeah that was a good day's work…
AATR: It sounds like a very good day's work. And I would imagine that because of your set list – you've got a fairly diverse set list from Abba to Slipknot – that makes fitting into different festivals easier?
Timia: Oh we really do, we pick every set list really carefully and thinking oh what will the people gonna probably respond to best at this festival or whatever so it gives us a lot more scope to kind of tailor our set lists to get sort of hit the nail on the head really every time we do a show so… we try.
Zan: Yeah cos if you're not sure – you're going to go to Isle of Wight and you're not sure if people are going to know Steel Panther you know that they're going to be on board with some of the other stuff…
AATR: You've just released the AC/DC cover of Dirty Deeds Done Dirt Cheap. Why Dirty Deeds, why that song in particular?
Jenny: Well, I don't know. I just… I always wanted to do an AC/DC song, we all share the song choices and Timia and I arrange them and I've always wanted to do an AC/DC one and it's just the first one that I remember my dad showing me when I was about five years old – actually the very first one was Big Balls off of the Dirty Deeds Done Dirt Cheap album – that was the first song I thought nah we're not quite there yet I mean, that could be a solo song for Timia (laughs)
But Dirty Deeds was the first song that I sort listened to and it just works! Yeah. It's cheeky.
Zan: It translates really well and also it's not one of the really big obvious ones but it's still a banger – like everybody knows it but it's not You Shook Me All Night Long or… you know… yeah Thunderstruck it's not one of the really really obvious ones which is always what we try and go for. And it's just a really hard choice, I mean you look at AC/DC back catalogue it's like 100s of hits, well you got to pick one of them (laughs).
AATR: And you said it seemed to work – have there been any songs that you'd absolutely love to do but you just can't get them?
Timia: We tend to steer so clear of any groups that already have girl voices that are doing harmonies because what's the point in us doing that. The whole humour and the point of doing what we do is, if we turn something that's usually just one guy screaming into three really nice harmonies done in female vocals then… there's so much more point… that's why… that's why it's fun…
But if we were to cover like I dunno Spice Girls or something like that…it just doesn't work.
AATR: So your album…
Zan: Yeah SEQUINS AND C-BOMBS – 16TH of September, yeah really really excited
AATR: And then a tour after that… What city are you looking forward to playing at?
Jenny: Oooo….Yeah our biggest criticism from the fans is that we never go north of the Wall, so I'm really looking forward to going back to places like Manchester and Newcastle where we went on tour with Steel Panther but also we're doing some new places as well like Cardiff and Edinburgh where we've never played…. Birmingham, Nottingham, it's going to be really interesting to play some new cities and see… see if anyone comes (laughs)
Zan: I'm looking forward to getting up north. Since the Panther tour we haven't been up north so…yeah.
Timia: Me too and also Birmingham, Nottingham…
Zan: Yeah we're also doing a ten-day run at the Fringe at the beginning of August with our cabaret show EVERYBODY HATES THE LOUNGE KITTENS and then we'll be back in October for our full-out rock and roll show as well. So Edinburgh's just getting smacked in the face (laughs).
Timia: (laughs) they're going to be sick of us!
AATR: And then obviously Status Quo….
Jenny: Yeah…! It's going to be stupid fun! So next time we're back at the O2 it's going to be on the big mainstage…
Zan: Yeah…! (gasps) What a weird thing to think about!
Timia: Who'd've thunk! That's craaazy!
AATR: Are you going to have to design your own sets?
Jenny: Yeah… Yeah, we get to move our arms more cause we'll be further apart cause we get to be on a bigger stage.
Zan: Bigger hair, bigger costumes – Status Quo will be all happy with us, having loads of pyros and obviously a big confetti canon and glitter bomb at the end.
Timia: Big arms Yeah. I'll have to make even bigger faces!And then Reo Speed Wagon will come on and they can sweep away all the sequins that we threw all over the place.
AATR: Of all the questions you've been asked so far what have you not been asked that you expected or wished you had been?
Jenny: Oh yeah the sillier the better. Yeah – what body part would you eat of Timia if you were stranded on a desert island with nothing to eat.
And after much debate the general consensus was Timias thigh and with that our short time with the Lounge Kittens ended.
I was to see them later that day loudly and proudly singing Steel Panthers Glory Hole mid-afternoon near to the public entrance of the O2 to a mix of Grandparents, Parents and Children, one of the best moments of the weekend.
The Lounge Kittens debut album SEQUINS AND C-BOMBS is out 16TH of September