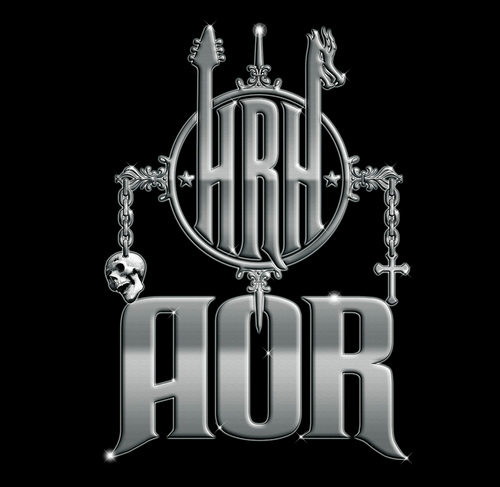 HRH AOR hits the road in style with The Quireboys, Faster Pussycat, Bonafide and more
24th November 2015
Rock n roll royalty and kings of the road to headline the inaugural HRH AOR on the Road Tour 2016.
Hard Rock Hell, Europe's undisputed leader in residential festivals are pleased to announce they are taking their HRH AOR brand on the road around the UK for its inaugural trip.
Hard gigging, hard living, hard rocking : home-grown heroes The Quireboys, have reinforced their reputation as kings of the road after announcing this slew of new dates with HRH AOR for 2016.
There will be 8 premier shows, which The Quireboys will headline, with main support from 80s hair metal heroes Faster Pussycat and super Swedes Bonafide. Other support acts include The Texas Flood, Thirteen Stars and SKAM.
"It will be more than 18 months since we played so many full electrics shows across the UK and it's time we treated the fans to a big old party," said singer Spike. "Doing it with 3 other bands under the HRH AOR banner in bigger venues, just makes perfect sense. We'll be rolling out an all-new set featuring our favourite songs from the last four records, all the classics and some tunes that have never been played live. Let's see how that works out!"
2016 has been the band's most successful year to date with a main stage slot at Sweden Rock, sold-out dates in the USA and scores of UK and European headline shows complementing superb new album St Cecilia And The Gypsy Soul.
HRH CEO & Founder, Jonni Davis added, "We've been planning quite a few of these high value packages under the HRH banner to tour various countries for some time, this will be the first of many, which have been requested by the HRH family and are now out there for everyone to enjoy, getting Spike and the lads to headline the first one, just made it even more special".
VIP & Standard tickets are on pre sale now on www.ticketweb.com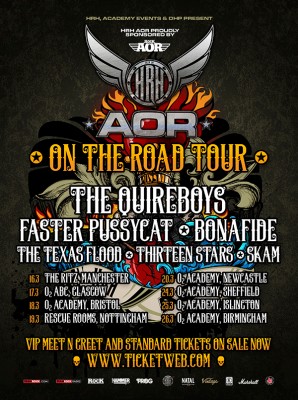 TOUR DATES
Wednesday 16TH March O2 Ritz Manchester Faster Pussycat // Bonafide // SKAM
Thursday 17th March O2 ABC Glasgow Faster Pussycat // Bonafide // Thirteen Stars
Friday 18th March O2 Academy Bristol Faster Pussycat // Bonafide // The Texas Flood
Saturday 19th March Rescue Rooms Nottingham Faster Pussycat // Bonafide // The Texas Flood
Sunday 20th March O2 Academy Newcastle Faster Pussycat // Bonafide // The Texas Flood
Thursday 24th March O2 Academy Sheffield Faster Pussycat // Bonafide // SKAM
Friday 25th March 25th O2 Academy Islington Faster Pussycat // Bonafide // The Texas Flood
Saturday 26th March O2 Academy Birmingham Faster Pussycat // Bonafide // The Texas Flood
www.quireboys.com
www.hrhaor.com
www.bonafiderocks.com