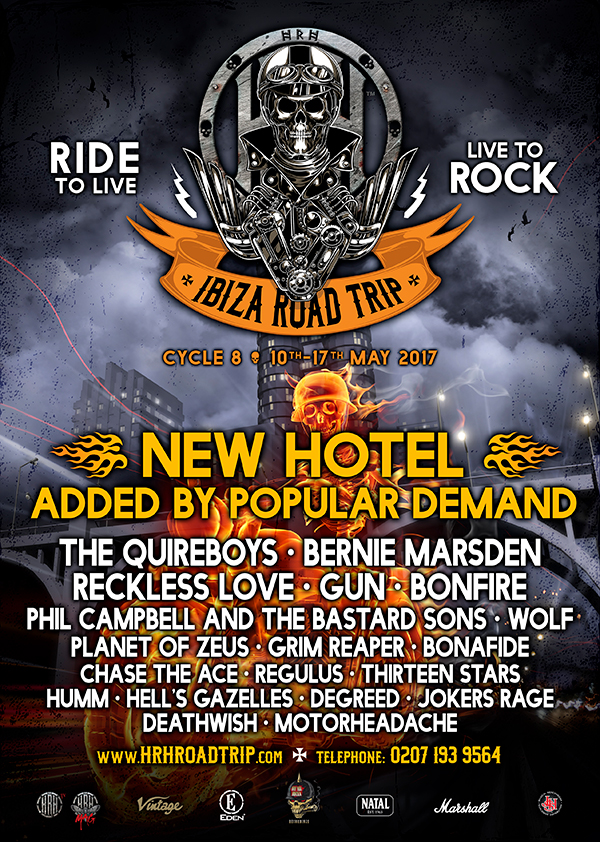 HRH ROAD TRIP ANNOUCEMENT
14th December 2016
Bernie Marsden, Bonfire & Grim Reaper join the next HRH Road Trip to Ibiza
Beer, Bands, Beach n Rock n Roll shenanigans are all on the cards for 2017's annual HRH jaunt to the white isle of Ibiza.
Joining an already action packed line up including The Quireboys, Reckless Love, Wolf, Gun, Phil Campbell and his Bastard Sons, we now have the pleasure of adding on another string of talent, led by the incredible talent of Bernie Marsden, who will performing his usual Blues Rock Phenomena, but Ibiza will be his first trip as a band.
German Hard Rock Outfit, Bonfire add in their talents, as does Grim Reaper who had an incredible set at the recent inaugural HRH NWOBHM.
If you've been before, this is the biggest its every been in every way possible.  It has been sold out for a few weeks now, however were now adding on an extra hotel by public demand, so if you were one of the many waiting for a room inside an HRH Hotel ( Galfi is the new hotel), then doors are open, either book online @ www.hrhroadtrip.com or ring Rebecca on 0207 193 9564 as fast as you can, it won't last long.
If you've never been, this is Rock n Roll holidays at its very best, 7 days away in the Sun with the Denim n Leather brigade to Ibiza, where the bands and the fans party together in one of the most magical islands in the world
HRH Ibiza Road trip Cycle 8, takes place between 10th / 17th May 2017
See you there
HRH Watchtower
Full Line Up includes
The Quireboy   Bernie Marsden
Reckless Love, GUN, Bonfire
Phil Campbell and the Bastard sons, Wolf
Planet of Zeus, Grim Reaper, Bonafide
Chase the Ace, Regulus, Thirteen Stars
HUMM, Hell's Gazelles, Degreed, Jokers Rage
Deathwish, Motorheadache