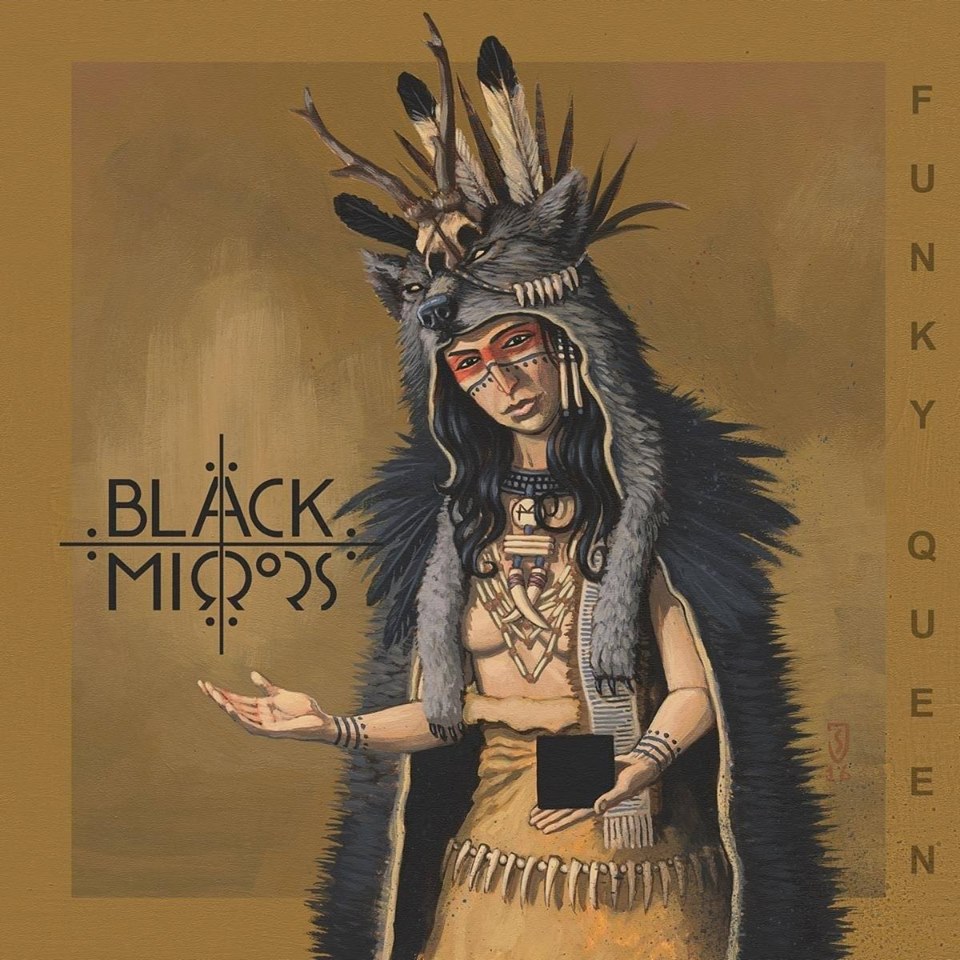 Interview with Marcella & Pierre from Black Mirrors
10th March 2017
Your EP release show was on the 2nd March, how did that go for you? How did the crowds react?
Marcella: We had a blast! The concert was packed! It was so cool to see all our friends, family and fans there!
Your Debut EP Black Mirrors was released on the 3rd March being released through Napalm Records. Do you want to tell us a little about the EP and how the recording went for this?


Pierre: It is a 4 tracks EP with 3 original songs and an MC5 cover – Kick out the jams. We recorded it at Studio Pyramid, in the south of Brussels with our sound engineer Ulysse Wautier. It goes from blues-rock to psychedelic-stoner music.
Can you tell us a little about the new tour T-Shirt design, who came up with the design and did you collaborate on the idea, or did you have that specific design in mind?

Marcella: Our new tour T-shirt design is actually our EP artwork which was made by Sebastian Jerke. We found out about Sebastian as he had already worked with quite a lot of other bands such as My Sleeping Karma or Colour Haze. We got in touch with him and he appeared to have several great ideas for the artwork. We told the story about the band and the songs and he came up with the current artwork.
You have a tour starting on the 16th March supporting the fabulous Horisont throughout Europe, your first tour outside of Belgium & Holland, how are you feeling about this?

Pierre: Really excited! Can't wait to hit the road!
You released a video clip of your first official video 'Funky Queen' in February, who came up with the idea to use shadows as the main feature in your video?

Marcella: We've worked with Vanessa Russo Gracinhas, I explained to her my idea of using shadows. She made a great thing out of it!
I absolutely loved the concept of using shadows I thought this was brilliant!
Thank you
Are there any fun stories you can share with us from filming the video?

Marcella: Well…it is a bit embarrassing to tell…I wanted to take a pic of the decor to share it on social medias. I missed a stair and fell down from the stage…aha!
Oh no, I hope you're ok now. I guess we all do clumsy things from time to time!
What have you got lined up for after the tour with Horisont, any exclusives you can share with us?

We would like to start recording a full LP during the summer.
Is there anything you would like to say to your fans?

Thank you so much for supporting us and we hope to see you on the road!
Thanks for taking time out to speak to us, we appreciate the fact you guys are very busy so we won't take up anymore of your time.

Thank you very much!