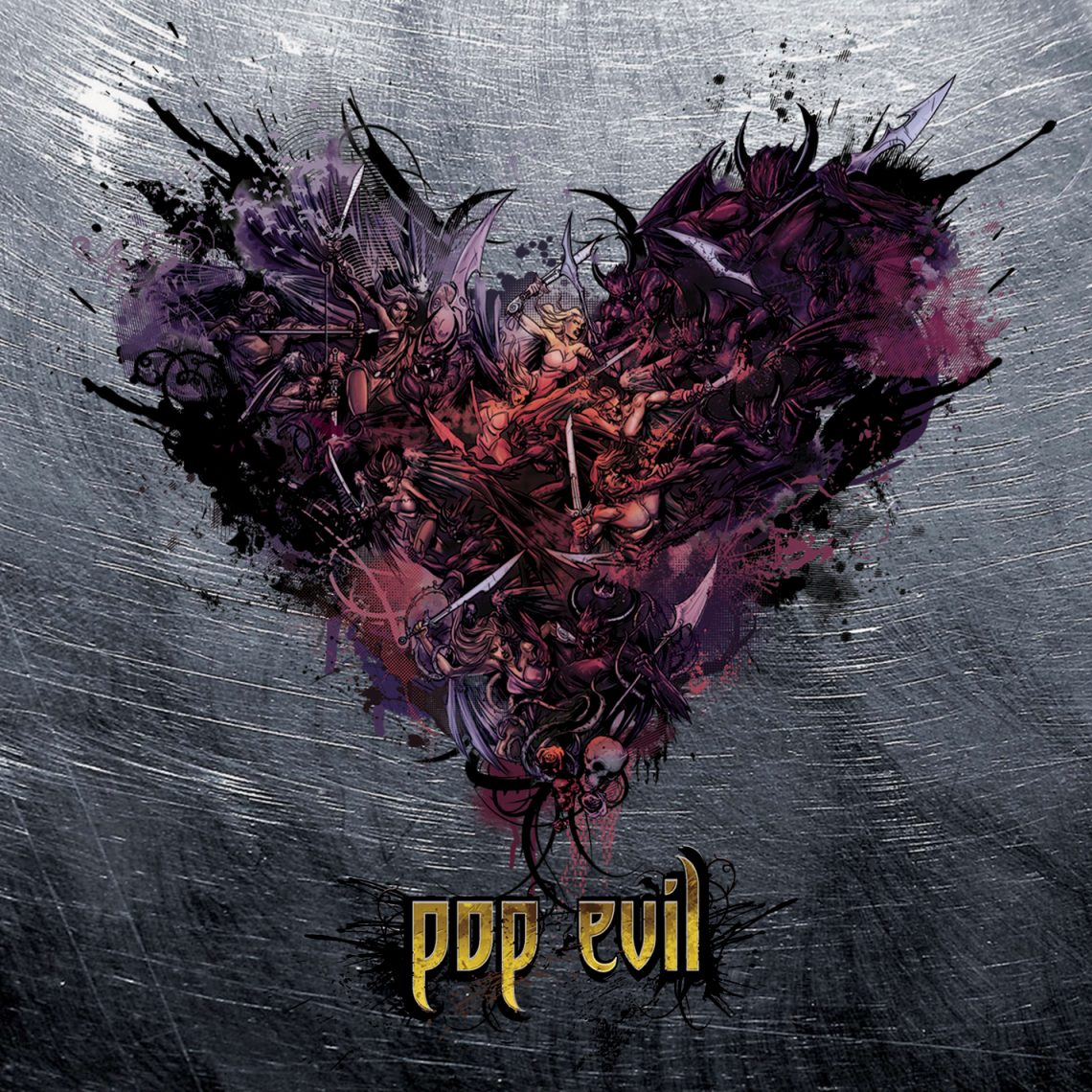 INTERVIEW WITH HAYLEY & LEIGH OF POP EVIL
9th November 2016
Sitting backstage of the O2 Academy, Manchester, Hayley & Leigh of Pop Evil had a bit of a chin wag with AATR
I have seen that you guys will be touring with Red Sun Rising and Bad Flower in the new year in the States are you guys looking forward to that?
Hayley – I was actually listening to Bad Flower earlier today because i really like the songs they have out at the moment and the Red Sun Rising guys we have been out on the road with them quite a lot this year so to go back out with them again will be great. They are great guys on stage and also tons of fun off stage too.
Leigh – last leg of the tour of this album cycle so it's a bit emotional for us, it's going to be the last hurrah then we can start a record. When an old chapter ends a new one begins.
Indeed we are looking forward to seeing what new material you guys come up with for your new record.
Leigh – We always look forward to seeing what we can put together for our fans. It's an exciting time for us.

Are you guys looking forward to your gig here in Manchester tonight?
Leigh – Absolutely, so far Birmingham and Bristol have been insane so we are looking forward to seeing what we can deliver to our Manchester based fans. We are looking forward to seeing if Manchester can bring it just like the other two cities. We know they will, it will be full of energy in there tonight we are looking forward to getting out there and having a good time.
We see you guys have toured quite a lot and have played places like Germany, Austria and Detroit just to name a few which has been your favourite to play so far?
Leigh – They are all great they are all unique in their own way, it's seeing the growth of the band in these different countries and different cities, this is what it's about. Going to Europe it's a steady process, we are still taking everything in ya know. We don't really have any expectations, we just come here knowing we have to work hard and whatever happens, happens. The shows have been amazing and the energy that the crowd has given us back has been incredible, and with Hayley being new we are having a lot more fun than we have ever had.
People who might have heard of us or hasn't heard of us it really wont matter because when we bring it to the stage the excitement we have it brings people together, and the line up we have has made it even more incredible. Getting here to the UK its been nothing but thumbs up from people so we must be doing something right man.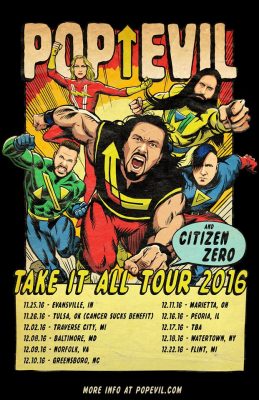 Hayley how are you finding it being the 'new girl' in the band, dominated by the rest of the band who are all males?
Hayley – Im finding it great, the guys are so lovely they are like brothers to me, on the bus it's so straight forward and easy. Some bands are either all girls and all guys that was one thing which really excited me about getting this opportunity i think its such a statement when there is just that one female in a band because in an ideal world I'd like it to be a level playing field it's still not, personally i feel like female musicians aren't considered to be as good as the guys at the moment, but it is getting there. Its better than it was 20 years ago.
Slowly.
Hayley – For Pop Evil to be open-minded enough to say 'yea come out on the road with us and lets see how it goes', and now they are really making a very bold and forward statement, yea there is no difference between guys and girl musicians, you get the job because you're a musician and not dependent on what sex you are. Pop Evil has given me that chance , if you're in an all girl band they all play their instruments and stick together , go out there be bold and make that step, I know bands now that are all girls have just one guy and that really flips it. We are moving on from how it used to be but there is still a long way to go. Pop Evil have helped me out by conveying that message by taking me on as their drummer.
How do you feel when people say 'hey they have a female drummer' – there seems to be a stigma about using the word 'female' – like 'hey they are a female fronted band.' How do you feel about this?
Hayley – I have this conversation a lot and its very divided in the field of music where you either hashtag female drummer or female guitarist or whatever , some don't like it and some do, personally i still hashtag female drummer purely because I want to connect with other female drummers because yes there are less of us and its nice to chat to them and see what there experiences are. Until it feels like a completely level playing field I think I will still hashtag female drummer. I do understand the other argument as well that's their argument that's fine everyone is allowed their own opinion on it.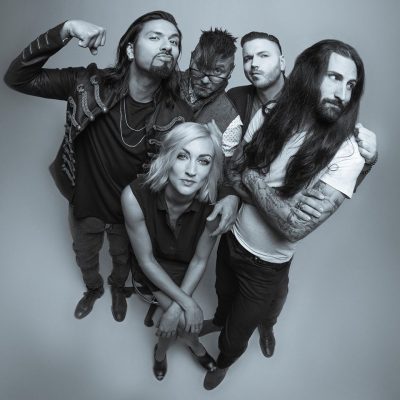 You guys recently played 'Louder Than Life Festival' which looked incredible from the photos the crowds looked completely insane, were you guys able to catch any other bands while you were there?
Leigh – I didn't unfortunately.
Hayley – I did I got to see Korn, Korn were awesome.
Leigh – We got to hang out with some incredible people in the artist lounge and catch up with people we hadn't seen in a long time, it's not always about seeing the bands but catching up with old friends, plus we had a lot of press too so we were quite busy.
Hayley – That felt like a chapter closing for me that day because when i started pop evil we were going on the road with disturbed and rob zombie, so going back stage at this festival and seeing the guys there they were like 'Hayley come over here and hang out' I was like oh my god they still genuinely want to hang out with me, the tour had ended a couple of months ago and they are still genuinely interested in how my life is. They were great guys to catch up with again.
Leigh – Its always fun to catch up with people at festivals but it can be stressful too but fans don't see that side of it, sometimes its fun to see your favorite bands when your off tour then you get to go and see them and enjoy it, but its nice for us to see Hayley get these experiences and become part of our family to outsiders they think she is a female drummer to us she's just a drummer who can play the parts and play them amazingly well, so that's all that matters to us. At the end of the day I'm not looking back I'm looking to the future, and she can weave in and out of the pocket, play the parts, she is always smiling she is such a positive energy, all the guys we played with before we all kinda grew up together so even though there is that closeness we didn't really have to figure each other out we already just kinda knew each other ya know, so that's why it's so fresh getting to know Hayley and some of her traditions and some of the things that she thinks are awesome.
What was it like starting out in the band Hayley?
Hayley – I flew out to meet the guys and id never met them, never met any of them, the first day when i got there to rehearsal they were like right OK your coming out on the road with us which I thought was a really bold move.
Leigh what was it like for the guys having Hayley join the band?
Leigh – for a long time we had a rule no girls on the bus , I mean you could be on the bus to party but we had no girls living on the bus, it was a big change for us , we were like right we wanna make this move because Hayley is so talented. We had a discussion about what we thought about living with a girl on the bus, and as soon as that decision was made and she was on the bus it was just great.
I never had a sister, but she was like the sister I never had. She gives us that family buzz.
Telling her about this tour coming up she was so excited because it was a chance for us to meet her family and be on her home ground, where as she had been away for so long with us back in the states finding her feet there, it was only a matter of time before we hit the UK again. To see her family and meet them, she had met all our family and loved ones and given them the thumbs up it makes it so much smoother for both sides. In Pop Evil we are a team we have a loyalty to one another.
Hayley, joining a stateside band must be pretty weird, being away from your family for a huge chunk of the year at a time how are you finding it being away from loved ones for so long?
Hayley – It is weird, I do find it hard at times, I miss my sister a lot, and I miss my brother and my mum, dad and my dog, but my brother and sister I find that distance hard. I worry about them sometimes coming home I feel a little disconnected. I do worry about what if things go wrong and I'm not around I cant just get on a flight and go home and be there so yea that's hard. Luckily, we have Facetime and Skype so I can video call them when ever and where ever I am in the world. Little things like technology get you through and you just learn to adapt. 10 years ago we didn't have that so the marvels of new technology have helped me along the way. It's definitely a lot easier now.
Leigh – Its such a sacrifice for anyone that wants to do it.
It's definitely a big sacrifice for her going to another country, you don't get many opportunities so when you do you know what you have to do.
Yea you have to grab these opportunities while you can. Have you had any time off in the UK to catch any bands while being over here, what do you get up to on your days off?
Hayley – It was my night off last night and I went to see Bring Me The Horizon in Birmingham, because that what I wanted to do.
Leigh – That shows what Hayley is like on her night off she goes to see a band, on my night off I like hanging out with the family, we are all so different in our own ways.
Hayley – It's what makes the world go round we each cope in our own way. Leigh: On my nights off I wont even have a radio on, no music no nothing just chilling with those close to me recharging my batteries.
Hayley – Everyone rejuvenates in different ways, i wouldn't go and see a band every time its my night off but i really just wanted to see Bring Me The Horizon.
What do you think is it about Pop Evil that grabs people and lures them in?
Hayley – We wanna entertain people, that s what we do.
Leigh – We just go out there and have fun, we give it all we have, adrenaline filled energy pumping and if people like us that's great. We want people to be a part of our show we don't just want people sat there watching us. We want people to leave our show feeling moved. We wanna be one of those bands that leaves people in awe and wants to come back again.
The first show we played in Berlin up until tonight we have been cooking man we have the set pretty much dialed in.
Hayley – I absolutely love the way Leigh can draw in the crowds He has this ability to grab people and every single person in the audience will be drawn in by him I have no clue how he does it. Pop Evil are relatively unknown over here in the UK and to see the transformation from the first song to the last song in the set Leigh gets the whole room involved. He is just a great front-man.
How do you ensure you maintain the level you are at with your band?
Leigh – Press. Press is king over here in the UK. Back in the states people are so over saturated with their phones and downloading music. Music over here is appreciated a lot more, so when we get the chance to play here we make sure when we hit press we hit it hard and get a lot of exposure.
We just keep fighting and pushing on and doing what we do best, whether that be in the UK or America its a life journey for us, and as long as fans continue to follow us we will continue to play. You have to play at least 200 plus shows a year to maintain a high standard, you have to see a band to fall in love with them that's when you become a true fan. The only way to break a city or country is to go there and play. It's inspiring for us to come to the UK and play because over here they have a lot of love for rock and metal and live music, in the US people are harder to crack.
You guys got to do something amazing and go over to St Jude's Children's Hospital and Research facility in Memphis, do you want to tell us a little bit about that?
Leigh – We had the opportunity to go there and be hands on with the kids it was all very humbling.
Hayley – It was a very inspiring place , its a research hospital so there's the scientists, there's the surgeons, there's the parents there's the kids, they all live there, they all eat and dine together, they share all the information, and it is such an inspiring place. To know those children all over the world with rare diseases and rare cancers get treated for free and that just blew my mind. They take everyone in, it doesn't matter where you are from.
If this is something that is going to benefit the future of cancer treatments for children or rare disease treatments for children, and the research they do there they don't just keep it to themselves they share the information and pass it onto other research hospitals in the hope they can help other children.
There are a lot of research centers out there that keep information to themselves because they want to make money out of it, St Jude's share everything with everyone, if they find out something new they share it and that really moved me, and that stayed with me when I went on stage.
There is so much in life that would benefit from that mind-set if we just shared everything. If we all just opened ourselves up and shared things with each other, the amount of collaborations that could happen, the amount of music that could come out of that with that mind-set, if we could put that theory into everywhere in life even your friendships, so many people hold stuff back because we don't want people to use something against you or hurt you, if we could all just be more open and see through the glass I think the world would be a better place. That lesson really inspired me that night. I know I was a changed person when I went on stage that night. That was pretty deep but that's just how i feel. It was an amazing place.
Is there anything you would like to say to your fans?
Hayley – Thank-you for all your support coming to our shows, buying our merch and being loyal to us we appreciate each and every one of you and without your support we wouldn't be able to tour and bring our music to people around the world.
Thank you for your time guys and we shall see you out on stage https://www.facebook.com/popevil/