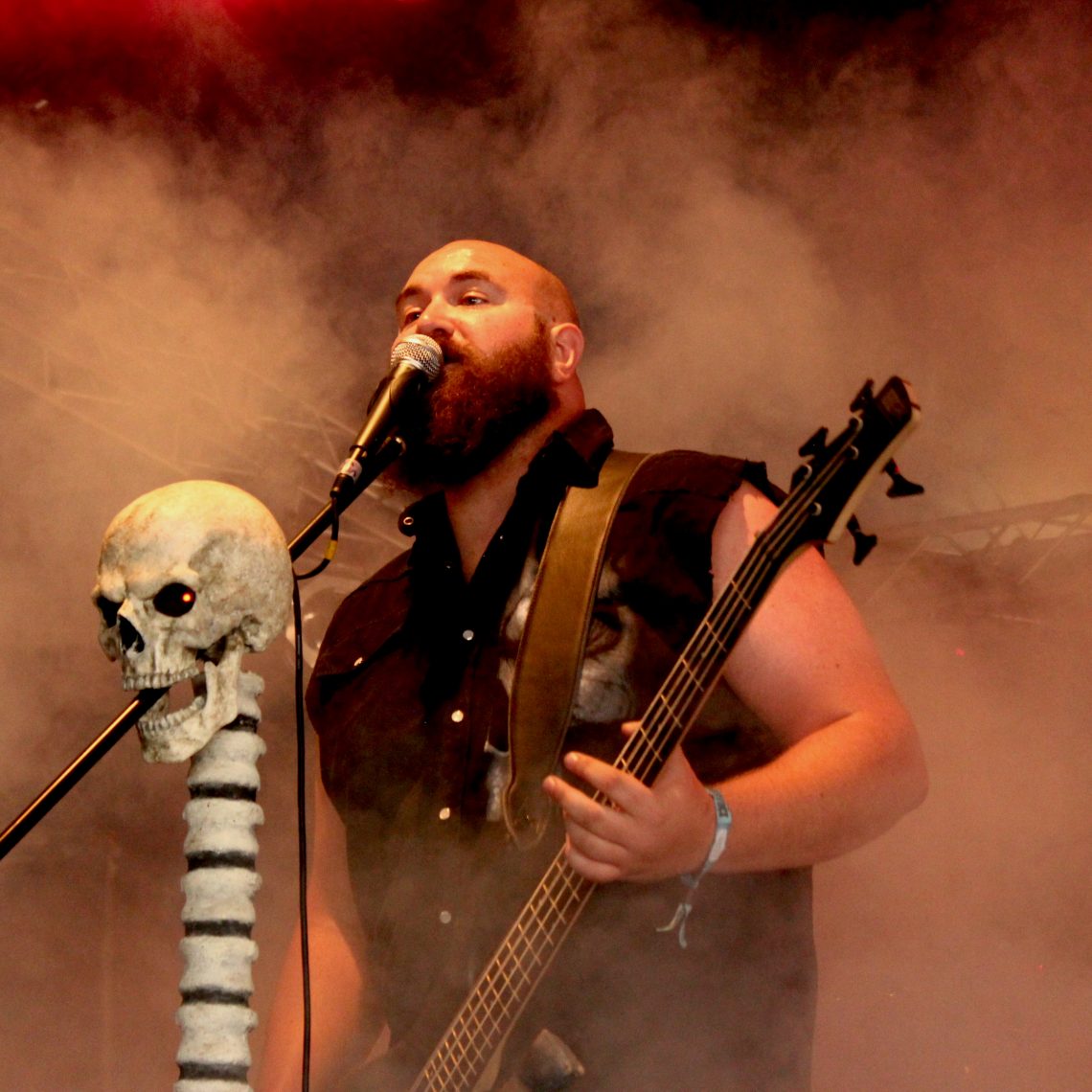 Interview With James Bryan Of 13 (Bloodstock 2018)
15th August 2018
As Power Trip took to the Ronnie James Dio Stage early on Saturday afternoon, I sat down on a bench covered in wasps opposite James Bryan of 13, a couple of hours before they were due to take to the Hobgoblin New Blood Stage. Having emerged victorious from the 2018 Hitchin Metal To The Masses competition, the band are ready to show off their energetic live shows.
What's been your highlight of Bloodstock so far?
To be honest with you, just turning up! Because number 1, it's phenomenal to be able to play here, but also this is the first festival I've ever been to. Even on the journey on the way up we stopped at the services and there are people putting the horns up out the window and it's absolutely fantastic. The whole atmosphere is absolutely incredible, you're getting up and hanging out with people who have the same interests as you. It's such a family, you can see why it's such a child friendly event because it's so welcoming.
And you'll be playing to people who'll probably like your music.
Yeah exactly, we're not just in a place where a few people might turn up and we have to rely on the locals, and we don't even know whether they'll like us, but here we've earned the spot and get more people jumping on the bandwagon.
After coming so close in 2017, how did it feel to finally win Metal To The Masses in 2018?
It was so special, I wouldn't say we expected it but as soon as we came off stage in 2017, everything we have done since then has been to win 2018. It paid off. We've chosen our set specifically in January after months of rehearsal, this is the best flow, it allows us to deliver it and perform it and entertain people and that's what we've stuck with and it is what we'll be going with today. Including our ballad, we'll see how well it goes down. It's quite powerful but it'll probably be a bit different from what other bands are going.
I imagine you got to discover a lot of good bands while you were competing, do you have any favourite competitors our readers should check out?
Yeah, playing today are Earthbound. They were in the final with us this year but didn't come through, but they won the Hobgoblin video competition so they get to play the same stage and they're the last band on the New Blood stage tonight. We turned up and camped right next to them in our own corner like little Club 85. It's been great and we've been hanging out and sharing tips.
Which is your favourite to play live?
I love the ballad because it is so powerful and I prefer to do clean vocals, and it is a proper belter. Our guitarist Tom is fantastic, he just fills the song and he's flicking his hair back like Mariah Carey. Other than that we've got a couple of cheesy moments, like BSO with a nice guitar sweep. It's just good fun, going back to classic rock like Iron Maiden with lots of twin guitaring and gallops, and we love doing it and it works.
Does that get the best response?
It does, it's just funny.
Which bands/performers inspire your energetic live performances?
Our live performances up to two years ago weren't very good. The music was okay but we all stood in our boxes, and then it was the first heat of the 2017 competition and something just hit us and we're all prancing round the stage like Mick Jagger. Matt standing up on the drums and we're giving it hell. The best we've seen is Iron Maiden, and Priest last night were phenomenal. It gave me tips not to talk too much, they're on stage for an hour and a half and he talks three times. 
If you had to narrow it down, who is your biggest single influence on your songwriting?
I grew up listening to Bryan Adams and Bon Jovi, but my brother Charles is our songwriter so he writes all the music and most of the lyrics, but Charles and the sound he gets its influenced by Black Label Society, then a lot of our earlier stuff is like Trivium. We were massively thrashy when we started and it's just developed over 7 years so now we've found our own little thing that works. Screaming verses and clean choruses.
Who are your favourite non-metal musicians?
Bryan Adams is someone who certainly inspired me, my parents took me to see him when I was 8. I don't know how that evolved into metal though, that's when you get into sixth form and it's like 'listen to this, it'll corrupt you'. We were here last night and saw a lot of toddlers on parents' shoulders watching Priest. But yeah Bryan Adams, and more often than not I'm listening to Black Stone Cherry at the minute. We as a band have so many different influences and that's what makes our music so different. Our drummer Matt is a trained blues and jazz drummer, so he just has such a specific groove, he loves rolling it across the toms its fantastic.
What are your long-term goals for the band?
We really want to achieve as much as we can, we're looking at next year to get into more festivals. Obviously since we've found out since being here that someone may play the Sophie stage next year or go over to Metal Days, the goal is to see if we're good enough to get that so we can get something immediately off the back of Bloodstock. We're booked in for Uprising at the end of this year, and have a break in October when Charles gets married. Whatever we're doing is just good fun, hopefully we'll snowball with people downloading the album and seeing us perform.
And is there anything exciting coming up for the band that you'd like to mention?
We're headlining Castlefest in Luton on the Friday at the beginning of September. We're alongside some fantastic local bands, Count The Skies who played here 3 years ago. That's the most important we have at the minute and we're working on a calendar for next year. Our links are available on Facebook and Instagram.
For everything 13, click HERE.