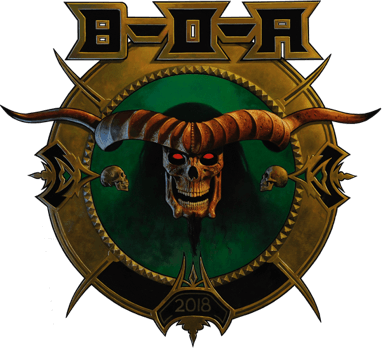 Bloodstock Open Air Festival- Saturday 11th August (Catton Hall, UK)
16th August 2018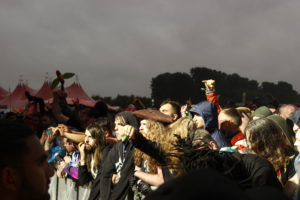 Slightly damaged (from Bloodstock's Friday or the two hours of sleep courtesy of a very cold tent), we made our way into the arena for a day of interviews, photographs and metal. My excitement was quite biased towards the brutality promised by Cannibal Corpse later on, but the sheer number of bands scattered across Bloodstock's four stages kept us busy throughout the day.
We kicked things off with a set of interviews done out in the sunshine at the Serpent's Lair VIP area, where little did I know I was slowly being burnt to a crisp. We spoke to 13, the winners of the Hitchin Metal To The Masses competition, Iced Earth's Luke Appleton ahead of his acoustic set, the haunting solo black metal act Abduction, and the Burnley Metal To The Masses winners, Autocracy.
Over on the New Blood stage, Ashborn got the crowd firmly on their side and chanting their name while Septic Flesh took over the Ronnie James Dio stage with their brutal Greek death metal. 13, who had been appearing on the huge main stage screens all weekend, dominated the New Blood stage when they performed hours after our interview. Their Trivium inspired sound made for some incredibly catchy tracks with just enough brutality to get the audience firmly involved in their sound. The controversial choice to slot a power ballad into the set didn't sit well with many, as people slowly trickled away from the tent. Those who stayed, however, were treated to a stunning vocal performance.
Venom Inc., made up of previous member of Venom, provided an incredibly loud set that combined their own work and some covers of influential Venom tracks, before Combichrist took Bloodstock in a whole new direction. Their unbelievably powerful stage presence saw every member fully committed to the performance, with keyboardist Elliot Berlin spending a lot of time standing on his keyboards, which were giving him technical trouble throughout (leading to him destroying one at the end of the set) and the insane drummers throwing sticks about left right and centre. Despite their aggrotech not really suiting the 'after black metal' slot stylistically, they didn't take long to completely win over the audience and create some of the most impressive pits of the weekend.
Before Alestorm drew what genuinely could have been the biggest crowd of the weekend, Aonia performed one of the most bizarre sets of the festival. Picture the scene: two opera singers have had too much, and decide to go and sing some of their favourite pieces at a metal karaoke bar. Except they're going to sing two different pieces at the same time, over the top of each other. The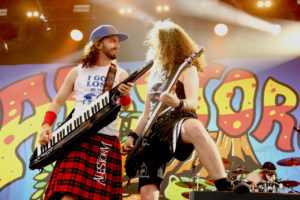 poorly balanced combination of shrill voices over chugging guitars didn't work in the slightest. Anyway, Alestorm were incredible. With an audience dressed in Hawaiian shirts, a sea of inflatables making their way towards the stage and a catalogue of tracks that everyone knew every word to, made Alestorm the perfect festival band. 'Drink' is arguably one of the catchiest songs in the history of music, so to hear it sung word for word by thousands of people was an immense moment, while the jokey accordion riff of 'Shipwrecked' couldn't have been a better precursor to the guttural death metal of Cannibal Corpse in an hour. Acting as an interlude between the madness, the acoustic set from Luke Appleton (who we chatted to earlier in the day) was a welcome moment of calm. His catchy, brilliantly written acoustic tracks and renditions of other works engage well with the audience of Iced Earth and Absolva fans.
Having got to check out Cannibal Corpse at the Forum in London a few months ago, I knew exactly what to expect. A musically tight barrage of tracks, no fancy lights, no elaborate performance, just sheer brutality delivered in its purest form. For a man nicknamed Corpsegrinder, George Fischer was in a particularly good mood today, making the audience laugh in between tracks, and challenging them to a headbanging competition he comfortably won every single time. The fact his head hasn't swung straight off during a gig never ceases to amaze me. Even through the rain, death metal classics like 'The Wretched Spawn' and of course, 'Hammer Smashed Face' are assaulting and never lose their shock value. However, the rain did lure us (and everyone else in the world, it seemed) inside the Serpent's Lair to see tribute band The Lost Boys, made up of a dad and his two kids. The reaction to the excellent (yet very showy offy) guitarist, who must have only been about 10, ended with the dad giving an emotional thanks to the huge crowd.
Rounding off Saturday at Bloodstock was Gojira. I hadn't seen Gojira since an exceptionally boring set at Sonisphere 2013 and wasn't expecting much. Musically, I don't think they go anywhere particularly exciting (although their Grammy nominated 'Magma' is a huge step up and is probably the main reason they reached the top of the bill) and I don't think their performance is particularly exciting either. I was half right. They were received very warmly by some of the audience, but standing roughly where I stood for Alestorm, the atmosphere and excitement wasn't even comparable. Their songs are all pretty samey, and didn't get the crowd jumping along like Combichrist and Alestorm, or taking a headbanging stance like Cannibal Corpse. The part I was wrong about was the stage show. Dazzling lights danced around the huge stage creating a hypnotic production that almost made the music secondary, and despite the band members themselves not getting as into it as their lighting technician, the heartfelt thank you from frontman Joseph Duplantier was enough for them to earn my respect as a band who has worked their way up and finally made it.
The fireworks that ended the set were so huge that for a few seconds I asked myself, is it Guy Fawkes night? No. It was time to sleep in a flooded tent.
Our review of Friday at Bloodstock can be found HERE, and click here for Sunday.