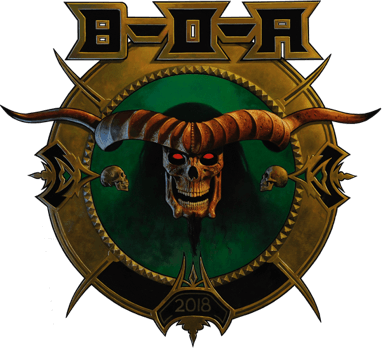 Bloodstock Open Air Festival- Sunday 12th August (Catton Hall, UK)
17th August 2018
Imagine having a small pond in your bedroom, but you were never quite sure where it would be, or how big it would be. Exciting, right? That's how we woke up on the final day of Bloodstock 2018. The rain that hammered down before Gojira (and then all night) had taken its toll on our weak, vulnerable tent leaving us to bathe in moisture all night. But against all odds we survived and made it to Nightwish day. In comparison to the Cannibal Corpse, Venom Inc and Gojira induced pits of yesterday, today was generally less pit-heavy.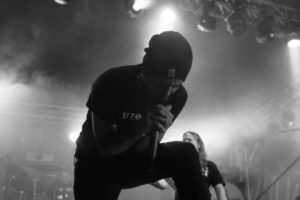 Our day was kicked off by Doomsday Outlaw, who's heavy Rival Sons-esque performance was ruined by some occasionally shambolic singing, before Imminent Annihilation delivered a professional sounding set that proved why the New Blood stage really was going to be the place we get our future headliners from. Following them was Autocracy, who's Arch Enemy inspired death metal was hugely under-appreciated, with the earliness and lack of rain combining to bring them one of the smallest crowds the stage saw the whole weekend. I first glimpsed the confusingly self-deprecating attitude of Mark Curry in our interview yesterday, and it continued today as he mentioned the 'plenty of other awesome bands on' at the same time. There's no real need for the announcement as his powerful voice and energetic performance was easily comparable to many main stage bands- they just need a stroke of luck to get there, and the tiny crowd certainly wasn't it.
Over on the main stage, Evergrey looked very happy to be bringing a touch of prog to Bloodstock, and the audience seemed to agree as it built up hugely over time. Back over at New Blood, the most exciting part of Drudge's set was when, almost in slow motion, a guy sitting on a chair fell very slowly backwards until he was laying in some mud. I know exactly how he felt as we watched King Leviathan on the Sophie Lancaster stage a few minutes later. Their thrashy black metal was repetitive and dull, but also failed to create the eerie sound that blackened music needs to thrive. The disappointment continued as we couldn't even escape their dreary set, as technical difficulties plagued the main stage. When Amaranthe finally began their set, it was almost as repetitive as the one we'd just come from, only this time full of broken mics and poorly mixed instruments.
It fell to Chris Jericho's Fozzy to fix a, so far, quite disappointing morning. Did they manage it? Absolutely yes. Jericho himself had stunning stage presence, with his successful wrestling career probably helping out quite a bit there. He bathed in the chants the audience fired towards him, revelled in people randomly screaming the names of his wrestling moves and just generally ran around having fun. He climbed around the speakers in front of the stage, ran out into the audience (probably comfortable in the knowledge he could chokeslam anyone who tried anything) and even, annoyingly about 10 seconds after I'd left the photo pit, took a photographer's camera to take some pictures with the crowd. They were the perfect way to win back the audience, with their huge tracks like 'Judas' and 'Drinking With Jesus' prompting a massive sing along.
I really like Jamey Jasta. I think his singing voice is absolutely horrific and I can't listen to it for more than about a minute before I have to leave the room. In his Jasta And Friends set, he brought out metal royalty Howard Jones, Dino Cazares and Kirk Windstein for a fun set made up mostly of covers and immersed the moshing crowd in riffs and shouts. But it's not for me. For me, it was all about Mr Big. Combining the indescribable genius of Paul Gilbert and Billy Sheehan made Mr Big by far the most musically astonishing of the weekend, with their virtuosity not really matching up with the brutal assault of most of the bands we've seen. They pulled out everything we wanted to hear, from 'Addicted To That Rush' to a cover of Cat Stevens' 'Wild World' and even their UK number one ballad 'To Be With You', which inspired a sing along even from those who had been waiting all weekend to be covered in blood during Watain.
After our chat yesterday, it was exciting to see Abduction's masked set on the tiny Jägermeister stage. He opened with the haunting 'Permissible Death' and kept the overflowing audience in the palm of his hand throughout a set that, being one guy on a stage, should not have been able to keep people interested. Almost as brutal were At The Gates, who just couldn't keep the crowd as enthralled as Cannibal Corpse yesterday, and via a band swap with Metal Days festival, SRN, who closed the New Blood stage for the weekend.
Over the weekend, the Serpent's Lair VIP area was playing host to a number of tiny, unadvertised performances (including The Lost Boys, who's packed set was luckily seen by a huge crowd due to the rain). Craving some prog, we ventured into the tent as soon as we heard what sounded like it may we have been… yes it must be… an extended instrumental interlude. At first, we were literally the only people watching Kapsel but by the end of the set there must have been somewhere in the region of 7 to 8 people. I could barely move. Their instrumental prog created cinematic soundscapes and some hypnotically funky riffs which I can't believe went almost completely unappreciated. They even gave us some stickers for our commitment. 
Anyway, nice and progged up we were ready for the headlining double bill of Nightwish and Watain, who are both pretty proggy in their own right. Before Bloodstock, I'd always assumed I hated Nightwish but it turns out their powerful symphonic metal is perfect to unite the crowd. Everyone was singing along to 'Wish I Had An Angel', 'I Want My Tears Back' and 'Nemo', while the extracts from 'The Greatest Show On Earth' showed the compositional skill that keyboardist Tuomas Holopainen brings to the band. Viking-Pirate-Santa bassist Marco Hietala strolls around the stage in support of the fairly new singer Floor Jansen, who's repeated thanks to the crowd and stunned smiles seem completely genuine and somewhat overwhelmed, despite her excellent control over some difficult songs.
It falls to the famed black metal Gods Watain to close Bloodstock for this year over on the Sophie Lancaster stage. The scent of what seems to be manure fills the tent as tridents that cover the stage are lit, and, covered in corpse paint, Watain emerge and immerse the crowd in their ritual immediately. The stunning brutality, atmosphere and commitment to their roles takes this beyond a musical performance and closer to an art installation. It's truly one of the highlights of the festival and probably the perfect way to round it off.
Now that we've reached the end of the weekend I can give my own, personal and very subjective, rundown of highlights: Judas Priest were immense and 'Painkiller' probably remained the best moment of the weekend for me; 13, Combichrist, Fozzy and Alestorm all delivered sets I didn't expect to be so good; Mr Big were musically stunning; Cannibal Corpse were as brutal as ever; Kapsel were a hidden gem of prog; and Watain were the perfect way to wrap up the weekend.
Bring on next year.
Click here to see our review of Friday, or here to see Saturday.