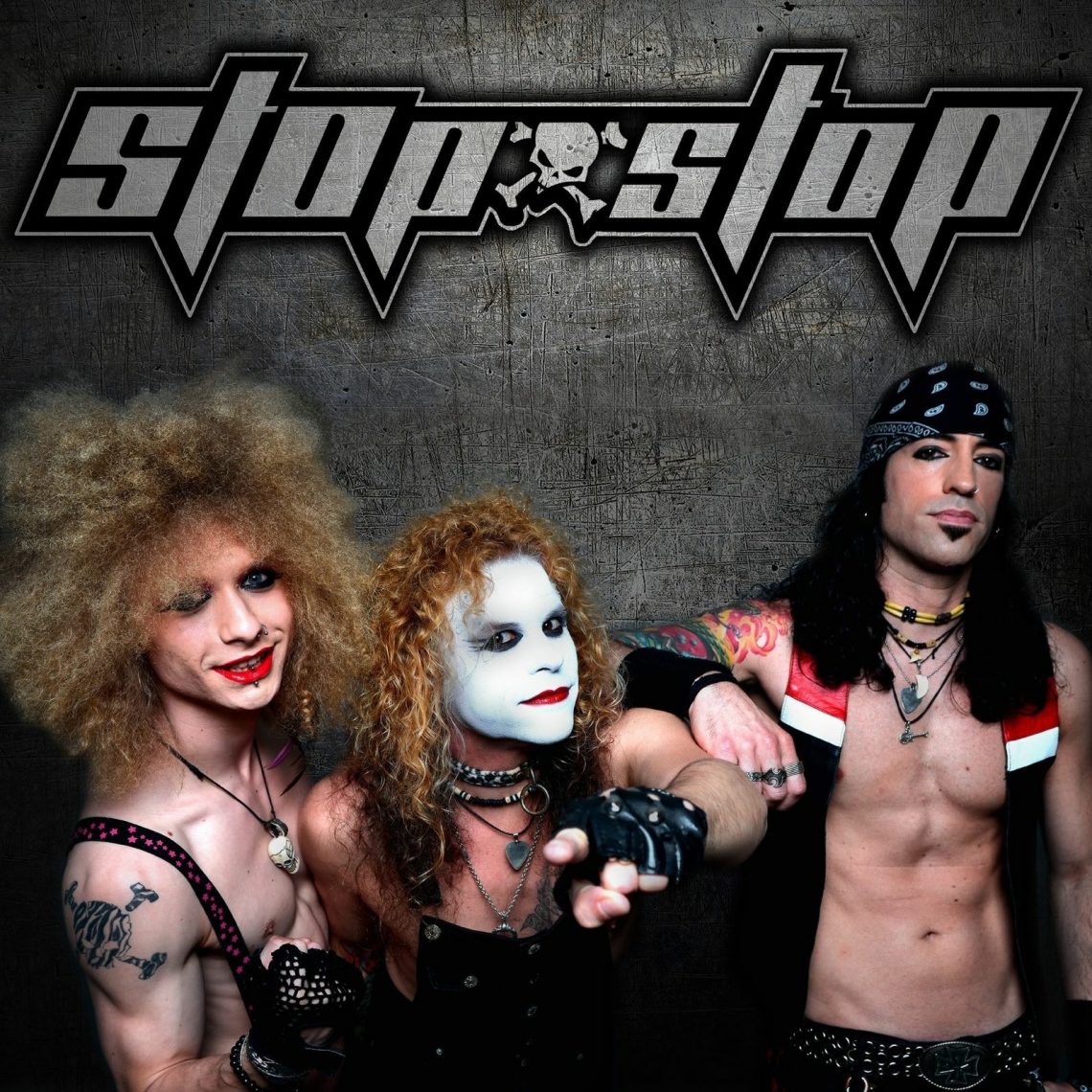 Jacob A.M of Stop Stop interview
6th November 2016
Jacob of StOp, sToP! dropped by for a quick chin wag.
You guys are currently embarking on your Barceloningham Tour, how have you guys found this so far?
It's amazing we can do what we love to do. It's so great and feels so good the fans are growing in numbers and we can keep going, all thanks to our fans, they make it all easy for us to get all we get, it's that sweet and also that simple. Without fans you end up with no gigs, no new records… we know what that means and where we come from, 5 years ago we just had our van which was where we were living back then and all was very tough so that's why we appreciate what is happening to us and are so grateful that we can make a living with our music!
The tour started in Wolverhampton the Slade Rooms at the new cd release party on the 1st of October and it will get all around Europe and back to the U.K. till mid December, so it's 2 months of "nonstopping" the party and having fun on the road which is all we want, it's our life.
You have just released your new album 'Barceloningham', can you tell us a little bit about the album?
It's an album that opens all the borders in world and brings people together, no matter where you come from and who you are, we just want you to feel one more in the gang! Rock and roll is freedom and specially these days we need to make everybody know about it, that is the message of "Barceloningham", the mix of Barcelona, which was where the band was formed and Birmingham, which is where the band is based. The mix of two different cultures but at the same time so similar ones, don't forget we live in the same world and we all are human beings with the same old needs so we open that door to everybody in the world to this new place called "Barceloningham".
All the songs were recorded the same way you can check the band in live, no added guitars or over produced stuff, as raw and simple as a three piece band can get in live. That was a cool task to do and we feel we have done the most honest rock album we could give to our fans, they will get in live exactly or even better what they get in the cd so now tricks or cheating, just honesty and party all the way!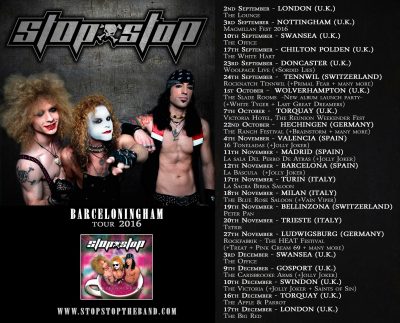 What was it like being in the studio?
Being in the studio is like an actor recording a movie, you can repeat or you can change things if you don't like the result, you get the time to experiment and rehears a lot to get what you want and then make it all nice to record it, it's cool, it gives you the chance to learn from your limitations and get the best for your music.
But we are a live band and we feel more natural playing live than recording though, it's like the theatre, if you are an actor and you record a movie you don't know which will be the reaction of the crowd, you kindda know what they want but you aren't 100% sure about it but when is live and you're acting in front of a crowd in a theatre, you see what is working and what is not so you have the chance to change things and improvise to fix it. Exactly as a live gig, if the crowd is bored you can fix it and try to get fast tempo songs or party songs to wake them up or if they are singing along, you can make them sing a long longer to give people the party they want and things like that… so it's much more exciting live gigs than studio sessions to us but it's also true that both worlds have their challenges and their fun in different ways.
You guys played the incredible Macmillan Festival in Nottingham at Rock City, how did that go and were you able to catch any other bands while you were there and if so what bands stood out for you?
Yes, we had the pleasure to be part of that amazing charity festival and contribute to that beautiful cause! The crowd and the crew were all awesome to us, what a great experience it was! Good vibes!
Unfortunately we didn't catch any of the other bands, we got there just in time to load in, get changed-make up and go on stage, as we were the headliners of one of the stages after our gig it was already too late to check some other bands sadly but I heard they were all amazing, the crowd was so pleased and happy so sure they were!
Can we expect a new video from you guys anytime soon?
Yes, we hope so, we don't know exactly when but we're working on it!
As a band that has moved around a lot, what brought you to the UK? We heard you spent some time in LA, is the music scene out there different to over here?
We moved to the U.K. because it is the land were rock and roll happens, look at its history, almost all the most important bands in world are form here so we tried to follow the steps of the bands we love and look for a better future than we had in Spain and to be honest, it was the best decision we ever could have taken, people in the U.K. has rock and roll as culture and the live  scene is immense so it was the best place for us to start, we could easily get gigs here and that was all we needed.
I went to L.A. years before I started this band, it was part of trips I did to find the right people for my band and I travelled around the world to find them, my surprise was that I found them in my home town when I came back home frustrated because I didn't find them, hahaha…
How have you guys found the music industry? Has it been hard for you to make your mark and establish yourselves?
Music industry is almost all about live gigs nowadays, you don't sell any cds in stores anymore so if a band wants to work, the easy way it doesn't exist and it's even worse these days compared with back those times when people used to buy music, now the only way is getting your ass on the road and play as many gigs as your body can take and get a good entertaining show to make the people hungry to see you again.
It's hard for any band as all of them want to be in the mainstream and successful, there are loads of good band out there and competition is crazy but if you don't think in getting to the top and you start being yourself and just focus yourself in making the people happy with your music, then you'll get yourself established and your own mark will get you whenever you wanna get for sure… it's not about how talented you are it's about how many times you're willing to try it and if you love it, it's not a hard job to do, even if you get yourself homeless because of that several times as we did, hahaha!

What was it like supporting the fabulous LA Guns? Have you got any stories from this gig that you could tell us about?
Actually, support L.A. Guns is the same to support any of the 80's bands we have supported already, most of them are nearly bored of doing it, I'm not usually excited to share stage with most of those bands, they don't usually get in touch with the support acts and don't usually giving a shit of what's going on with new bands so I'm rather more excited to share stage with new bands and feel we are part of a new generation of motherfuckers that want to bring back some rock and roll than going on the road supporting old "cockstars".
What's next for the band?
Nothing new! We will be on the road playing live gigs as much as we can and we will try to get a new album as soon as we can too, basically, keep doing what we love to do till our heads explode!
Is there anything you would like to say to your fans?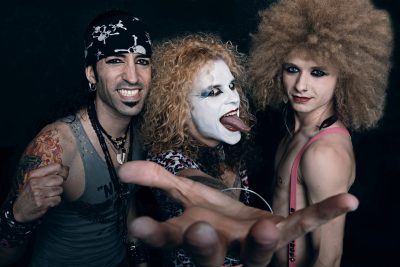 Yes, I like to say THANKS! Huge thanks to every each of you who come to sweat and scream in my face along with us to our gigs! Thanks to every each of you who support and who give it all for us, you are so important, you are one more member in this band, you are ROCK AND ROLL!
Thanks for your time guys we look forward to catching up with soon.
Thanks for having us, it's a big pleasure! Big love and rock on!!