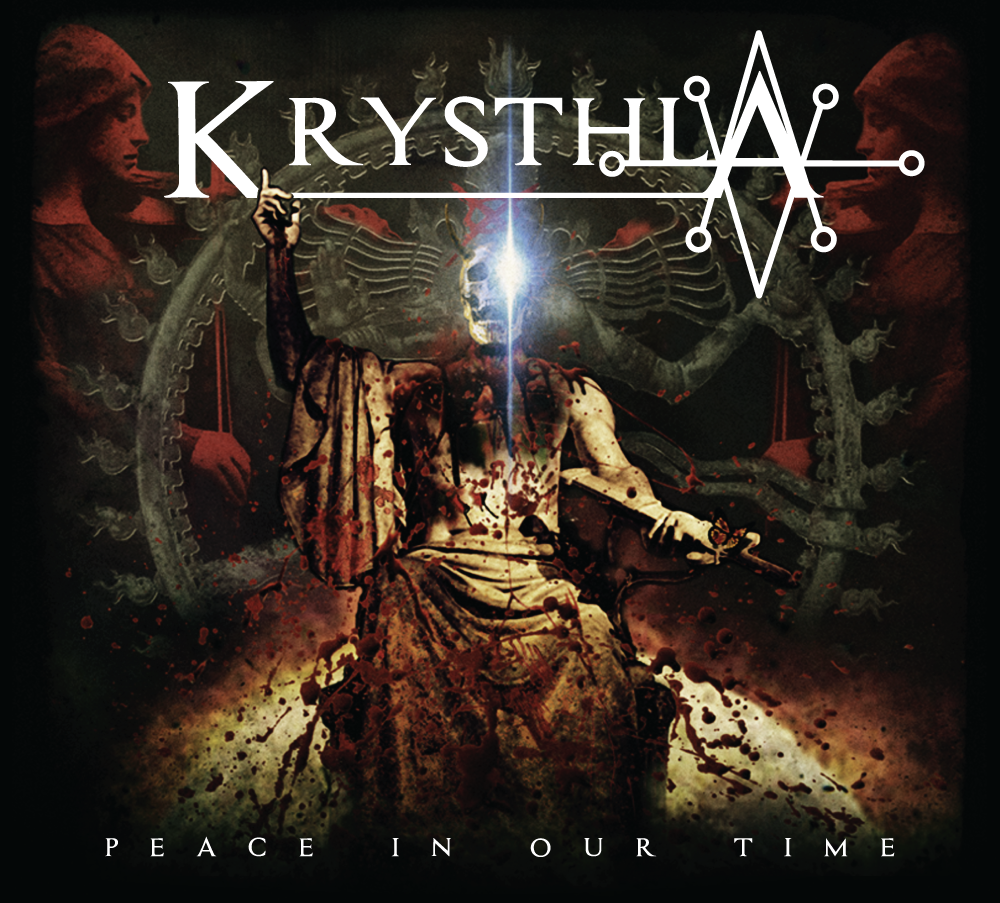 Krysthla- Peace in our Time
7th February 2017
We're immediately bludgeoned in the face with an intense, Meshuggah-style 7/8 riff at the start of track 1, 'The minor mystery of death'. It takes us through non-stop blast beats, a lot of palm muted riffing perfectly in time with complex bass drum patterns, while allowing consistent, slow, ringing melodies to pierce the texture. The vocals have more of a Hatebreed vibe than I expected and once you're past the intro, it's not as 'Proggy' as Mastodon or Meshuggah, whom Krysthla have clearly learnt a lot from- but it works.
Track 2 gives an even more explosive intro, one so distorted and aggressive that I had to plug headphones in as my laptops speaker couldn't deal with it. The brutal blast beats persist throughout the song, with intermission occasionally provided by a guitar note in some sort of ridiculously low drop tuning. The song ends with a satisfying polyrhythmic idea that doesn't seem to last long enough. 'Depths' (track 3) starts with a slow and sombre introduction, that could lead to a progressive track that slowly builds into the heaviness of the rest of the album. But unfortunately the perfect opportunity is wasted and the intro is faded out as if it never happened, with no real relevance to the song that could have easily started without it.
As the album progresses we get used to the formula: A brutal intro, blast beats, a section dominated by a complex, rhythmic groove and slower melody lines adding in to the texture. It's a formula that works, and its satisfying for a brutal track or two, but for a whole album you need variety. This is what bands such as Meshuggah and Strapping Young Lad bring, while this band seems to only capture the most brutal aspect of those who influence them. So the album carries on like that really. Tracks 4, 5 and 6 in many ways could all be the same song, aside from the occasional, and welcome, addition of more screamed vocals that aren't present in the first half of the album. It's understandably hard to understand a lot of lyrics in this album, but there are occasional times where it's possible and you wish you couldn't. There are some cringe-worthy chants of 'We love death' in track 6 that just don't sound like they belong. Track 7 opens with a Five Finger Death Punch sounding riff, with a lot of promise, and while it does unfortunately blend back into a similar formula as the rest of the album, it's slower tempo and more groove-orientated sound is refreshing.
The album finishes with track 8 'Eternal Oceans', and if I'd said track 7 was slow, this one is practically in slow motion. It's 8 minutes of very doom tinged death,  which builds in intensity as it progresses. Finally, it reaches a breakdown section which takes us through an incredibly heavy minute, that rounds the album off perfectly, and genuinely makes you wish the rest of the album could be like this. It's Prog in a way that isn't proggy; there is no acoustic guitar interlude or falsetto harmonised vocals, but it does gradually move from an incredibly slow tempo, into a fast paced outro filled with satisfying screamed vocals to intertwine the shouts of lead singer Adi Mayes.
To me, this is a band who needs to be experienced live (UK tour coming up in 2017). The brutal sound and energy would surely make for incredible pits, but it just doesn't seem like something you could listen to on a train. There isn't enough variety that you can get from the bands that inspire them, and even in comparison to their first album, 'A War of Souls and Desires' it's lacking something. There are moments that are attention grabbing (Track 8 and the potential of track 3) but in general, it's just too safe.
Track Listing:
The Minor Mystery of Death
Yawm al-Qiyamah
Depths
Make Disciples of the Nations
Within the Lie of all Lies
In Death we Shall Not Die
Age of War
Eternal Oceans
Record Label
PHD
Release Date:
April 7th, 2017
For fans of: Meshuggah, Strapping Young Lad