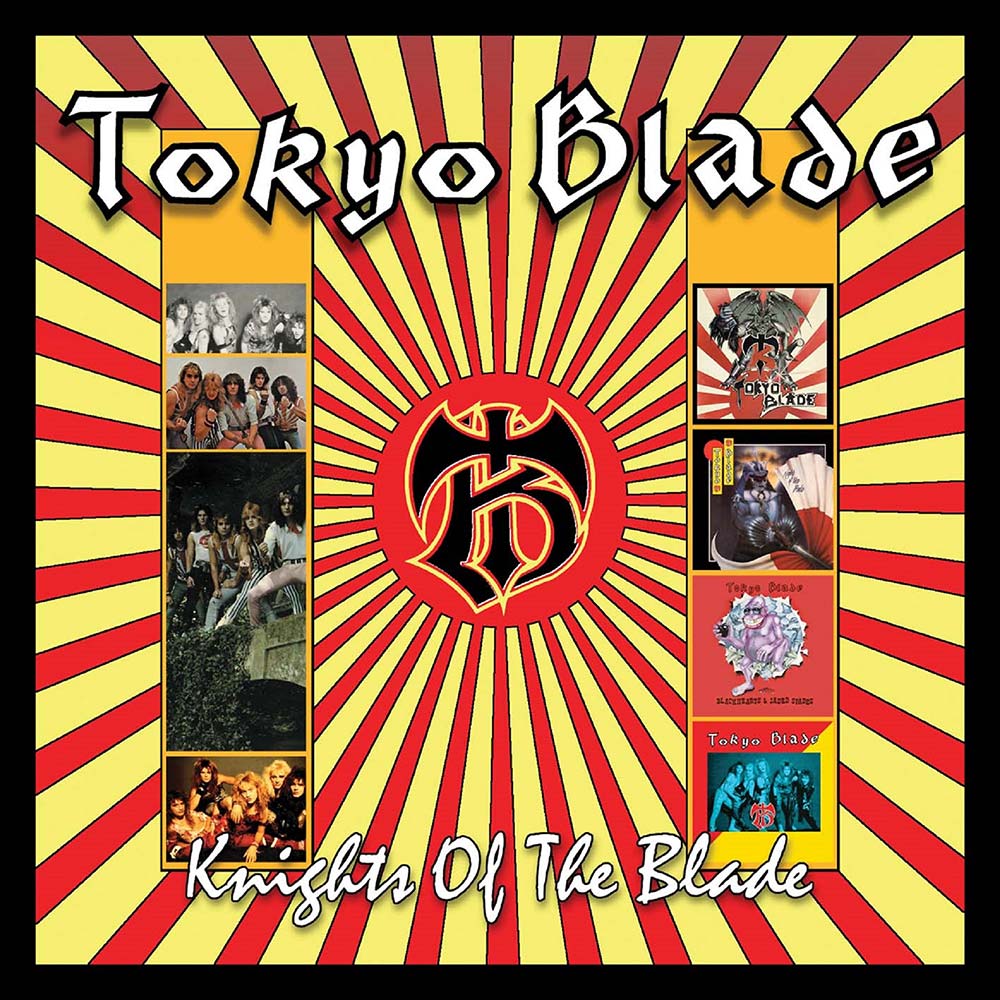 Tokyo Blade – Knights Of The Blade: 4 Disc Box Set
7th February 2017
When asked about the NWOBHM, thoughts immediately turn to Iron Maiden, Tygers of Pan Tang, Girlschool & Saxon. But a name that should be on the lips of many would be Tokyo Blade. 

Tokyo Blade have shared stages with Metallica, Dio, Blue Oyster Cult & The Scorpions to name a few. Although still touring & recording, the 1st 3 albums are enjoying a new lease of life courtesy of HNE Records.
This box pulls together their first 3 albums along with a CD of rare singles & E.Ps. Faithfully recreated from the source material & given a bit of a boost. Even the cardboard sleeves have had the artwork re-created. 
Tokyo Blade, Night of the Blade along with Blackhearts & Jaded Spades show a natural progression for the band & have some exceptional killer tracks (Sunrise in Tokyo, Lovestruck & Playroom of Poison Dreams just to name a few.) despite not having any bonus tracks on the main albums, it's the singles & E.Ps CD that make this a must have purchase. 
Tracks from The Cave Sessions" Undercover Honeymoon, Midnight Rendezvous & Madame Guillotine,  which have been long deleted, make a welcome return & to have them on CD (some of these for the first time) is a beautiful thing. Some absolute classics, especially Shadows of Insanity from The Cave Sessions.

Admittedly, the production is dated but it adds to the charm. (If you listen to a lot of the early NWOBHM the production does leave a lot to be desired) Yet it's all killer music. 
The musicianship, the song writing & of course the classic NWOBHM guitar solos are prevalent.
Tokyo Blade are a must have in ANY metal heads CD/record collection & this is a perfect introduction to a classic band. 
Track List
DISC ONE:
TOKYO BLADE 
1. POWERGAME
2. BREAK THE CHAINS
3. IF HEAVEN IS HELL
4. ON THROUGH THE NIGHT
5. KILLER CITY
6. LIAR
7. TONIGHT       
8. SUNRISE IN TOKYO
9. BLUE RIDGE MOUNTAINS OF VIRGINIA
DISC TWO:
NIGHT OF THE BLADE 
1. SOMEONE TO LOVE
2. NIGHT OF THE BLADE
3. ROCK ME TO THE LIMIT
4. WARRIOR OF THE RISING SUN
5. UNLEASH THE BEAST
6. LOVESTRUCK
7. DEAD OF THE NIGHT
8. LIGHTNING STRIKES (STRAIGHT THROUGH THE HEART)
DISC THREE:
BLACKHEARTS AND JADED SPADES
1. DIRTY FACED ANGELS
2. MAKE IT THOUGHT THE NIGHT
3. ALWAYS
4. LOVING YOU IS AN EASY THING TO DO
5. UNDERCOVER HONEYMOON
6. YOU ARE THE HEART
7. BLACKHEARTS AND JADED SPADES
8. TOUGH GUYS TUMBLE
9. DANCING IN BLUE MOONLIGHT
10. PLAYROOM OF POISON DREAMS
11. MONKEYS BLOOD
DISC FOUR:
SINGLES & EPS      
1.. POWERGAME
2. DEATH ON MAINSTREET
3. FEVER
4. ATTACK ATTACK
5. MADAME GUILLOTINE
6. BREAKOUT
7. LOVESTRUCK
8. MIDNIGHT RENDEZVOUS
9. MEAN STREAK
10. IF HEAVEN IS HELL
11. HIGHWAY PASSION
12. SHADOWS OF INSANITY
13. SCHOOL HOUSE IS BURNING
14. JEZZABEL
15. MONKEY'S BLOOD
16. UNDERCOVER HONEYMOON
17. PLAYROOM OF POISON DREAMS
18. STEALING THE THIEF
19. BOTTOM END
 
Label
HNE
Release Date
24th Febuary 2017

Check out Tokyo Blade HERE