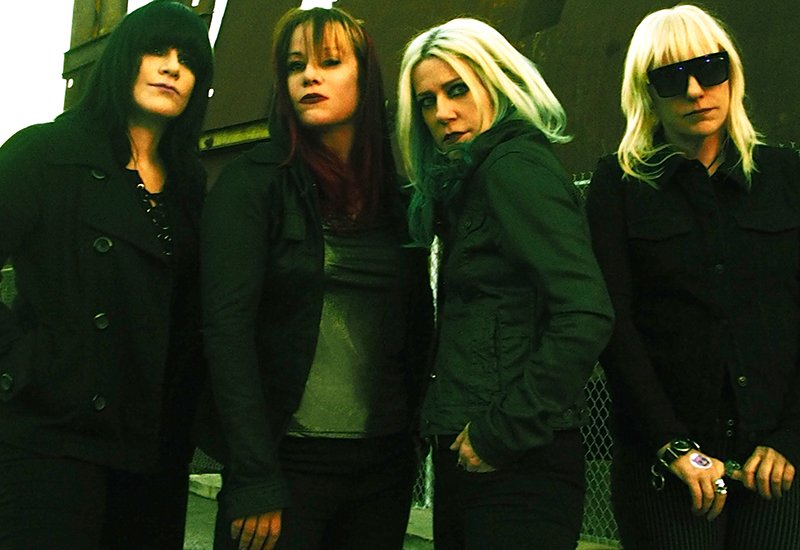 L7- WARGASM – THE SLASH YEARS 1992-1997 Re-Issue – Album Review
22nd March 2021
0
By
Andy Davis
There are some albums and bands which stay in our lives and become an essential part of our personal rock history.
L7 to me are one of those bands, they have been an integral part in defining the foundations of my musical soul and when I need a refill it's L7 I've come back to since I first saw them live at Glastonbury in 1994.
L7 originally formed in Los Angeles in 1985 when Suzi Gardner (guitar, vocals) and Donita Sparks (guitar, vocals) joined forces with Jennifer Finch (bass, vocals). In a traditionally male-dominated, often sexist rock arena, L7 were happy to court controversy through spirited, occasionally infamous live performances, whilst playing songs often infused with humour as much as bite and socio-political drive.
Having emerged from LA's art punk scene, their music is a mixture of hard rock, alternative rock and punk rock, but they are arguably most synonymous with the grunge movement of the late 1980s and early 1990s. Releasing their self-titled debut on Epitaph Records (home of The Offspring and Bad Religion), their grunge credentials were cemented by the release of second record "Smell The Magic" on Seattle's Sub Pop, some-time home for many grunge lynchpins, including Nirvana, Soundgarden and Mudhoney, among many others.
In 1990, the classic line-up was completed by Dee Plakas on drums. Signing to Slash Records (Faith No More, Violent Femmes), they released their major label debut "Bricks Are Heavy" in 1992, produced by Butch Vig (Nirvana, Smashing Pumpkins, Garbage). This was the album which first brought me into the world of L7.
Lead single 'Pretend We're Dead' gave L7 a massive worldwide hit, especially in the States, followed by the singles 'Everglade', which remains my favourite and 'Monster'. There is a reason that the original 12" of 'Everglade' is one of two framed records at home, the other being 'Andres' (more of that later). "Bricks are Heavy' oozes track after track of attitude, with 'Shitlist' featuring in the soundtrack for Oliver Stone's infamous 1994 'Natural Born Killers'.
The expanded edition of "Bricks Are Heavy" includes 'Pretend We're Dead' (Edit), 'Lopsided Head' (B-Side), 'Used To Love Him' (B-Side), a cover of the tongue-in-cheek Guns N' Roses track and 'Freak Magnet' (B-Side). All of which make welcome addition to what is a classic album.
Touring with Nirvana and Hole, as well as appearing on the main stage at Lollapalooza, L7 followed up "Bricks Are Heavy" with "Hungry For Stink" in 1994. Featuring the single 'Andres', this expanded edition features 'Baggage' (Live), 'Punk Broke (My Heart)' (B-Side), 'Stuck Here Again' (Edit) and 'Interview' (B-Side).
During the recording of their third Slash record, Jennifer Finch left the band, eventually replaced by Belly's Gail Greenwood. Their fifth record, "The Beauty Process: Triple Platinum", was released at the beginning of 1997, and although their shift in direction received plenty of critical praise, it was their last album for Slash Records. 'Off The Wagon' was issued as a single, with the B-Sides 'Guera' and 'Worn Out' included as bonus tracks, alongside 'Drama (Piss Off Version)'.
L7 would record one more album during the 1990s before calling it a day in 2001. They would reform in 2014, touring extensively, and enjoying a creative renaissance, releasing their seventh album "Scatter The Rats" in 2019.
Released in 2016 L7's musical rollercoaster documentary was met with much critical acclaim and demonstrated their drive and determination to be recognised for their music and frustration over the incessant focus on gender.
Packed with bonus tracks, artwork and memorabilia, WARGASM – THE SLASH YEARS 1992-1997 includes a new, extensive liner note based on interviews with the band.
I've always found it difficult to review reissues as so many don't stand the test of time but in this case this collection represents the essence of the 90s 'grunge' movement and 30 years on L7 are a constant tonic during such a strange time.
Score: 9/10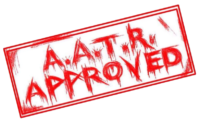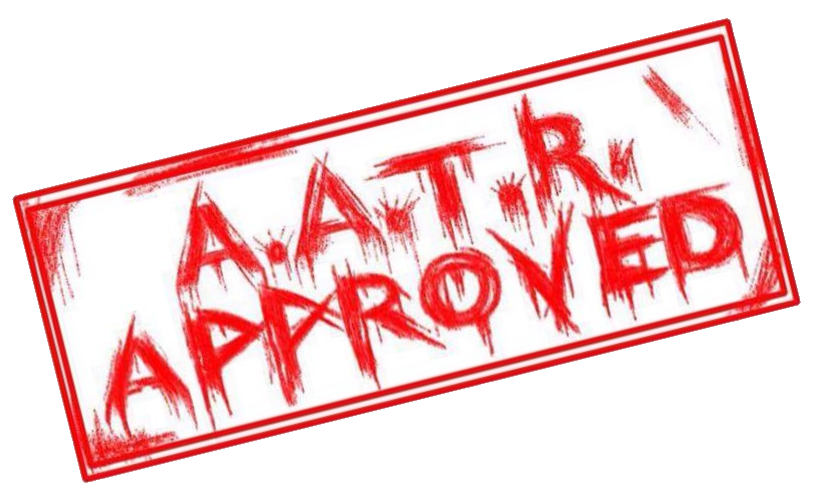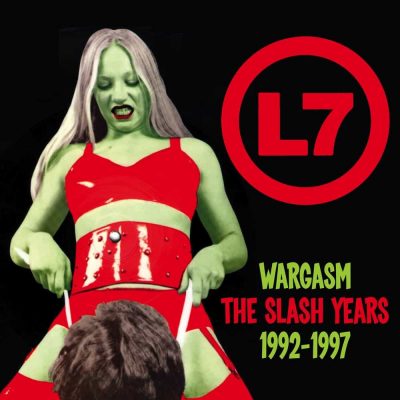 Disc One: Bricks Are Heavy (1992)
1.Wargasm
2. Scrap
3. Pretend We're Dead
4. Diet Pill
5. Everglade
6. Slide
7. One More Thing
8. Mr. Integrity
9. Monster
10. Shitlist
11. This Ain't Pleasure
Bonus Tracks
12. Pretend We're Dead (Edit), 13.Lopsided Head (B-Side), 14.Used To Love Him (B-Side), 15.Freak Magnet (B-Side).
Disc Two: Hungry For Stink (1995)
1.Andres
2. Baggage
3.CanIRun
4. The Bomb
5. Questioning My Sanity
6. Riding With A Movie Star
7. Stuck Here Again
8. Fuel My Fire
9. Freak Magnet
10. She Has Eyes
11. Shirley
12. Talk Box
Bonus Tracks
13. Baggage (Live),14. Punk Broke (My Heart) (B-Side), 15. Stuck Here Again (Edit),16. Interview (B-Side).
Disc Three: The Beauty Process: Triple Platinum (1997)
1.The Beauty Process
2. Drama
3. Off The Wagon
4. I Need
5.Moonshine
6. Bitter Wine
7. The Masses Are Asses
8. Bad Things
9. Must Have More
10. Non-Existent Patricia
11. Me, Myself & I
12. Lorenza, Giada, Alessandra
Bonus Tracks
13. Guera (B-Side), 14. Worn Out (B-Side), 15. Drama (Piss Off Version).
How useful was this post?
Click on a thumb to rate it!
Average rating 5 / 5. Vote count: 780
No votes so far! Be the first to rate this post.
Related
About the author
Andy 'Scully' Davis Scottish based Rocker, Photographer and Whisky connoisseur (Jack still has a special place in my heart), with a side order of Geek thrown in for good measure.