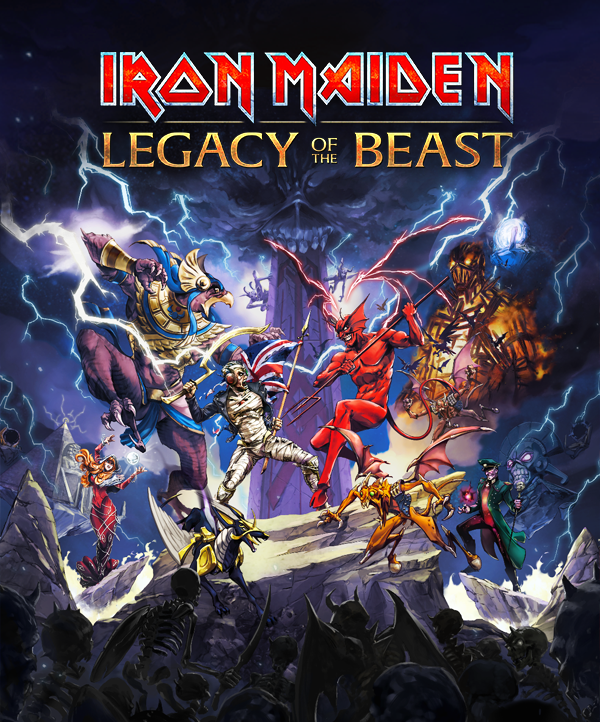 Iron Maiden: Legacy of the Beast Game Review
17th August 2016
With the exception of KISS, Iron Maiden have arguably the most iconic merch empire in all of heavy metal. From the obvious to the brilliantly obscure, Iron Maiden have everything from t-shirts and hoodies to tankards and door-knockers, all emblazoned with their iconic mascot, Eddie. They even moved into video games with Ed Hunter in 1999. And now, they have a mobile RPG as well: Legacy of the Beast.
The story follows Eddie and his companion, The Clairvoyant, on a quest to find fragments of his soul that have been scattered across a universe made up of Iron Maiden's lyrics. Legacy of the Beast is not The Last of Us, or The Witcher, but the story is fun and enticing enough to keep it interesting – the dialogue peppered with lines from Maiden's songs certainly helps as well.
Let's get to the mechanics of Legacy of the Beast. Graphically, it is about as good as one would expect from a mobile game – primitive compared to our PS4s and Xbox Ones, but enjoyable none-the-less. As for the soundtrack, well, it's an Iron Maiden game. I think that says it all really: what better soundtrack is there for anything than Iron Maiden?
Gameplay wise, Legacy of the Beast is bloody brilliant.  As you work your way through the different worlds in the Iron Maiden universe, you collect souls – these souls can be exchanged for allies to help build a team, or, if you're really lucky, a new version of Eddie! The different characters have different classes, with their own unique abilities, and can be customised and levelled up. But the biggest achievement is Legacy of the Beast's replayability. With three different difficulties for each level, it is not an easy game to beat. This is vital, as it is all too easy to get bored of mobile games after the first few days. This is not the case here, however! I have fully enjoyed playing Legacy of the Beast since it dropped!
That is not to say Legacy of the Beast is perfect. There is an absolutely massive difficulty jump between the second and third worlds, which kind of forces you to go back and grind on the previous worlds. Also, an aspect I have come to truly despise with mobile games is the use of "energy." In Legacy of the Beast, you have a set amount of energy, which is used to play levels, and replenishes very slowly. It has not been a huge issue for me so far, as I'm a relatively low rank and every time to rank up your energy replenishes – but as you progress in the game you may find yourself having to leave it alone for large chunks of the day.
On the whole, however, Roadhouse Games have crafted a really fun, interesting, free-to-play game. Although in-app purchases are an option, this is not necessary to get the full experience. A free-to-play game with zero ads, that doesn't require lots of in-app purchases is certainly refreshing! Not content to rest on their laurels, Roadhouse Games are also continually working on improving the game with bug fixes (though I have encountered zero so far!) and new content. I'm personally holding out for a clansman version of Eddie!
Legacy of the Beast Verdict

Gameplay: 9/10
Graphics: 7/10
Soundtrack: 9/10
Replayability: 8/0
Overall: 8/10

Check out Legacy of the Beast's official website for more information and updates!