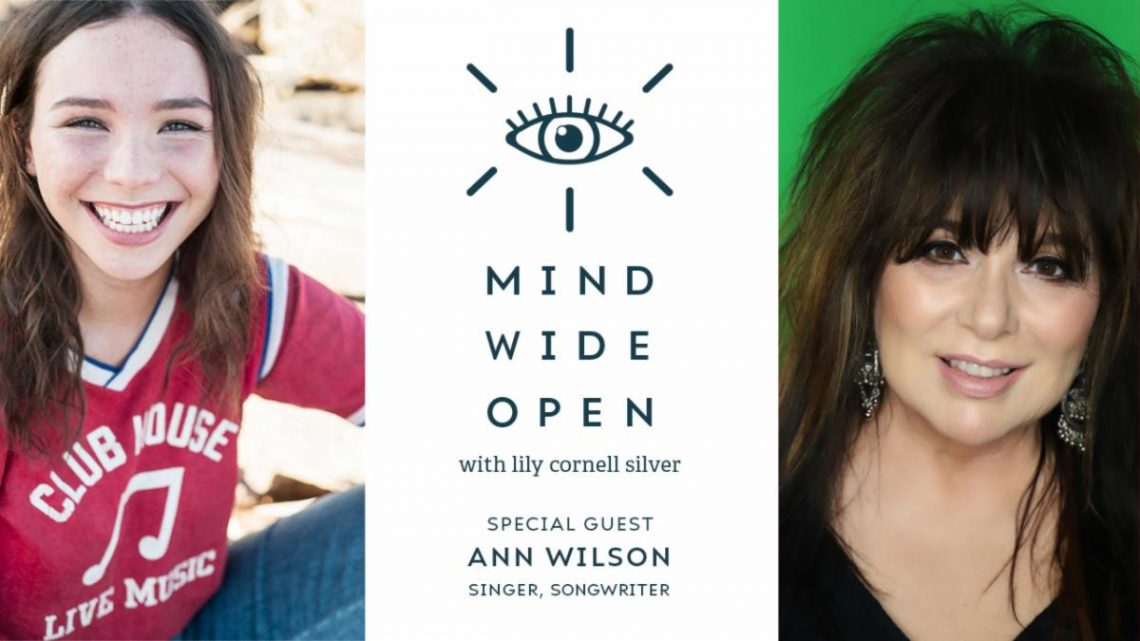 LILY CORNELL SILVER WELCOMES SINGER, SONGWRITER ANN WILSON TO CRITICALLY ACCLAIMED IGTV SERIES, MIND WIDE OPEN
16th March 2021
As the second season of
Mind Wide Open
continues,  Lily Cornell Silver welcomes iconic singer, songwriter
Ann Wilson
to her much-lauded IGTV series and podcast.
The pair talk about struggles with body shaming, specifically Ann's experience as the singer of a band during the 80's MTV era when most female artists felt pressure to not only be great singers but to look like models. 
Ann discusses one of the moments that had a huge impact on her during those years, "…we were in an airport and I read this review from the night before that really just landed on me…It didn't even mention that I sang…I had to go find a restroom and get into a stall, and just chill because I felt I was going to go crazy…I couldn't take all that personal criticism on a huge public scale. When I chilled out and finally came out I was ok, but that kind of thing started happening which led to me having stage fright. Like 'I don't even want to go out there."
Lily and Ann also delve into the differences between the 1980's and today, with Ann mentioning that although the world has changed a lot, with regards to body shaming, there is still a long way to go. Ann also discusses changes she's made in her life to improve her mental health, including therapy and meditation. 
Speaking about her experience early in her career in music Ann says, "In the 1980s that may have been the lowest of the low in terms of female acceptance that I've ever lived through. It was when the lowest premium was put on female 'naturalness' ever. At first, it was pretty fun to get all dressed up and have big huge hair and the make-up because it was theatre, but it became the expectation."
Lily and Ann share their mutual upbringing in musical families in Seattle as well as talking about how music can be healing in the face of pain.  
Mind Wide Open will continue as an IGTV series with new shows every other Tuesday at 12 noon ET and is now also available as a podcast on
Spotify
and
Apple
and on
YouTube
with subtitles available in Spanish and English.
Past shows featured Eddie Vedder of
Pearl Jam
, Actor/Host
Jack Osbourne
, Actor/activist
Michael K Williams
, Social media star/body positivity activist
Sienna Mae Gomez
, Grief expert/Author
David Kessler
, activist, musician, author Nadya Tolokonnikova of
Pussy Riot
, Singer/songwriter
Fantastic Negrito
, actor-activist
Brittany Snow
,
Allison Hagendorf
Global Head of Rock at Spotify, TV Icon/Author
Matt Pinfield
, Dr. Laura van Dernoot Lipsky of the
Trauma Stewardship
in Seattle, Alicia Bognanno of
Bully
, Dr. Marc Brackett, author of
Permission to Feel
and founding
Director of the Yale Center for Emotional Intelligence
, TikTok/Instagram influencer
Sir Carter
,
Guns N' Roses
bassist, Duff McKagan, and Monique Minahan, founder of
The Grief Practice
among others.
ABOUT Ann Wilson
Widely regarded as one of the greatest voices in the history of rock 'n' roll, Ann Wilson is a true icon, known far and wide as lead singer and songwriter of the groundbreaking rock band Heart. Led by Wilson's extraordinary vocal power, Heart has thrilled audiences for over four decades, earning sales of more than 35 million and well-deserved induction into the Rock and Roll Hall of Fame in 2013. Indeed, as lead singer of the first female-fronted superstar hard rock band, Wilson blazed a trail for generations of women to come, while her songs – including "Barracuda," "Crazy On You," "Straight On," and "Magic Man," to name but a few – have become part of the very fabric of popular culture.
Wilson made her stellar solo debut with 2007's HOPE & GLORY, showcasing inventive covers of songs that inspired her own artistry alongside guest appearances from such friends and fans as Elton John, k.d. lang, Alison Krauss, Wynonna Judd, Shawn Colvin, and Rufus Wainwright. Her critically acclaimed second solo album, 2018's IMMORTAL, saw her teaming with longtime Heart producer Mike Flicker to put her unique stamp on songs made famous by David Bowie, Leonard Cohen, Tom Petty, Amy Winehouse, and more. 
As creatively energized as ever before, Wilson is currently working on additional new music and plans to return to the road as soon as possible, bringing her one-of-a-kind voice and classic songs to stages everywhere.
ABOUT Lily Cornell Silver
Lily Cornell Silver is the creator and host of the IGTV interview series, Mind Wide Open. Her mission is to reduce the stigma surrounding the conversations around mental health. Lily is a poised, intelligent, and talented young woman whose goal is to open and amplify the conversations around trauma, grief, depression, anxiety, and other challenges. Lily is a junior in college majoring in Media Studies, Sociology, and Psychology. She is also a singer and in addition to managing and promoting Seattle musicians, she is active with many social justice initiatives including organizations such as
Black Lives Matter
,
NAACP
,
Equal Justice Initiative
,
Everytown for Gun Safety
, and
Planned Parenthood
among many others. Lily Cornell Silver is the only daughter of music industry manager
Susan Silver
(Soundgarden, Alice In Chains, Screaming Trees), and the first-born of the late singer/artist
Chris Cornel
l, (
Soundgarden
/
Audioslave
) She is twenty years old and makes her home in Seattle, Washington.