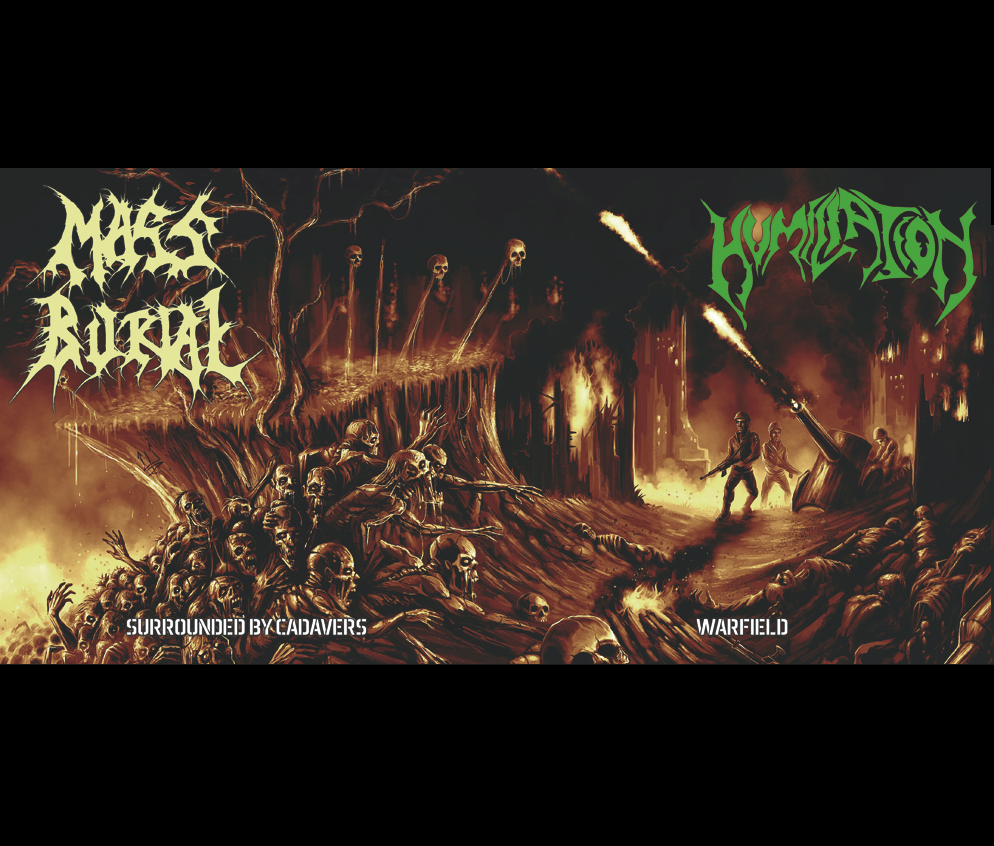 Humiliation – Mass Burial split EP
28th November 2015
Brutal Art Records from Germany are one of my favourite independent records labels, releasing high quality death and black metal vinyl EPs from a number of established and up and coming bands.
Their latest offering is a split EP featuring two impressive death metal bands – Humiliation from Malaysia, and Mass Burial from Spain.
Side A of the EP gives us 'Frontline Massacre' and 'Hands of Manipulation' by Humiliation, and fans of the band will know what to expect – pulverising war-obsessed death metal with chugging guitars, rasping vocals, and a subtle nod to Bolt Thrower.  I'm a huge fan of Humiliation, and this track is as good as anything else the band have released.
Side B of the EP gives us 'Surrounded by Cadavers' and 'Order of the Mutilated' by Mass Burial.  These two tracks are the perfect example of how to do old school metal, with a clear nod to early Entombed – perfectly combining chugging guitars, catchy riffs, pounding drums, and guttural vocals.  These guys have previously released two full length albums and an EP, and on the basis of the two tracks on this EP I will definitely be trying to get my hands on those!
Have a listen to 'Order of the Mutilated' to hear just how impressive this is:
The musical production on all four tracks on this split EP is first class.  The EP, as ever with Brutal Art Records, is beautifully packaged with colour covers and full lyrics.  Not only that, but the vinyl comes in three fantastic colour combinations – 'crazy coloured', red & purple, and white & turquoise.

This is another impressive release from Brutal Art Records – so help support this independent label and get yourself a copy of this before it sells out – check out the links below !
Score: 9 out of 10
EP INFO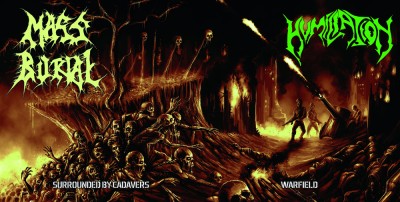 Tracklist
1. Humiliation – Frontline Massacre
2. Humiliation – Hands of Manipulation
3. Mass Burial – Surrounded by Cadavers
4. Mass Burial – Order of the Mutilated
Record Label
Brutal Art Records
Release Date
December 2015
Links
Brutal Art Records
Humiliation Facebook page
Mass Burial Facebook page