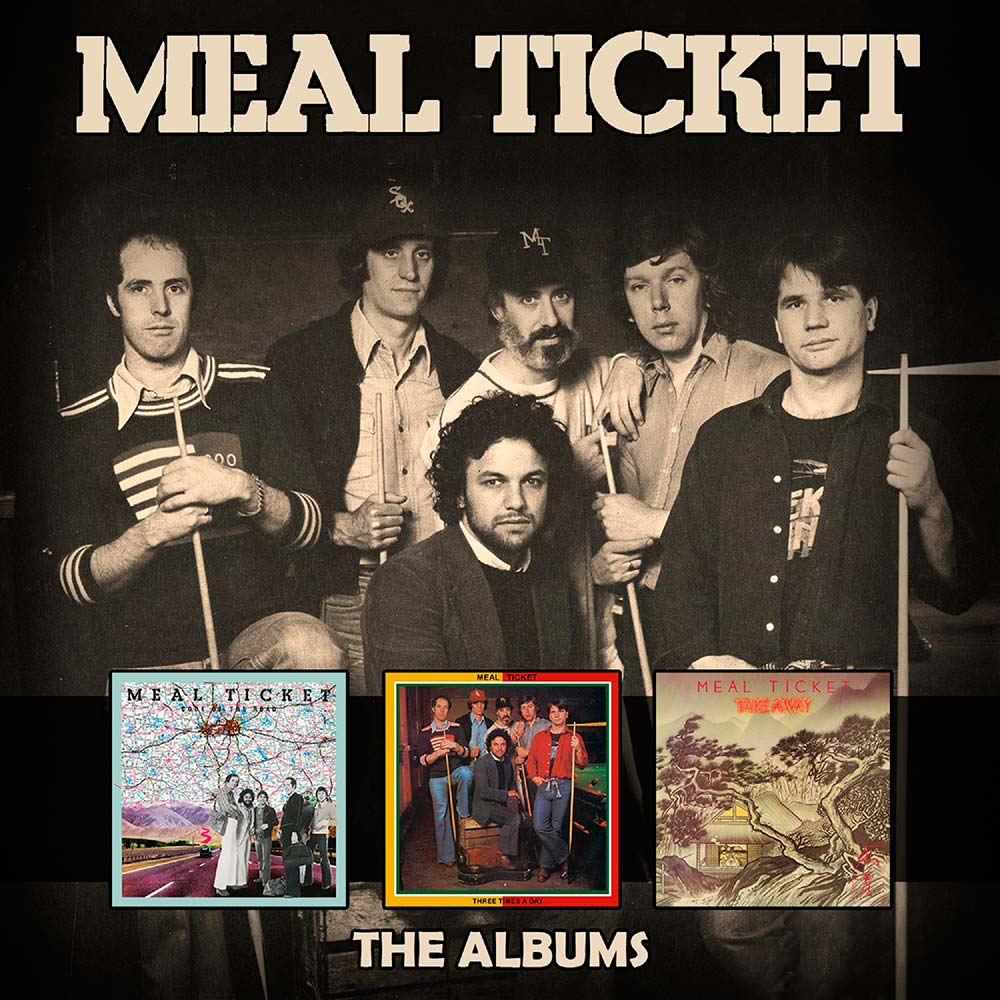 Meal Ticket – The Albums: 3CD Box Set
12th March 2017
Meal Ticket were a country pub rock band & often referred to Britain's answer to The Eagles. This box set brings together the 3 albums they recorded (Code Of The Road, Three Times a Day & Take Away) 2 of which have never been released on CD until now.
Only the 3rd album Take Away has been expanded, with the addition of 2 rare live tracks (Son Of The Creature Of The Black Lagoon & Boogie Queen).
Sonically, the CDs sound great & James Bragg has done a stand-up job on the mastering from the original source tapes.

Each CD is housed in a cardboard sleeve that replicates the original artwork perfectly. The booklet that accompanies the set is a massive 20 pages long & features the writings of the editor of "History Of Rock" and long-time champion of Meal Ticket, Michael Heatley.
Meal Ticket is a band that deserved more recognition than they got back in the middle to late 70's & this collection is a great way of finding out about this long forgotten classic pub rock band that time forgot. 
If you have money on your pocket & you fancy something just that little bit different, you could do a lot worse than purchase this collection of solid rock.
For fans of The Eagles, Bryan Adams, Uriah Heap.
Score 6.5/10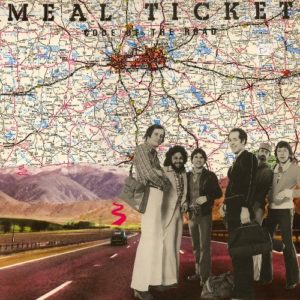 DISC ONE:
CODE OF THE ROAD
1. OUT OF THE BLUE
2. KEEPIN' THE FAITH
3. OK BAR (SAME OLD STORY)
4. LAST ONE TO KNOW
5. DAY JOB
6. THE MAN FROM MEXICO
7. SNOW
8. GOLDEN GIRL
9. STANDING ON THE WRONG CORNER
10. GEORGIA SYNCOPATOR
11. THE CODE OF THE ROAD (TRAVELLERS BIBLE)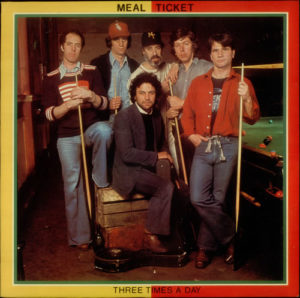 DISC TWO:
THREE TIMES A DAY
1. THIS COULD BE THE TOWN
2. OH SISTER
3. LAST PORT OF CALL
4. COMES THE DAWN
5. RIVER MAN
6. YESTERDAY'S MUSIC
7. RURAL ROUTES
8. I WISH I WISH
9. LAUGHING DAUGHTER
10. THIS DREAM I HAVE OF YOU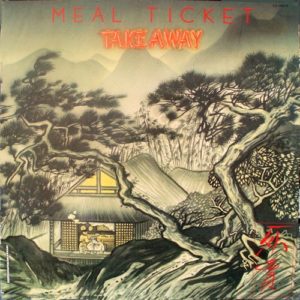 DISC THREE:
TAKE AWAY
1. WHY IN THE WORLD
2. DOWN ON MY KNEES (AFTER MEMPHIS)
3. LUCY
4. LONE STAR MOTEL
5. THE SHAPE I'M IN
6. BLAME
7. SIMPLE
8. BONNIE LEE'S DINETTE
9. AT THE FUNNY FARM
10. GET ON BOARD
BONUS TRACKS
11. SON OF THE CREATURE FROM THE BLACK LAGOON (LIVE)
12. BOOGIE QUEEN (LIVE)