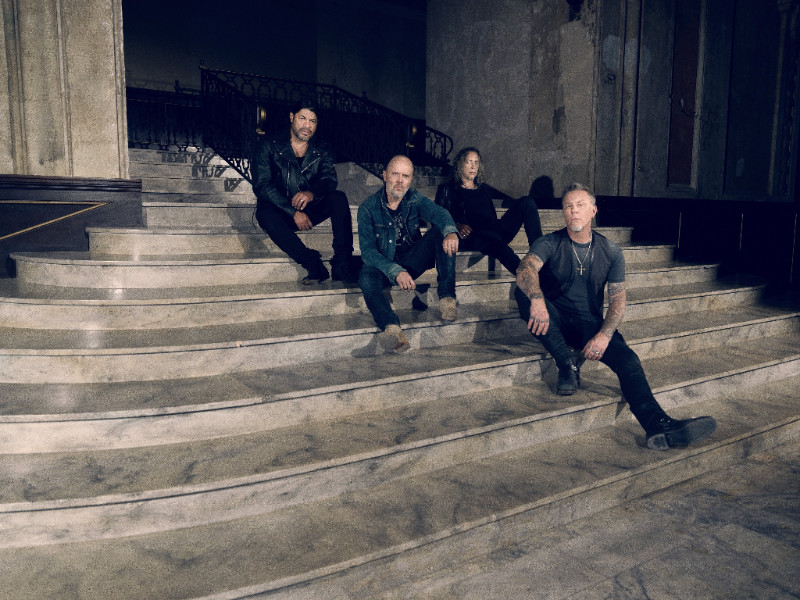 Metallica – "Helping Hands…Live & Acoustic At The Masonic"
4th April 2019
0
By
Gavin Griffiths
When it comes to long waiting periods for new albums, we all know GUNS 'N' ROSES took the crown (Or took the piss however you want to look at it) with their 15 year wait for "Chinese Democracy"…which…really wasn't even worth it in the end, let's be fair. Coming up not far behind them now would be TOOL, who are 13 years and counting for their highly anticipated follow-up to "10,000 Days"…an ironically titled album if ever there was one. I hope it's not a literal wait as it's only been 4,720 days* since it was released…hell that's not even half way! It'll be the 2030's before we hear anything new! On a serious note though, one band who seem to leave fans feeling impatient regarding the wait for new material, would be METALLICA.
It's easy to see why I guess…compared to their revered and more prolific early years, the last three studio albums to come from the thrash metal titans have been 2003's "St. Anger"…2008's "Death Magnetic" and then 2016's "Hardwired…To Self-Destruct". Sure there have been a couple of live albums and one or two EP's in between and, well, the less said about "Lulu" the better, but Metallica fans while loyal, do get frustrated and want papa Het to hit them with dem riffs! Well 2019 brings some good news and some bad news; the good news is there IS a new Metallica album! The bad news is it's another live one. Recorded at the Masonic in San Francisco, it's an acoustic collection of cuts from their back catalogue, in support of the All Within My Hands Foundation; a charity founded by the band themselves that supports a good cause, providing poorer communities with work programs and opportunities for people to get back on their feet…so with that said, it's clearly got all of the good intentions so let's not bash this TOO badly eh?
The glorified jam session kicks off with some eager crowd cheering, while James Hetfield jokes about nervousness, before we dive straight into a stripped back rendition of "Disposable Heroes"…Lars is still present on the drums and there are some subtle pedal steel guitar effects layered throughout, giving this an almost folk-inspired feel, so it's not 100% strictly acoustic, but it makes for an interesting combination with Hetfield's trademark gruff vocals. Up next then is the first of four covers which take up a third of the album…so technically it's not even a full Metallica album, and get this, none of the covers are even "Whiskey In The Jar"! Oh you guys…anyway here we get their take on the delightfully depressing "When A Blind Man Cries" by DEEP PURPLE. While it does have certain rawness to it and it is done well, the acoustic delivery is almost optimistic in places and the song lacks some of its trademark melancholy, though it gets a warm reception from the crowd.
The other covers while we're on the topic are "Turn The Page" which you'd already recognise from "Garage Inc." but the more notable songs would be "Please Don't Judas Me" and "Veteran Of The Psychic Wars". The former, a track by NAZARETH is delivered with a slight, western country tone and its slow pacing allows for ample mood, aside from Hetfield tripping over his words introducing the track…the latter then, a track by BLUE OYSTER CULT, was chosen by Lars and there's banter on stage about having Lars sing it himself, to which he jokes that he would if they wanted the house cleared. Don't worry about singing Lars, focus on that snare. The psychedelic tendencies of BOC trickle through and there's an enjoyable little acoustic solo with Kirk Hammett taking up the 12-string guitar, but this is meant to be a Metallica album at the end of the day so let's see what they themselves have to offer.
Surprisingly enough we're given a track off of "St. Anger" as it happens which is rare given the albums meme status. "All Within My Hands" manages to actually sound like a finished song here instead of a demo, so credit where it's due, this is automatically an album highlight. Being the name of the charity itself too, it's ironic that something so positive could come from that album in any capacity!
There are three tracks taken off of the "Black Album" which makes up the other bulk of the record…naturally "Enter Sandman" gets a solid crowd reaction when it kicks in, especially it's lively crescendo, and it goes without saying that "Nothing Else Matters" was tailor-made for this environment; the ballad done well again here and it can't help but be the standout performance of the night. We eventually round things up with an energetic performance of "Hardwired"…it comes across as a bit too up-tempo at times, the riffs were designed to be shredded on an electric guitar and the acoustics don't really capture the song as it was intended…it's like they can't keep up with themselves at times, though it's a fun finale.
Overall while it will likely disappoint a lot of Metallica fans who just want the band to focus on new material, and generally speaking, as a Metallica record itself it's a bit lacking given the fact it's 33% covers, but they get a pass on this one (ONLY JUST MIND YOU) as it IS for a charitable cause. Apparently according to bassist Robert Trujillo the next proper album will come around a lot sooner than we'd expect, but with their current track record, that remains to be seen. Until then, help yourself to "Helping hands…" and support something charitable. Or don't, it's entirely up to you.
Score: 5 / 10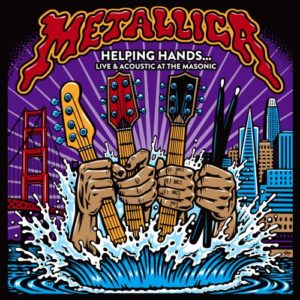 Track List:
"Disposable Heroes"
"When A Blind Man Cries"
"The Unforgiven"
"Please Don't Judas Me"
"Turn The Page"
"Bleeding Me"
"Veterans Of The Psychic Wars"
"Nothing Else Matters"
"All Within My Hands"
"Enter Sandman"
"The Four Horsemen"
"Hardwired"
Record Label:
Blackened Recordings
Release Date:
February 1st (Out Now)
For all things Metallica, click HERE. To purchase the album, click HERE
How useful was this post?
Click on a thumb to rate it!
Average rating 0 / 5. Vote count: 0
No votes so far! Be the first to rate this post.
Related
About the author
Gavin Griffiths AKA GavTheGothicChav 31 Based In South Wales Favourite Bands: HIM, The 69 Eyes, Paradise Lost, CKY, Rise Against, Alkaline Trio, Type-O-Negative, Turbonegro, Depeche Mode... Enjoys: Pizza, Jack Daniel's, Comedy Roasts, WWE, Horror Movies, Sloths, Panda's, Eurovision Dislikes: The Concept Of Being "Offended", Hype, Instrumental Tracks, Interludes, Overly Long Tracks