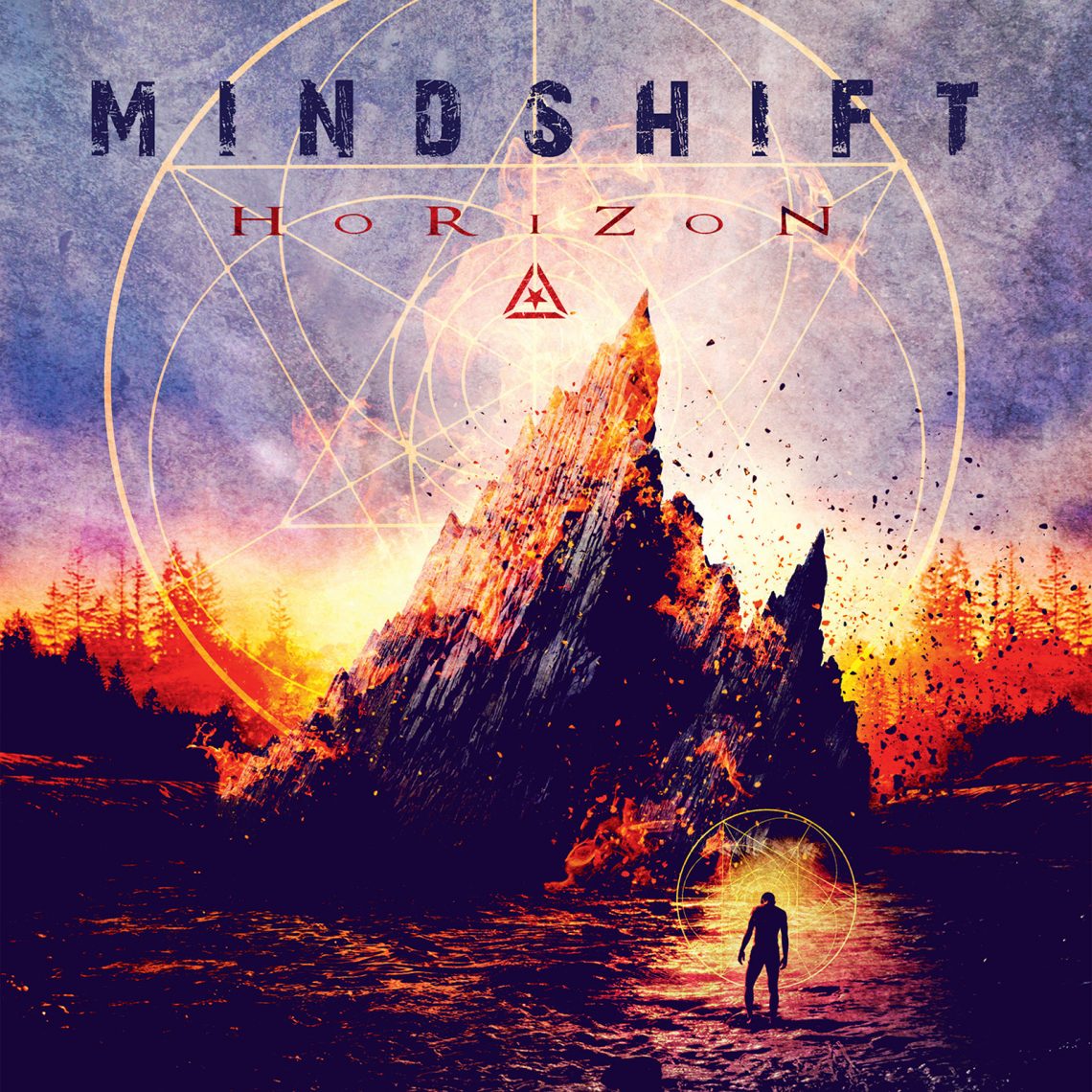 Mindshift – Horizon – CD Reivew
4th April 2016
0
By
John Deaux
Pulling together the political wrongness of the planet isn't an easy task. Mindshift, with this new album aim to be the heavy metal brace around a dying world.
'Horizon' is opened with a track called Origin. This isn't a musical track, just a piece of something eerie and disconcerting to whet the appetite. Something that thematically goes beautifully with the concept of the album – stitching together this light and dark that the world is currently existing in.
The first true track is named Arise, and has a really awesome opening riff. If you're into anything a bit melodic, then you're going to like this. Marcus Uggla's dirtier vocals are the driest I've ever heard. Forget gravelly, this is finer, like sand. Once you've heard it you'll know exactly what I'm saying. He switches pretty flawlessly between passionate growling and clean singing. For me, those cleaner vocals aren't the strongest – but don't let this put you off, the tightness and general tone of their sound more than makes up, and I'll mention it again; their melodic constructions are outstanding – Johan Lund's guitar acts like a suture, keeping things livid, but keeping things together.
We dip a bit heavier with the next couple of tracks, but Mindshift are clearly a fan of a lighter, cleaner chorus. I don't mind this normally, but it does often feels out of place. I mean, the sound can be a little too sickly sweet. I'm all for a contrast, but sometimes, it doesn't quite fit…
There's also a little bit of similitude coming in early on, and there is a danger of a listener becoming a little lost in the consistency of the pace. A few, sweet, deep breakdowns help the cause somewhat – but is it enough?
My Revenge was the track I was waiting for. Bjorn 'Speed' Strid of Soilwork persuasion does the guest vocals – and he doesn't disappoint. He bolsters Uggla's clean stuff beautifully, and when the two scream – it's a lovely vocal union. This track feels better put together somehow – there's a little more consideration in the tone and timing. And that clean chorus? Nowhere to be seen. This one is absolutely worth a listen , especially if you're a fan of 'Speed's' stuff.
The next two tracks are polar opposites. Eye for an Eye is outstanding – with the same brutality of its preceding track. Drowning introduces some electrifying synth sounds to the mix. The vocal is predominantly clean, and despite being a really nice track to listen to – it feels a bit out of place.
Towards the end of the album, we're brought towards more variety with tracks like Light bringing some gorgeous piano soundscapes and a whole new pace. The lyrics really hit home too, there's a resonant theme of 'unsafeness' that's really quite haunting. A Thousand Scars has a more djenty feel to the guitar tone, and a slower, heavier timing is refreshingly brutal – sort of leaves those squeaky clean choruses from earlier in the dust. It's by far my favourite track. The drumming has somehow metamorphosed in these later songs too, as you start to notice its value more. More of this please Mindshift. Much more of this.
When we get to the end – we're sort of exhausted. 15 tracks. That's a lot of musical content. There is a risk of people dropping off the wagon early into the album – which is a damned shame because you need to see this album through to the end before you get a real flavour of its significance. Does the world need any more of this melodic genre? I think so.
8/10
Album Details
Release Date: 29th April 2016
Track List
Origin
Arise
Horizon
The Art
In The End
My Revenge
Eye For An Eye
Drowning
Suffer In Silence
Decay
Absolution
Light
A Thousand Scars
Single Session Therapy
Reflections
Label: Eclipse Records
How useful was this post?
Click on a thumb to rate it!
Average rating 0 / 5. Vote count: 0
No votes so far! Be the first to rate this post.
Related
About the author
Some say Yank My Doodle, It's A Dandy! is a biographical movie based on John. Some have even said that his favorite artist is Chesney Hawke! All we really know is he sleeps inside out and his hair tastes like candy floss.