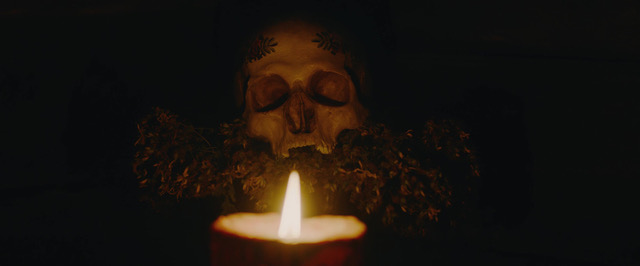 MMMD share 2nd track from upcoming soundtrack for "Hagazussa – A Heathen's Curse", a medieval terror film by Lukas Feigelfeld
29th August 2018
MMMD (Mohammad) who are set to deliver their most lyrical work to date on the original soundtrack for Lukas Feigelfeld's slow-burning gothic horror movie "Hagazussa – A heathen's curse", have shared a 2nd track from the album. MMMD describe 'Sagaraki De (Hagazussa)' as, "a desperate whisper, a lyrical attempt to exorcise the evil that will inevitably come."
 The music is absorbing, emotional and powerful as ever and bears MMMD's familiar idiosyncratic universe galvanized in their previous releases, while open to new sonic territories that reflect the film's constant state of dread as well as key elements such as trauma, isolation, anxiety and delusion. 
Lyrical themes, ultra rich in low frequencies and ominous bowed drones are intertwined with whispers and incantations. Sine waves and strings, lows and highs, torment and solace inter-modulate endlessly. 
MMMD have been forging their deep monolithic sound since 2009 across 6 releases, bringing together low frequencies, inter-modulations, dark textures and distant folk nuances through custom made instruments and software.
MMMD's music is heavy yet cathartic, bleak as well as absorbing and always hypnotic. Their sonic arsenal is equally deployed live, a ceremonial experience in physical sound [quoted by some as 'Chamber Doom"] that evokes a wide emotional palette.
The film Hagazussa – A Heathen's Curse was released in May this year, described by The Stranger.com as 'slow, cruel, and ghoulishly beautiful', 

with the original soundtrack from MMMD following on 14th September.
Also watch recent video for 'Hagazussa Madicho' which features footage from the film.
'It's such a rich soundscape, beautiful and sometimes distantly terrifying' – The Quietus
'an inescapable mood of dark encroaching dread – Mojo 
'Mohammad's set-up is, to say the least, unconventional.  Sterling stuff' – 

FACT Mag
'More than just the trio's name conjures a sense of religiosity: their melodies evoke liturgical chanting' – The Wire
'Great monolithic slabs of sonic matter that move in stately unison, occasionally swooping down to bowel-quaking depths' – Resident Advisor