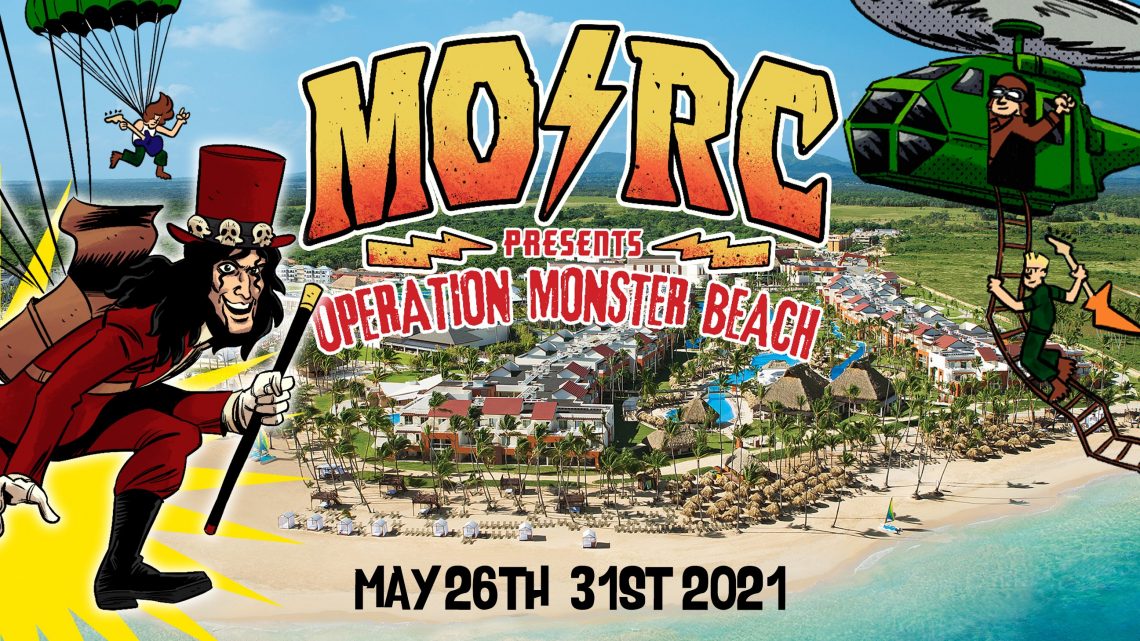 MONSTERS OF ROCK CRUISE ANNOUNCES MUSIC FESTIVAL FOR 2021 OPERATION MONSTER BEACH
3rd December 2020
The annual Monsters of Rock Cruise, the world's premier hard rock/heavy metal music event, is moving to land in 2021 to celebrate its 10th anniversary. Promoter On The Blue announced MOR's Operation Monster Beach will be taking over two private, all-inclusive resorts in Punta Cana, Dominican Republic this May 26th-31st and feature performances from over 20 artists, including this year's headliner, rock icon Alice Cooper.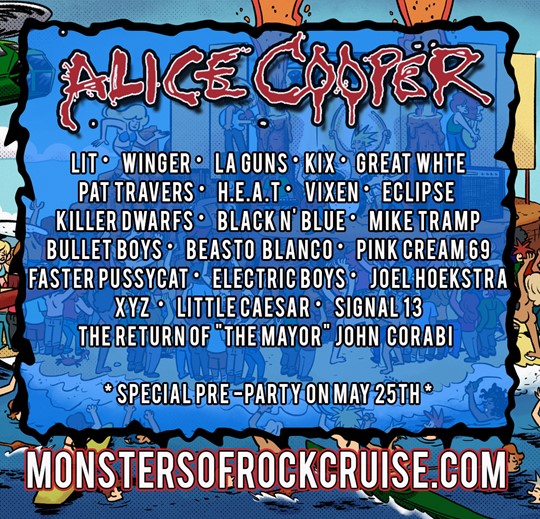 The public on-sale kicks off today (12/3) with suites starting at $1,999 per person (double occupancy), plus a mandatory service fee of $125 per person for all guests, regardless of age. Also available are packages to extend your stay, including a two-night pre-party package for May 24-25 (featuring artist performances and entertainment themed around the birthday celebration for actress, singer, director, Calico Cooper) and an individual post-event package is available for guests wishing to stay a day or two after Operation Monster Beach has ended. More details will be announced for these extended stay options. For more info and booking, visit MonstersOfRockCruise.com and follow @MonstersOfRockCruise on Facebook and Instagram, and @MonstersCruise on Twitter.
Operation Monster Beach's supporting line-up includes: Lit, Winger, LA Guns, KIX, Great White, Pat Travers, H.E.A.T, Vixen, Eclipse, Killer Dwarfs, Black N' Blue, Mike Tramp, Bullet Boys, Beasto Blanco, Pink Cream 69, Faster Pussycat, Electric Boys, Joel Hoekstra, XYZ, Little Caesar, Signal 13, and John Corabi, with more to be announced. Bands will be performing on various stages on the beach and at the pools, plus there will be a variety of indoor venues throughout the two resorts.
In addition to performances, Operation Monster Beach will host interactive events between artists and cruisers, including: Artist/Cruiser Q&A sessions, Gong Show Karaoke, "So You Think You Can Shred" challenge, Cooking with Rock Stars, Name That Monster Song, and Painting With Rock Stars, Rock Stars vs Average Joe Basketball and Beach Volleyball, with more to be announced. Plus, Operation Monster Beach will host themed nights and opportunities to dine with the bands.
Sharing a remote and private beachfront location, the stunning Breathless Punta Cana Resort & Spa and Now Onyx Punta Cana are situated in the Uvero Alto region of Punta Cana in the Dominican Republic and offer chic, contemporary suites (550 square feet minimum), all-inclusive dining and drinks, free wi-fi, breathtaking beaches, and more. Guests will have full access to both resorts (located right next to each other), including 20 additional dining and bar options, a fitness center, and the Relax Spa by Pevonia®. More info below on each resort.
With a myriad of events, activities, and music to keep fans entertained day and night, MOR's Operation Monster Beach promises to be a fantasy camp, personal paradise, and the vacation of a lifetime for hard-rockin' music enthusiasts.
About Breathless Punta Cana Resort & Spa:
Located on the dazzling northeast coast of the Dominican Republic, this AAA Four Diamond award-winning resort is a 750-suite entertainment mecca that thrives on high-energy happenings balanced by a laid-back, Caribbean feel. Every suite adorns ultra-contemporary and traditional Caribbean décor with whirlpools on every private terrace. Plus, swim-up access is provided for many ground floor suites. The open plan plaza hosts bars, restaurants and shops offering social gathering places; plus it's close in proximity to Altos de Chavón, Saona Island, and other points of interest in the Dominican Republic. The resort also features eleven gourmet dining venues, eight chic bars and lounges, a nightclub and a multi-level freestyle pool fueled by live DJ music and curated cocktails from the swim up bar. The options are endless, and it's all included with your one-of-a-kind, Unlimited-Luxury® experience. For more info, visit BreathlessResorts.com/punta-cana.
About Now Onyx Punta Cana:
Located in Uvero Alto, the newly renovated Now Onyx Punta Cana is set on a remote, palm-studded beach. The luxurious suites offer pure pampering with 24-hour room service and an outdoor whirlpool. Many ground floor suites are swim out offering direct access to a pool right from the terrace. With limitless gourmet à la carte dining and unlimited top-shelf beverages at twelve restaurants and eleven bars you will find everything you're looking for. With endless land and sea pursuits, parties and live entertainment for all ages, six swimming pools, clubs for kids and teens, a casino, nightclub and world-class spa, the fun times spent at Now Onyx Punta Cana will be unforgettable. A new family section brings even more excitement to the property with a family fun pool featuring a lazy river and four waterslides. Plus, adults can enjoy complete access to the seven bars, eleven restaurants, entertainment, and amenities with Exchange Privileges, right next door at Breathless Punta Cana. For more info, visit NowResorts.com/onyx.
About Monsters of Rock Cruise:
A leader in cruise charter innovation, Monsters of Rock Cruise (MORC) has sailed over 30,000 passengers in the last 10 years. The principals of MORC have deep roots in the music industry, providing world-class cruise ship production management for celebrities and musical artists for decades. MORC has set the industry standard for themed music cruises and fan experiences and has played a key role in the development of ground-breaking theme cruise concepts. For more info, visit MonstersofRockCruise.com.