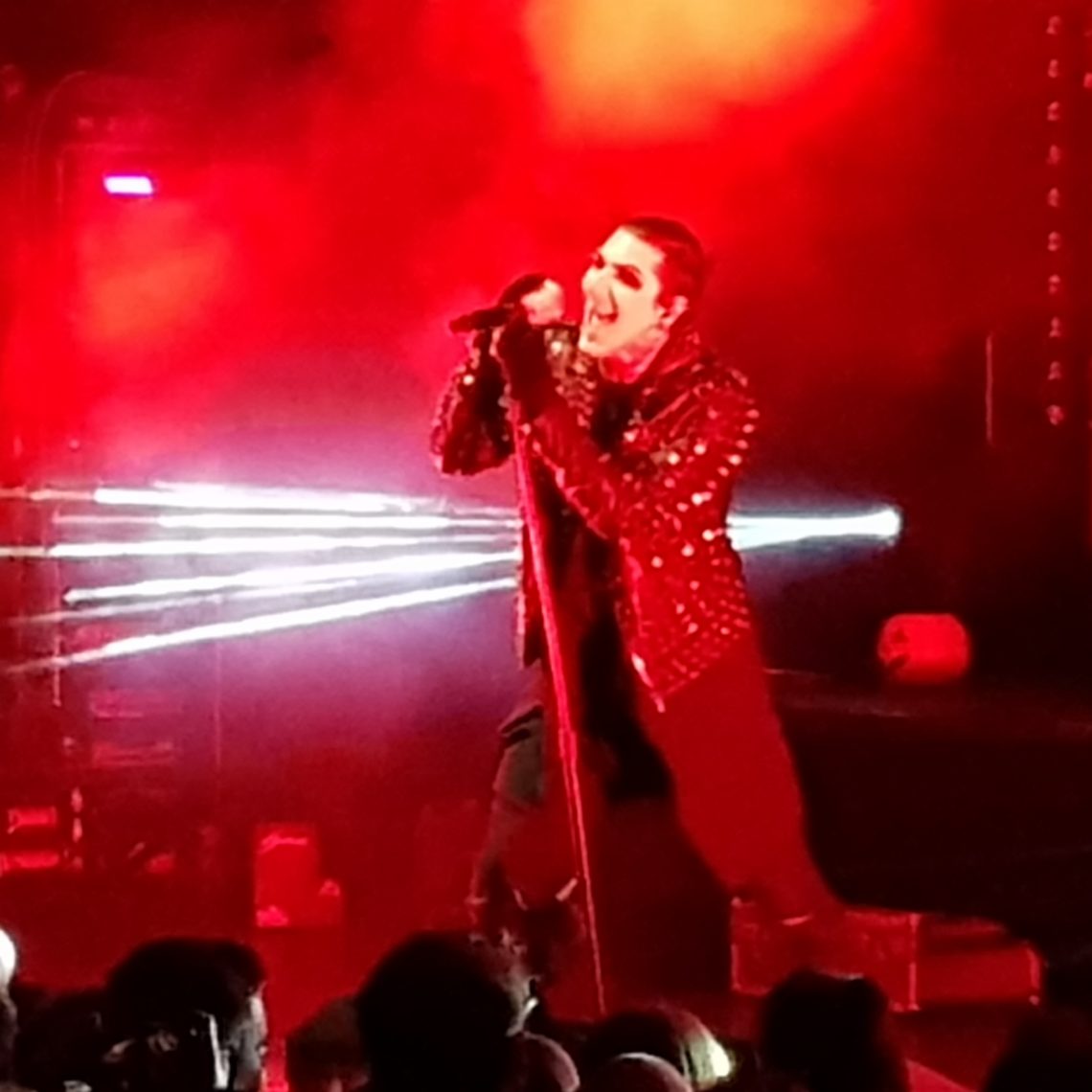 Motionless In White: Bristol (19/01/18)
22nd January 2018
0
By
Gavin Griffiths
With every new year comes the next batch of new albums and new tours to get excited about…and 2018 got under way pretty damn early on both fronts. On January 19th I headed to Bristol for an intense night of metalcore frivolity as MOTIONLESS IN WHITE hit the UK on "The Graveyard Shift" tour and they brought along some incredible support…here's what went down in the 02 Academy…
The queue is a decent size in the cold January air, wrapping itself around the venue consisting of a variety of characters…it's fair to say several are influenced by Chris Motionless' no fucks given appearance and it's wonderful to see so many unashamedly embracing the alternative lifestyle given how pitifully judgmental people can be, so it's a good sign before we even get indoors. Security measures are on point it has to be noted, with metal detectors and such, it's comforting knowing we're in safe hands and the impressive throng of early punters are all ready and waiting for tonight's opening band ICE NINE KILLS [8]. The Boston-based mob waste no time whipping up a storm for the formidably sized early crowd as they rip through some solid cuts of metalcore magic…with a decent back catalog they tear through tracks such as "Bloodbath & Beyond" and "Hell In The Hallways"…vocalist Spencer nailing the aggressive vocals as well as delivering some powerfully melodic notes like a pro, allowing the crowd to get into full swing early on…in all fairness he and the band had them eating out of the palm of their hand and this was an impressive opening…with newest single "Enjoy Your Slay" the band have a promising year ahead of them on the back of this tour and it's great to see…
Main support tonight comes from CANE HILL [7] and the New Orleans outfit have a little catching up to do…the band missed the previous night's show in Southampton due to issues with equipment and they weren't able to perform…but that didn't stop them storming head first into their set tonight…however with their brand new album "Too Far Gone" being released literally the day of this gig, the bulk of this set was sadly ill-judged  as fans weren't familiar with the new tracks…sure singles like "Lord Of Flies" went down well but this was more promotion than making sure things hit the mark…unfamiliar with new songs fans couldn't fully get involved as much as they'd like and with a distinct lack of top tunes like "St. Veronica" for example this was a gamble of a set that didn't fully pay off…sound quality was good, don't get me wrong, and the band are great…but this was too much of a sales pitch.
MOTIONLESS IN WHITE [9] however have absolutely no problems keeping the crowd entertained…this was their show and their crowd for the taking and boy did they take over! With just a couple of albums under their belts they've become one of the biggest names in modern alternative metal and the set list tonight proves just that…opening with "Rats" from their latest album "The Graveyard Shift" and with additional new cuts like the live debut of "Hourglass" the band are clearly riding high on the success and acclaim of the new record, but this crowd is hungry for hits and the band don't disappoint. Massive tracks like "Dead As Fuck" taken off "Reincarnate" and "A.M.E.R.I.C.A" from "Infamous" shows the capability of the band to deliver the goods, and even older tracks like "Abigail" show just how impressively consistent the band have been since day one, but there's an extra surprise in store tonight…we're treated to an absolutely incredible cover of "Chop Suey" by SYSTEM OF A DOWN and the crowd goes fucking nuts! MIW are on top of their game right now and honestly, what a way to kick off 2018…it's going to be a good one.
For all things Motionless in White, click HERE. For all things Cane Hill, click HERE and for all things Ice Nine Kills, click HERE
How useful was this post?
Click on a thumb to rate it!
Average rating 0 / 5. Vote count: 0
No votes so far! Be the first to rate this post.
Related
About the author
Gavin Griffiths AKA GavTheGothicChav 31 Based In South Wales Favourite Bands: HIM, The 69 Eyes, Paradise Lost, CKY, Rise Against, Alkaline Trio, Type-O-Negative, Turbonegro, Depeche Mode... Enjoys: Pizza, Jack Daniel's, Comedy Roasts, WWE, Horror Movies, Sloths, Panda's, Eurovision Dislikes: The Concept Of Being "Offended", Hype, Instrumental Tracks, Interludes, Overly Long Tracks