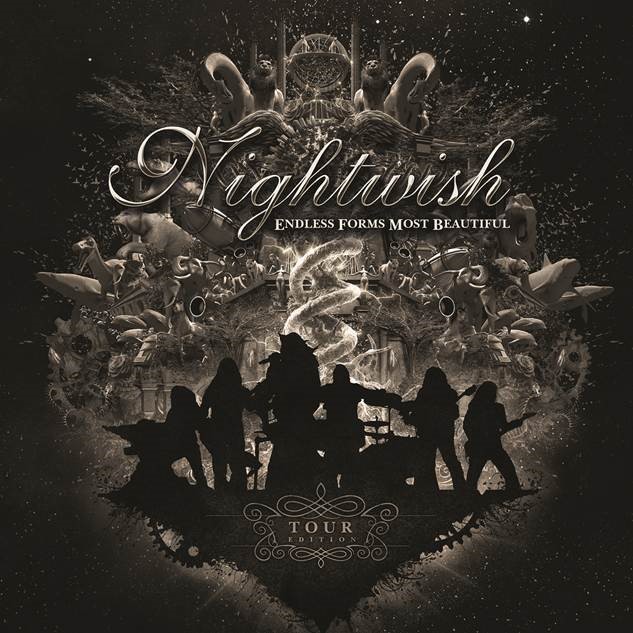 NIGHTWISH To Release 'Endless Forms Most Beautiful' Tour Edition
28th August 2015
Right before the European leg of the 'Endless Forms Most Beautiful' tour kicks off, NIGHTWISH announce the release of a strictly limited (no re-prints!) special tour edition of their current record, coming with a bonus DVD. It will be released on October 30th via Nuclear Blast.
The DVD contains all 21 making-of episodes which came along before, during and after the album's release. Besides those the DVD includes two new, unreleased live clips for 'Yours Is An Empty Hope' and 'Stargazers' as well as five special clips including documentary scenes for the songs 'Planet Hell', 'Last Of The Wilds', 'Storytime', 'Arabesque' and 'Last Ride Of The Day'. On top of this there will be a huge photo gallery with more than 400 pictures, taken on the road and during the promotional period of 'Endless Forms Most Beautiful'.
'Endless Forms Most Beautiful' tour edition tracklist:
CD
01. Shudder Before The Beautiful
02. Weak Fantasy
03. Élan
04. Yours Is An Empty Hope
05. Our Decades In the Sun
06. My Walden
07. Endless Forms Most Beautiful
08. Edema Ruh
09. Alpenglow
10. The Eyes Of Sharbat Gula
11. The Greatest Show On Earth
DVD
01. Yours Is An Empty Hope (live)*
02. Stargazers (live)*
03. Planet Hell (special clip)
04. Last Of The Wilds (special clip)
05. Storytime (special clip)
06. Arabesque (special clip)
07. Last Ride Of The Day (special clip)
08. Making-of
– The Cabin
– By The Lake
– Inside His Head
– Summer Camp
– More Campers
– New Hometown
– Almost There
– London
– Mixing And Mastering
– Ready!
– Release Of The First Single
– The Theme Of The Album
– The Recordings For Floor & Kai
– Thoughts And Feelings
– The Release
– The Artwork
– The Tour Rehearsals
– The Tour Starts
– The Second Single
– The Upcoming Shows
– Troy
09. Élan (official video)
10. Endless Forms Most Beautiful (official video)
11. Photo gallery
*Previously unreleased, 5.1 Dolby digital & stereo
Don't miss NIGHTWISH live on tour.
They will be playing the UK at their highly anticipated headline show at Wembley SSE Arena on the 19th December 2015, which will be their only UK date this year.
The band will be making history by being the first ever Finnish band to headline this famous venue.
You can buy tickets here;
19th December – London, Wembley SSE Arena
'Who would have thought about headlining at Wembley Arena one day when we were starting our UK touring history from the downstairs of the legendary Astoria Club in London over ten years ago. This truly is a dream come true for us!'
Tuomas – NIGHTWISH
The date will feature the band's full production giving UK fans a spectacular stage show, as well as their the first chance to hear tracks from the upcoming new album 'Endless Forms Most Beautiful' live.
Support comes from Swedish extreme metal band Arch Enemy and fellow Finnish melancholic metallers Amorphis