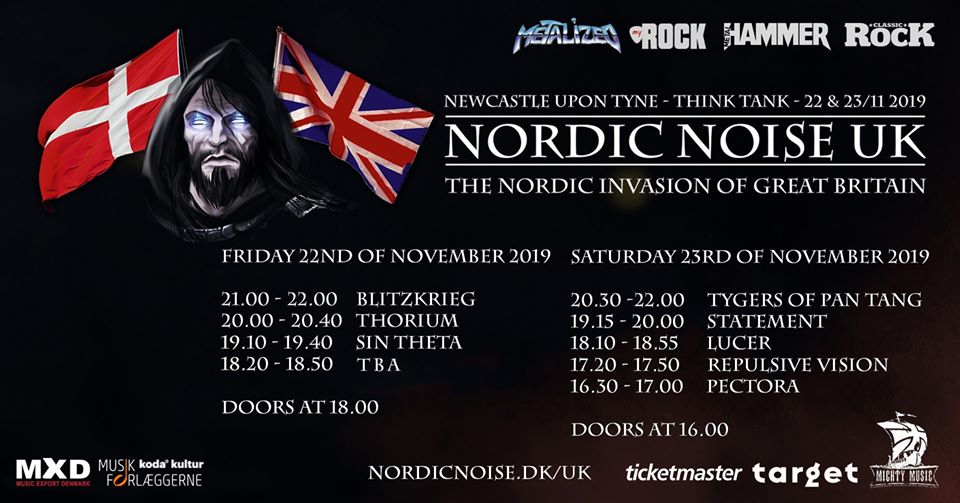 Nordic Noise Festival invades the UK this month and is looking for a band to complete the bill
12th November 2019
Powered by Metal Hammer, Classic Rock, myRock and Metalized, NORDIC NOISE FESTIVAL, the well-known Danish festival, will have a UK version for the first time this month, on 22nd and 23rd November, in Newcastle Upon Tyne. Does your band want to perform at Nordic Noise UK on Friday the 22nd of November as the opening act? Send your application now.
Nordic Noise was established in 2013 and is considered one of the most important Heavy Rock festivals in Scandinavia. In 2019 the festival is expanding to the UK for the first time and Nordic Noise UK will be held in Newcastle Upon Tyne on the 22nd and 23rd of November at the venue Think Tank under the motto "The Nordic Invasion Of Great Britain".
"During the years we have developed a strong concept with Nordic Noise. Upcoming acts getting to share the same stage as big established names. All in the name of rock and heavy metal. I consider Newcastle one of my other homes, so it came very natural to do the first foreign edition of Nordic Noise in this wonderful city", says Michael H. Andersen, founder of Nordic Noise and CEO of Mighty Music/Target Group
Most bands are already booked for Nordic Noise UK 2019. TYGERS OF PAN TANG will headline Saturday and combine their concert with a release show of their upcoming album "Ritual" and Friday fellow locals BLITZKRIEG will use their show to promote their new vinyl release "Loud And Proud". Other local bands include the death metal band REPULSIVE VISION, the Danish hopes PECTORA and more.
Michael continues "The idea behind Nordic Noise UK is to combine a line-up of local bands from Great Britain and acts from my home country, Denmark. Giving the opportunity for Danish bands to play under well promoted circumstances in other countries makes a lot of sense in regards to networking and promotion. Having Classic Rock and Metal Hammer as our media partners for the festival makes a difference, too".
Danish bands to play Nordic Noise UK 2019 include heavy rock act STATEMENT, who will be touring the rest of the UK at the same time, rockers LUCER, mainly known in the UK for supporting Mike Tramp, heavy metal band PECTORA and veteran death metal act THORIUM who will play their first ever UK show.
Nordic Noise UK will be presented with a significant amount of help from experienced locals, the man in charge being one Ken Johnson, guitarist of Blitzkrieg "Its great news for Blitzkrieg to be part of this inaugural edition of Nordic Noise UK, everyone in the Blitzkrieg camp is very excited and really looking forward to be playing this in our hometown alongside other Newcastle based and Scandinavian bands , and for Blitzkrieg to be promoting our new "Loud and Proud" EP due for release on December 19th on the Mighty Music label. Also from a personal level to be part of the Nordic Noise UK  Production Crew, it is a great honour to be asked by Michael H. Andersen to come onboard as co -organiser of the festival and to work with his team, a busy couple of days ahead but I am sure everyone will enjoy it. A very strong line up across the two days at the Think Tank in Newcastle, I think there is something for everyone across the bill , no matter what genre you favour across the Hard Rock / Metal spectrum ", Ken says.
Nordic Noise UK 2019 is held in Newcastle at the venue Think Tank! with the following line-up:
Friday 22nd of November
Blitzkrieg
Thorium
Sin Theta
TBA
Saturday 23rd of November
Tygers Of Pan Tang
Statement
Lucer
Repulsive Vision
Pectora
Ticket sales are available at Ticketweb https://www.ticketweb.uk/events/org/234123 
Friday ticket 15£, Saturday tickets 20£ and early bird 2-day tickets are 30£.

TYGERS OF PAN TANG

BLITZKRIEG
About Nordic Noise (est. 2013)
Nordic Noise was established in 2013 and is today considered one of the most important rock/metal festivals in Denmark. Over 10.000 people have attended the festival and artists like Candlemass (SE), Tygers Of Pan Tang (UK), Mike Tramp (DK), Mustasch (SE), Denner/Shermann (DK/US/SE), Dream Evil (SE), Fate (DK), Freak Kitchen (SE), The night Flight Orchestra (SE), Electric Boys (SE),  Artillery (DK), Blitzkrieg (UK) Sea (DK), LUCER (DK), Bullet (SE), The Amorettes (SCO), Electric Guitars (DK) & Franklin Zoo (DK) have performed during the years.