Nuclear Assault – Pounder (EP)
1st June 2015
New York thrash veterans Nuclear Assault have regrouped to mark their 30th anniversary and also to embark upon the "Final Assault World Tour".  "Pounder" is the first new recording since "Third World Genocide" was released back in 2005 and given that the Nukes are one of my favourite bands I was really excited about this release. The band had gone on record promising to deliver "four killer old school thrash tunes" and I when fired up the stereo I wasn't disappointed!
"Pounder" gets things off to a super charged start, with the human juggernaut that is Glenn Evans driving this along relentlessly. Opening up with a riff that wouldn't have been out of place on their debut platter "Game Over", it's really easy to imagine this number igniting a pit in CBGB's as the stage divers launch themselves in all directions!
"The Blind Follow" kicks off with a really meaty riff, taking me right back to the "Survive" era of the band and also has some really cool gang vocals thrown into the mix, which is a nice touch and always guaranteed to get you singing along. It's a full on, raw, abrasive thrasher which features some classic John Connelly delivery. It's great to hear that time has not dulled John's demented howl and you can tell that the band are really having fun with this.
"Analog Man In A Digital World" is up next , another number that's going to have you flexing those neck muscles! There's some great fretboard interplay here between John Connelly and Erik Burke and another healthy dose of gang vocals keeps the adrenaline flowing. As with the rest of the EP, there are some great lyrics on offer, this one being directed at those people who live their lives through the screen of their mobile phones.
The production on the EP is raw and in your face rather than the polished sound a lot of modern recordings have and it's all the better for it. It reminds me a lot of "The Plague", but with a really nice "live" feel that enhances the songs.
"Died In Your Arms" is the last track and I must admit, the title had me intrigued…it's certainly not what you think, but I won't give the game away. This one is a real slow burner , Dan Lilker's bass grinding away beneath a main riff that has an almost Motörhead swagger to it. There's a really nice slow section that reminded me a lot of "Trail Of Tears" from "Handle With Care" and I must say Connelly is on top form here, indeed, the whole band sound energised, Glenn Evans in particular putting in a rock solid performance.
If this is to be the bands swan song, then it is a fitting end and one that preserve their legacy, but on the strength of this EP,  I'd really love to have a full album…here's hoping the band agree.
Score: 9 out of 10
EP INFO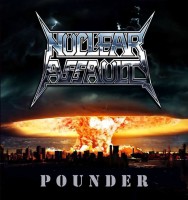 01  Pounder
02  The Blind Follow (A.K.A. Lies)
03  Analogue Man In A Digital world
04  Died In Your Arms
Released
1st June 2015
Record Label
Sidipus Records
Links
https://www.facebook.com/NuclearAssaultOfficial