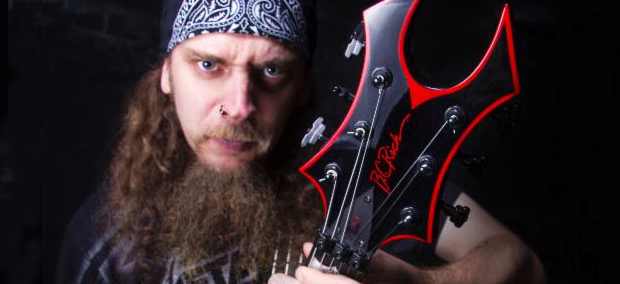 Ol Drake releases demo track from debut solo album
3rd October 2014
Former EVILE lead guitarist OL DRAKE has released the first piece of music from his upcoming debut solo album, featuring mind-bending melodic leads in a style rarely seen today.
The six-string shredder, who is currently on the road working as a guitar tech for German thrash legends DESTRUCTION, is working on an album of extreme instrumental guitar music, which is due to be released in 2015. A demo version of the first track, "Spaceship Janitor", is available now.
OL DRAKE comments:
"Hello, all. After a long, long time of trying to find my direction and sound for this project, I'm starting to churn material out of my brain that I'm starting to enjoy; I need to enjoy the stuff I'm writing. What we have here is a DEMO recording of one of the songs from the upcoming solo album; this is what I send to the label to show progress (this is NOT mixed or mastered). Its working title is 'Spaceship Janitor'. I didn't have a title for the song, but every time I listened through for writing directions I couldn't stop imagining a janitor on a spaceship, mopping the space-floor with his space-mop, listening to this song on his space-iPod… in space.
"This track is not fully representative of the rest of the material on the album as I'm experimenting with a lot of my influences and inspirations; everything from rock and metal to acoustic and classical. Keep an eye on www.oldrake.co.uk and my Facebook etc. for more updates on the album! GUITAR ON!"
Listen to "Spaceship Janitor" below:
Stay tuned for more news about OL DRAKE's debut solo album in the coming months.
Check out OL DRAKE's previous work from his former bandEVILE in Europe at http://webstore.earache.com/evile or in North America at http://uswebstore.earache.com/evile
Get more OL DRAKE news and info:
Official site – http://www.oldrake.co.uk
Facebook – http://www.facebook.com/theoldrake
Twitter – http://twitter.com/old_rake