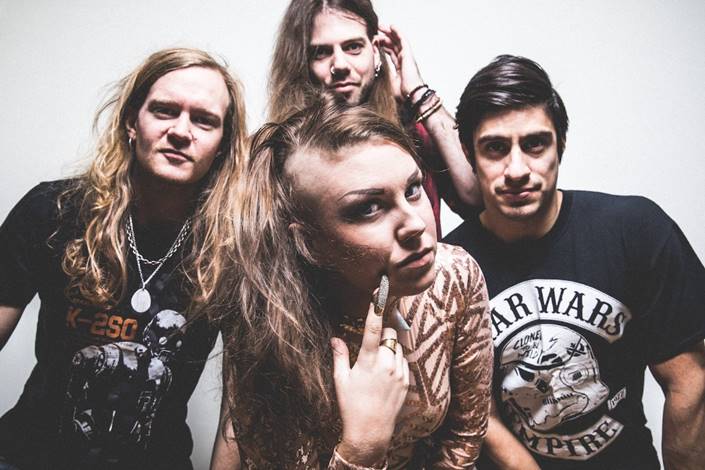 QFT (featuring former Therion singer Linnea Vikstrom) release new single 'End of the Universe'
19th October 2018
Big bang, space travels, black holes, singularity, aliens, stars colliding and the inevitable end of universe – the solo debut from the internationally praised metal singer Linnéa Vikström spans all the way from current science to the eternal, philosophical questions regarding the beginning, the end and life beyond our own planet.
As the former singer for the Swedish symphonic metal phenomenon Therion, Linnea Vikström has already fans around the world.
"The opening track of "Live in Space" is an epic, doomy and spacey tune about the End of the universe. This track represents my biggest hope for how the universe might come to an end, the victory of gravity over dark energy. The universe will be a singularity again, and the wish that a new universe will rise from it."
Linnéa Vikström, QFT
Stream 'End of the Universe' HERE–
Her acclaimed album, 'Live In Space' is a dynamic and musically diversified theme album about the universe, where the ten tracks are beautifully bound together by Linnéa's enormous vocal range and clear vision. The result is a detailed journey through space and time, that won't leave anyone unaffected. 'Live In Space' is an album where both the music and the lyrics offers you much to discover.
Under the supervision of legendary Swedish sound engineer Lennart Östlund (ABBA, Led Zeppelin etc.), 'Live In Space' was basically recorded completely live. Together with the musicians Georg Härnsten Egg (drums), Jonathan Olsson (bass) and Mano Lewys (guitar), Linnéa Vikström only needed a few recordings per track. That the album – apart from some additional choirs – was recorded live can't be heard when you listen to the result. On the contrary, 'Live In Space' sounds like the product of immense and costly studio sessions.
'Live In Space' was probably not what you expected from Linnéa Vikström. But when the singer from Therion makes her solo debut as QFT, with an album wrapped in Lennart Östlund's marvellous vintage sound, she crushes every border and totally exceeds every expectation.
The absolute greatest albums are those you can discover and re-discover over, and over again. It's those completely solid records that have so many layers of details, nuances and aspects that you always can notice something completely new.
QFT's 'Live In Space' is absolutely one of those albums.