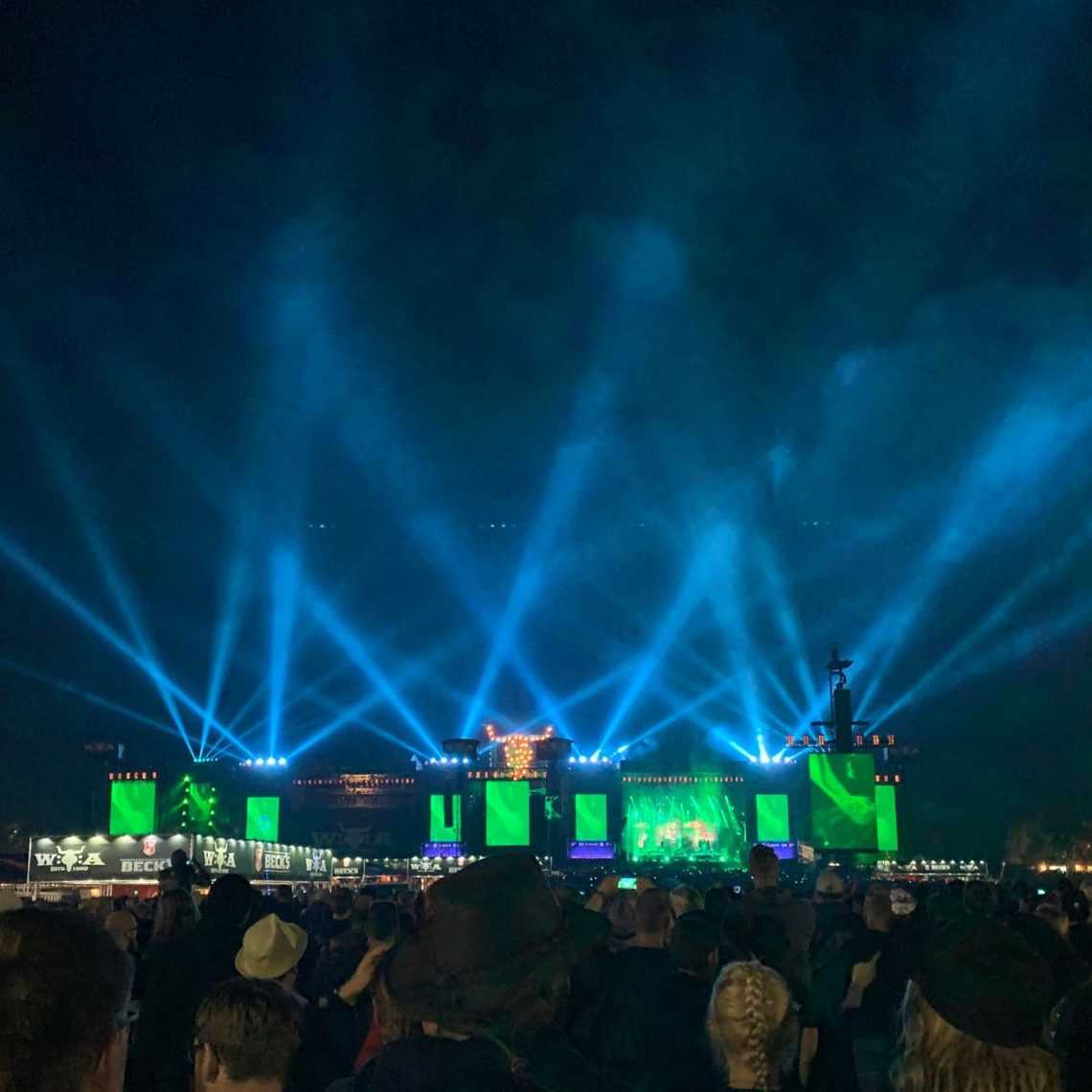 Queen Nikki at Wacken Friday 2nd August 2019
23rd August 2019
Friday rolled around way to quickly at Wacken Open Air 2019, so we had to make the most of it. As I trundled out of my tent, I was offered a sausage in a cup and ate it on the way in. We had a view of many filthy bums, stretching out during the morning Metal yoga, I mean why not salute the sun to Slayer? The one good thing about being female at Wacken is the separate pat down queues, so we do get through very quickly. While our male counterparts were waiting at least 20 minutes , which probably proved why there wasn't a very big turnout for Norway's Fight the Fight in the Bullhead city circus tents. But the guys still annihilated none the less and had some very loyal fans in the front row screaming all of their lyrics.
As we wondered around in search of espresso's to mix with our whisky, we found the Melitta coffee stand which were giving out free dog tag necklaces. We could pick three seconds of our favourite song and it was then lazered into a sound wave onto our necklaces, such a cool initiative. There are so many free gifts at Wacken, you just have to find them. We watched those lucky punters on the Pole sitting where they will sit up there for hours for the chance to be upgraded to VIP. With Queensryche as the soundtrack to our shopping experience we take a look at the body painters, there's an entire hair salon if you want some Viking braids and even a barber shop if you want the bullhorn shaved into the back of your head.
Gloryhammer's moshpit were appropriately armed with blow up swords and unicorn balloons as we followed the stories of Angus Mcfife and the The Land of Unicorns. Back in the VIP a severe  thunderstorm warning was issued and the festival was evacuated for a second time, with festival goers asked to go wait in their cars. While our pals sent us photo's of their thunderstorm drinking party back at camp, we stayed undercover and waited it out. When everything had resumed, some stages were delayed by 2 hours, some by 40 minutes and some hadn't changed, so unfortunately it was very hard to navigate which band was actually playing when. At least we got the timing right to see Body Count featuring Ice T open with a cover of Motörhead's Ace of Spades. Celebrating 30 years of Body Count and performing for the first time at the 30th anniversary of Wacken Open Air was a pretty special occasion. Ice T's crowd interaction and banter was keeping us on our toes leading into Manslaughter, "Ladies? Have you noticed that your man has started to grow a Vagina? I wanna see a pit down there you pussies!" Classics and surprise covers of Slayer, The Exploited and Suicidal Tendencies fill the set, before the encore and finale of This Is Why We Ride.
So many clashes today, but the highlights of the snippets we did catch were all stars Demons & Wizards on the Faster stage and Venom Inc. schooling us in Black Metal.
The biggest dark horse of the festival for me this year, coming from the slums of Phnom Phenh, Cambodian Death metal youngsters, Doch Chkae played to a full field of horns on the Wasteland stage. After their visa's getting denied to play at Wacken last year, it was great to see the support they received when they finally performed for us this year. Last year over 10,000 people signed the petition to allow the band's visas to be approved. We were front row for this one, the pit was ravenous as the crowd surfers came over one by one and my tits got bruised on the barrier bars. For such a group of young guns on the biggest show of their lives, to date, these boys knew how to work a crowd. After seeing them quite timid during the press conference on Thursday, it was amazing to see their confidence grow, metal is absolutely where they belong. Front man Theara's vocal technique is fierce and organic as he urges the circle pit to keep up with his high jumps. Their songs are punchy yet savage and the impact of the Wasteland flame throwers only add to the madness as the band comes out for a much requested encore. The only merch I bought this year was theirs, these singlets were handmade by Theara and they were helped through the charity Moms Against Poverty Cambodia. You can read more about their story here, https://www.wacken.com/en/news-details/cambodian-band-doch-chkae-granted-visa-for-wacken-open-air/
Rushing back into the infield for the final time I will see one of my all time favourite bands the Thrash Fathers themselves, Slayer. The infield was at capacity and its no wonder why, this was their farewell tour and the last time anyone will see them play under the glowing lights of the bullhorn. (Dramatic, I know.) Slayer logos float in a wall of smoke, to possibly the loudest "Slayer 'clap, clap, clap'" chant I've ever heard. The curtains drop as they open with Repentless and I'm already welling up. The pyro team at this year's Wacken really had their work cut out for them and I honestly thought I'd seen it all, until Slayer turned up the heat with their stage looking like the back of a bloody Gas oven. Flames shooting up and sideways into inverted crosses, a wall of flames surround the band and fog lights beam endlessly into the night to create that magic Wacken skyline which makes it all the more special. They enact a backlog of twenty of their greatest and every song transported me back to specific points in my life as I'm sure they did to many of us standing in the field that night. By the time the final two, Dead Skin Mask and Angel of Death rolled around, I was in the middle of the booze swarming pit and I'd lost all sanity. When its over, they all stand still for a good ten minutes, staring and taking in the view of the 75,000 troops who came out to send them off. Kerry King wipes a tear from his eye as he throws out his guitar picks. Tom Araya gives us a very heartfelt goodbye as the cameras zoom in on his cheeky grin. He stares solemnly at us as he lets out a sigh, "Thank you very much, I hope you enjoyed yourselves. This is it! This is where I say Auf Wiedersehen, thank you very much for everything! Goodbye." That was it, they were gone and they truly gave a performance I will remember until the end of my days. Looking around at the tears streaming down faces, (and not just mine) it was obvious what this band meant to a lot of people and lets face it, Slayer will always have the most die hard fans in the world.
The last few hours are lost in pure bedlam, somewhere in the midst of Opeth sending everyone off to bed and the drummer of Hämatom crowd surfing while drumming on a plank with his drums stuck to it. Closing the night with many shots of Jäger with our new found Spanish sisters,  I have no idea how I made it back to my tent, but I'm sure I was still screaming, "SLAAAYYYYEEERRRRR!"