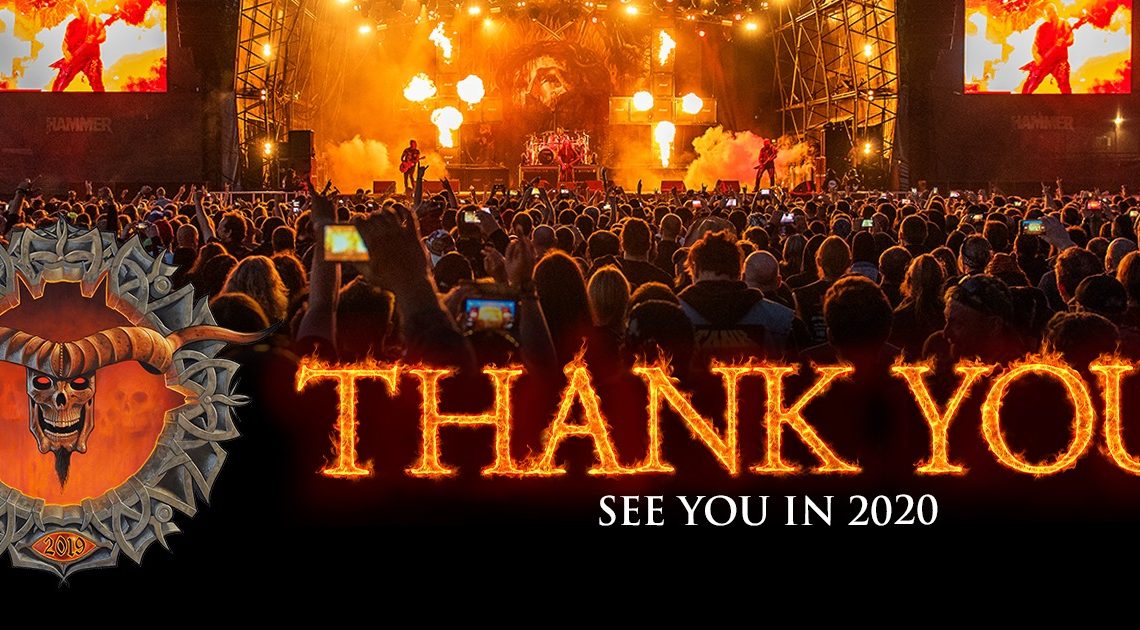 Bloodstock Open Air Festival- Saturday 10th August (Catton Hall, UK)
23rd August 2019
0
By
Dan Peeke
Despite some unfathomably strong winds, our tent made it through the night. I couldn't really believe it, but before the shock could set in, we were barreling down to the arena to grab some photos of the mighty Krysthla before our interview with them later on. Against the wind their sound was still huge, with walls of riffs and clattering drums suggesting that they don't have long until we watch them climb festival bills.
The back to back sets of Cancer Bats and Lotus Eater keep the energy high as the sizable crowd is taken out of a murky morning, with Swallow The Sun ready to bring it all back down again, with their (intentionally) dreary, depressing, dread-filled death-doom. Off the back of their stunning new release When A Shadow Is Forced Into The Light, this was sure to be one of the highlights of the weekend. But it just wasn't. The first bad move was skipping over the powerful title track, which is what they'd been opening most sets with recently. While it's a beautiful track, I could get over it thanks to tunes like 'Firelight' cropping up anyway. It was the sound that really took it down. The opening track was drowned out almost entirely by rhythm guitar, while the vocal levels remained too low for the entire set; the whole band looked pretty put out by the situation if I'm honest. From one of the bands I was most excited to see, to one of the most unmemorable sets of the weekend. Tough stuff.
The lull persisted for a couple more hours. Evil Scarecrow put on a good show full of robots and a 12-year old guest guitarist decked out in corpse paint, but let's be honest, their music is pretty dreadful. They know it though, and they're absolutely fine with it. Thy Art Is Murder, however, do not know it, and push out a set of completely average, non-unique deathcore. The set ends with the bold claim that they'll be back at Bloodstock to headline. Whether it was a joke or not, I can absolutely say they will not. I saw The Wildhearts at Ramblin' Man Fair a few weeks ago and they were
absolutely fantastic and had the massive crowd in the palm of their hands. This time round, the vibe was all wrong. The wind was so strong that the screens had been taken down, the crowd was probably even smaller than Krysthla's 10:45 set and their addictive brand of hard rock was lost on a crowd who wished this set still belonged to Code Orange.
While checking out one-man black metal project (who from the name, I expected some massive brutality, but it was actually pretty melodic and cool) we found out that the main stage had been closed. The lighting rig had been brought down, and soon enough, Cradle Of Filth had been moved to Sunday. As a result, the tented stages were all absolutely mobbed immediately, leading to the discovery of the incredible Black Shuck. They'd been moved from the tiny Jägermeister tent over to the Sophie stage and humbly explained how they'd never played for a crowd anywhere near this size before (the rain outside did help). Hopefully they start getting crowd like this more often. Similarly, the New Blood tent also got a big population increase as Lock Horns commanded an unexpected crowd.
By 20:00, the main stage had reopened (even though the wind hadn't changed a huge amount since about 11am) and allowed Anthrax to grace the main stage with their evergreen thrash. In one of the only cases I can think of, this is a band where the rhythm guitarist is their most recognizable member. The triple threat opening of 'Caught In A Mosh', 'Got The Time' and 'Madhouse' is something very few bands can boast, and to still be playing them with such delight after about 40 years is also quite impressive. 'Indians' closes the set with grace and succeeds in getting a washed out audience back up on their feet and ready for Parkway Drive's controversial closing set.
Approaching from the side of the stage with an entourage holding burning torches, the Australian metalcore youngsters climbed up on to the stage with a level of confidence strangely unmatched to a band met with such passionate negativity when announced. At the time, I agreed. I thought they were a massively overrated band with nothing special going on and that they definitely shouldn't be headlining a festival. And then they opened with 'Wishing Wells' and 'Prey' and I realized exactly why they were heading Bloodstock. Their crowd started thinner than Sabatons, but by the time stragglers had started to understand their brand of exceptionally heavy, yet beautifully melodic music, they were drawn in until the band had by far the biggest crowd of the weekend so far. 'Absolute Power' was a particular highlight, with 'Crushed' and 'Bottom Feeder' rounding off a pyro-laden, unexpectedly fantastic set.
Taake closed the Sophie stage, absorbing a big portion of the audience from Parkway with their threatening, aggressive, corpse painted black metal. The persona of vocalist (who also writes every track and records every instrument in the studio) Hoest is toned down slightly when he kept dropping his bloody microphone. And he kept spitting everywhere after a particularly guttural scream. Some of it went on me at one point.
Click HERE to see our review of Friday at Bloodstock 2019
How useful was this post?
Click on a thumb to rate it!
Average rating 5 / 5. Vote count: 1
No votes so far! Be the first to rate this post.
Related
About the author
I like classic rock like Led Zeppelin and Pink Floyd and Hendrix, Metal like Metallica and Slipknot, into more extreme stuff like Cannibal Corpse and Anaal Nathrakh. Other than rock, I love Bob Marley, blues legends like BB King, Rock n Roll like Chuck Berry, Jazz, Country and Bluegrass. I also like a bit of Elton John and Eminem every now and then (Sorry!). But overall my favourite bands are System of a Down, Five Finger Death Punch, Rush, Children of Bodom, Led Zeppelin, Pink Floyd and Anaal Nathrakh.